Amanda Flint on the Test Ride
Blog
Amanda Flint on the Test Ride
Competitor. Trainer. Judge. These are just a few of the words used to describe Amanda Flint, a well-respected professional in the hunter and jumper worlds. She's had a storybook career thanks in part to the hard work and dedication she approaches the sport with. Amanda's in Ocala year-round now, where she's partnered with Kristiina Claffee at Silver Springs Farm. They focus on training and sales, with some amateur hunter and jumpers, and a few clients during winter. 
As a horse crazy kid, Amanda jumped into the equestrian world at age seven, when her family won a Saddlebred in an auction. They moved to a rural part of Illinois so they could keep the horse at home, Amanda was sent to a local hunter/jumper barn for lessons, and her involvement progressed from there.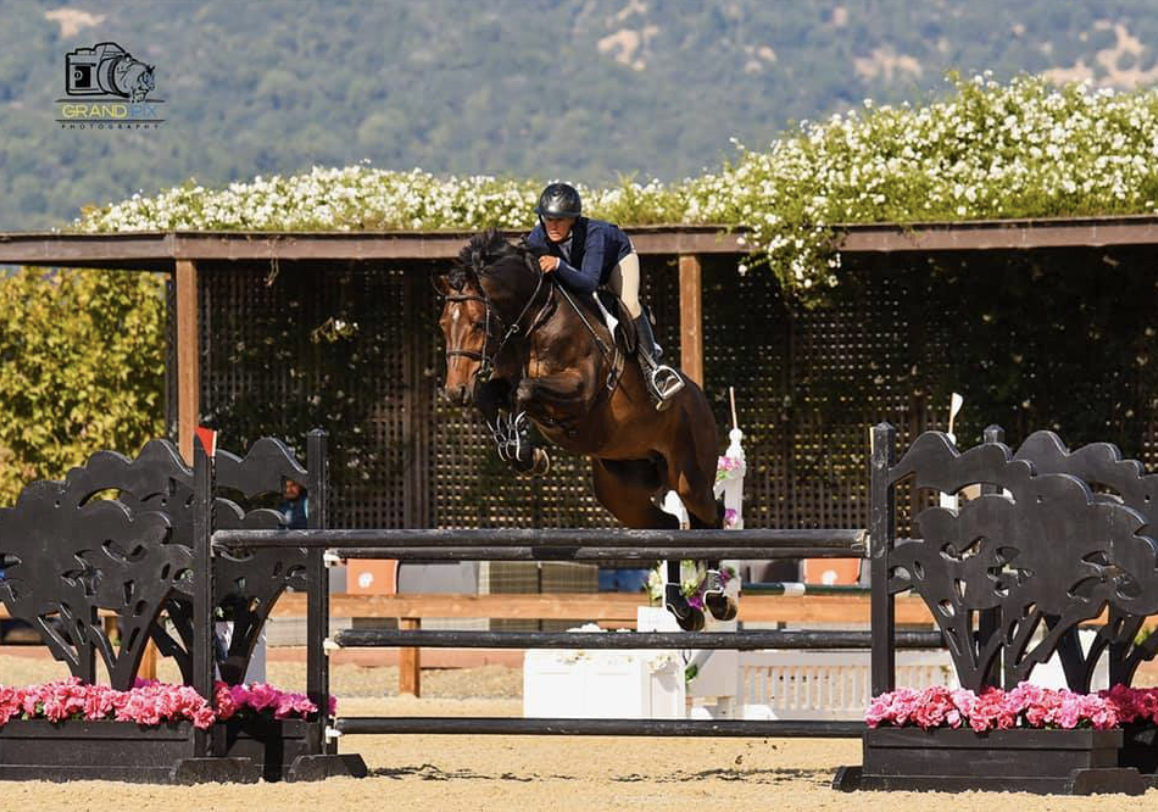 Hudson VDL. PC: GrandPrix Photography
Going Pro
She remained in Illinois for college, earning a masters' degree in mathematics at the University of Illinois. Then, her career in the professional equestrian world started as she rode for Katie Monahan Prudent, Laura Kraut, Todd Minikus and with Peter Leone – all well-respected names at the highest level of our sport.
Amanda had the opportunity to spend the year 2000 in Europe, where she prepared horses with Nelson Pessoa and worked with the Saudi Arabian team horses for the Sydney Olympics, eventually flying to Australia with the horses. "I've been fortunate to have seen how different systems from around the world work for different people, and I've learned to take the parts that work for me and the horses I have and leave the ones that don't," she says.
Those talents extend to both the hunter and equitation arenas, and Amanda has achievements at every level of the sport. Her current focus is on young horses, and she regularly wins at the Grand Prix levels with horses she's developed.
Along the way, Amanda won her first $100,000 Grand Prix at Tryon on Machu Pichu. He was seven years old then; she had found and purchased him for his owners as a 4-year-old. Machu Pichu remained a consistent Grand Prix horse after they sold him and competed at the World Equestrian Games.
Many other memorable horses have come through her barn over the years. "I won my first Grand Prix on a 15-hand horse named Cajun; he was particularly memorable because of how difficult he was. Superbad is also a standout, unbelievable scope as well as a bit quirky. VDL Wittinger most likely did the most for me over the years, and just retired last year at 19," she says.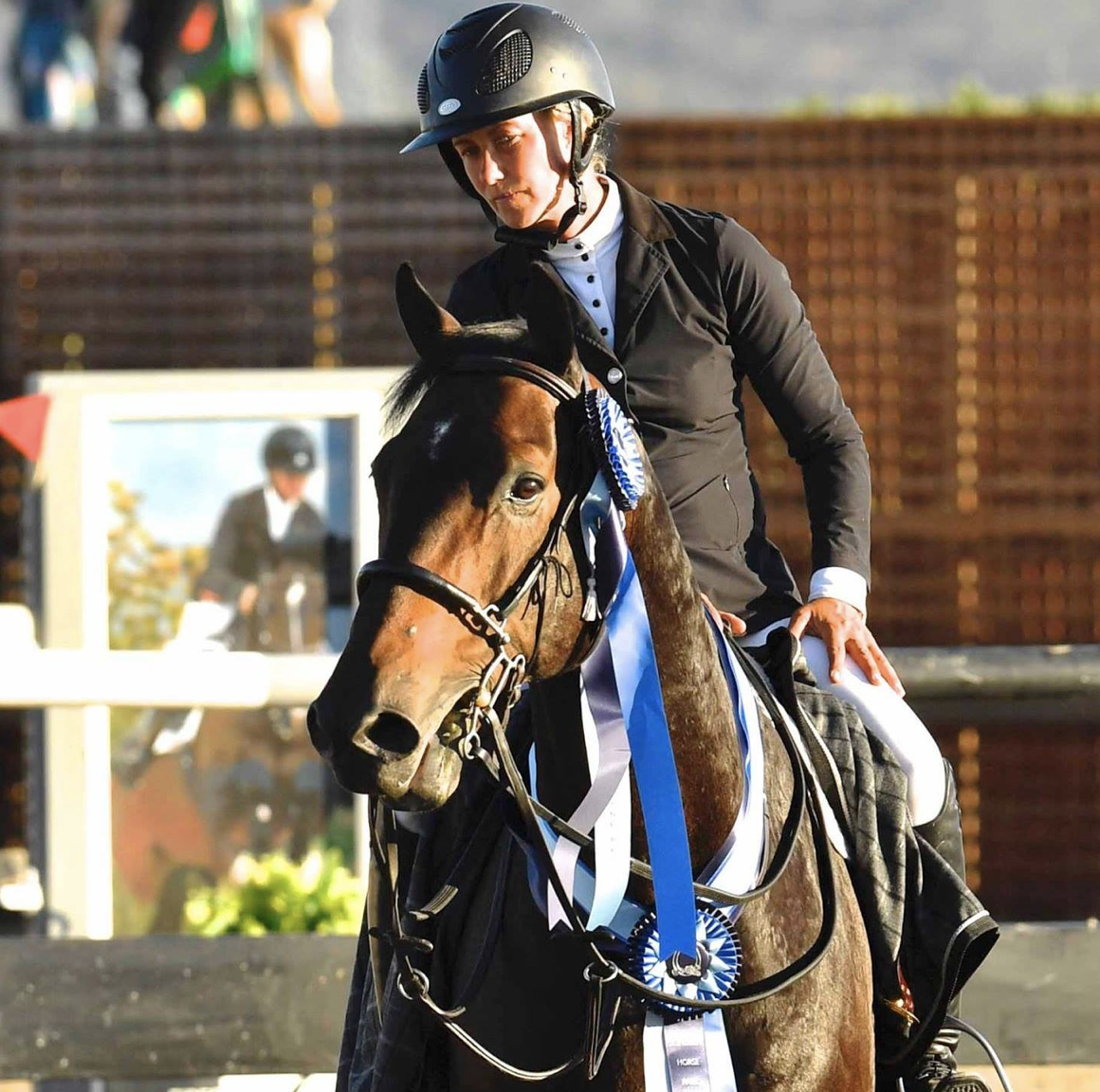 Amanda and VDL Wittinger. Photo courtesy of Amanda Flint
The Test Ride
Amanda offered us advice on the test ride; her expertise makes it sage advice for any rider to follow.
ProEquest: How do you recommend people try new horses? What works best for the horse and rider?
Amanda Flint: I recommend watching the normal rider ride the horse first, or at least watch videos of them. Keep it simple and easy - they should just test out the feeling and compatibility, not have a riding lesson or see how high they can jump. If it's a match ride again a second day, maybe in a new place if needed, or over something you may have a concern about.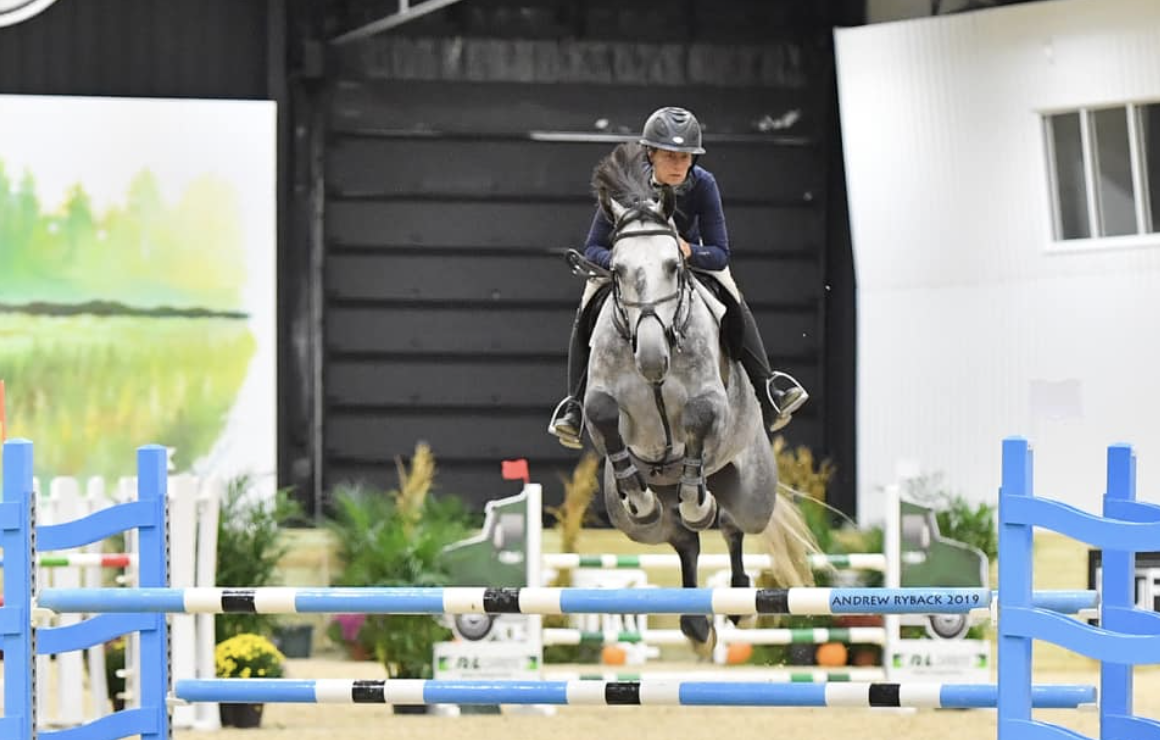 Irvington VDL. PC: Andrew Ryback Photography
PE: What recommendations do you have for getting to know a new horse once a rider does buy or lease it?
AF: Again, keep it simple and low especially in the beginning. The horse needs to adjust to the new system and rider until they both speak the same language.
PE: What level do you have horses and riders start at?
AF: This is entirely horse and rider dependent. We have everything from 3-years old to 17-years old, so it depends on what they're comfortable with.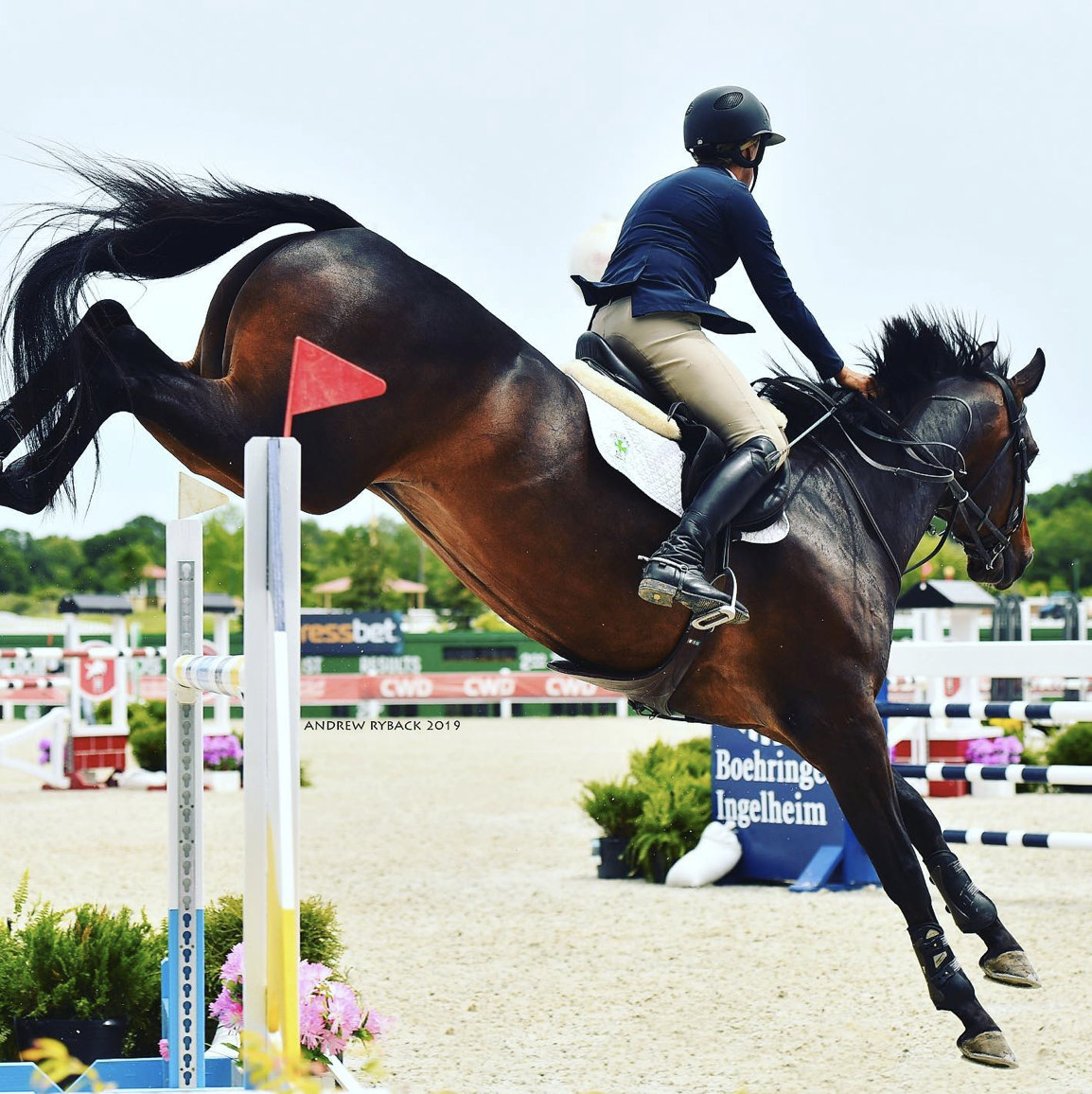 On course in Chicago – 2019. PC: Andrew Ryback Photography
PE: When do you know it's time to move up?
AF: When it's easy!
PE: How do you move a horse or rider up to a new division?
AF: If they're answering all the questions at one height, I start to look for easy ways of moving up to the next step, like if a horse is going from 1.20 to 1.30 maybe begin in a 1.30 speed, those are usually a little smaller and shorter. 
PE: Anything else you think we should know?
AF: Buyers should be respectful of other people's horses - keep the jumps to a minimum and bear in mind how many times the horse has been tried recently etc.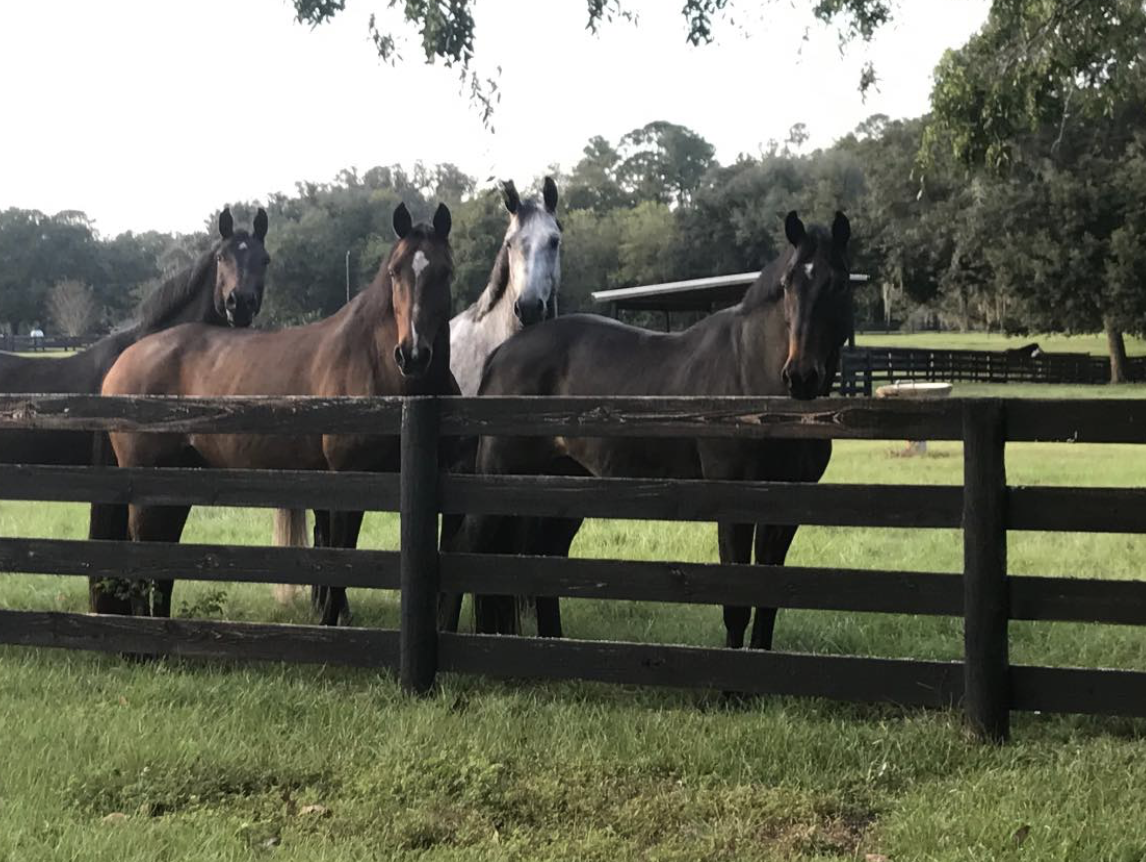 Horses enjoying time in the fields in Ocala. Photo courtesy of Amanda Flint