Changing the Footing Game with Wordley Martin
Blog
Changing the Footing Game with Wordley Martin
"No hoof, no horse," is a common refrain heard around all equestrian disciplines. The footing a horse works and jumps on is just as important to those hooves as the genetics, nutrition, and farrier care. There's good reason to be selective about the footing you ride and jump on.
Sharn Wordley and Craig Martin of Wordley Martin understand that better than most people. They started their company in 2006 and have installed over 500 arenas throughout the world since then, becoming the top choice among everyone from competition venues to riders competing in dressage, show jumping, and eventing, including Olympians and those at the highest levels of the sport.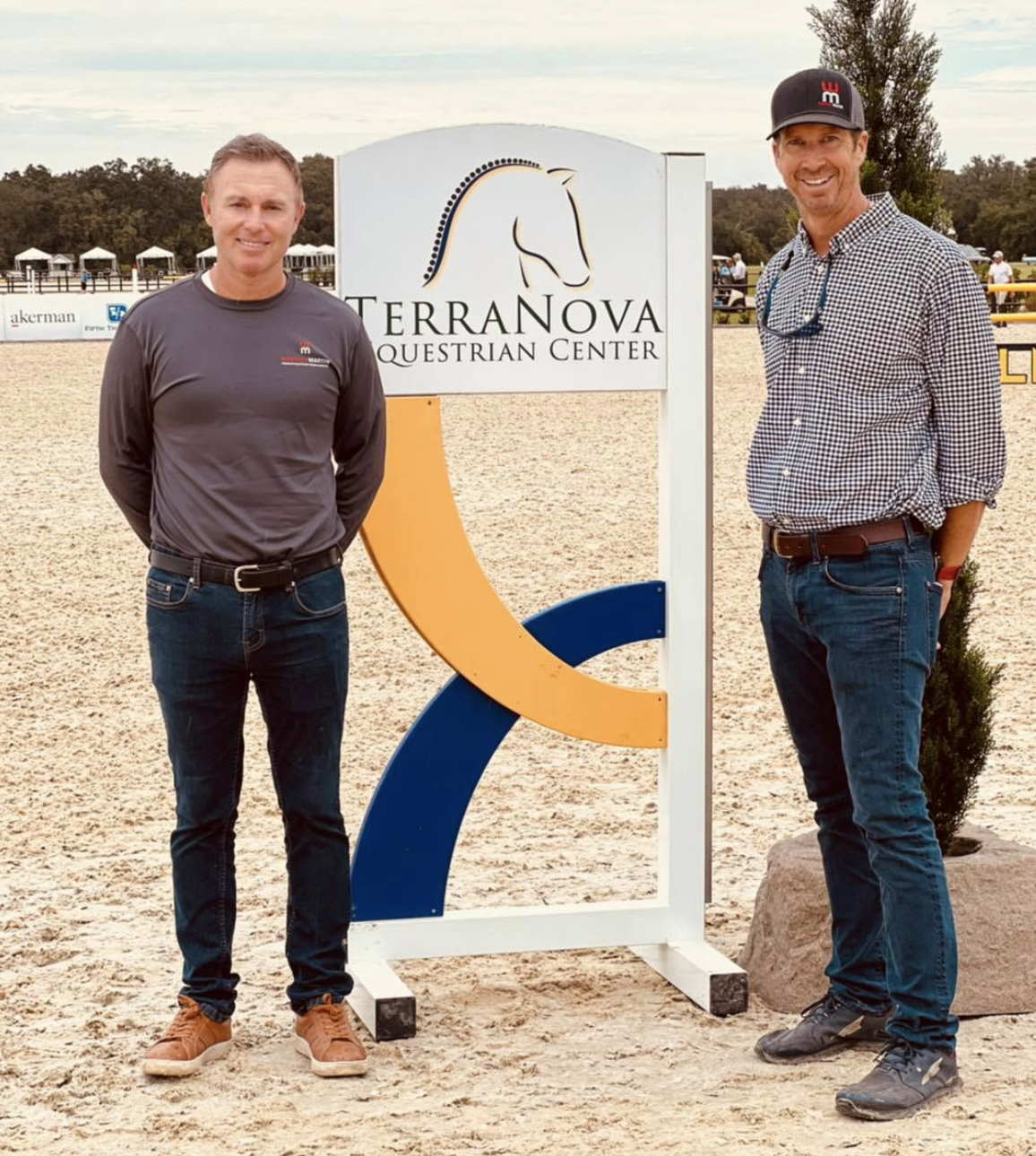 Sharn and Craig at Terra Nova. Photo courtesy of Wordley Martin.
Both Sharn and Craig understand the need for high-quality footing because they are equestrians and athletes. Sharn is a rider and trainer, in addition to his work with Wordley Martin. He's been ranked as one of the top 50 show jumping riders in the world and represented New Zealand in the 2008 Beijing Olympics. Sharn also qualified for the 2020 Olympic Games in Tokyo but withdrew after his horse, Verdini D'Houtveld Z, was injured. He also competed at the 2018 World Equestrian in Tryon on Casper and is regularly found at the top of the standings in various Grand Prix competitions with his horses.
ProEquest caught up with Sharn to learn more about his journey and how Wordley Martin became the premier arena company helping horses perform at the highest levels.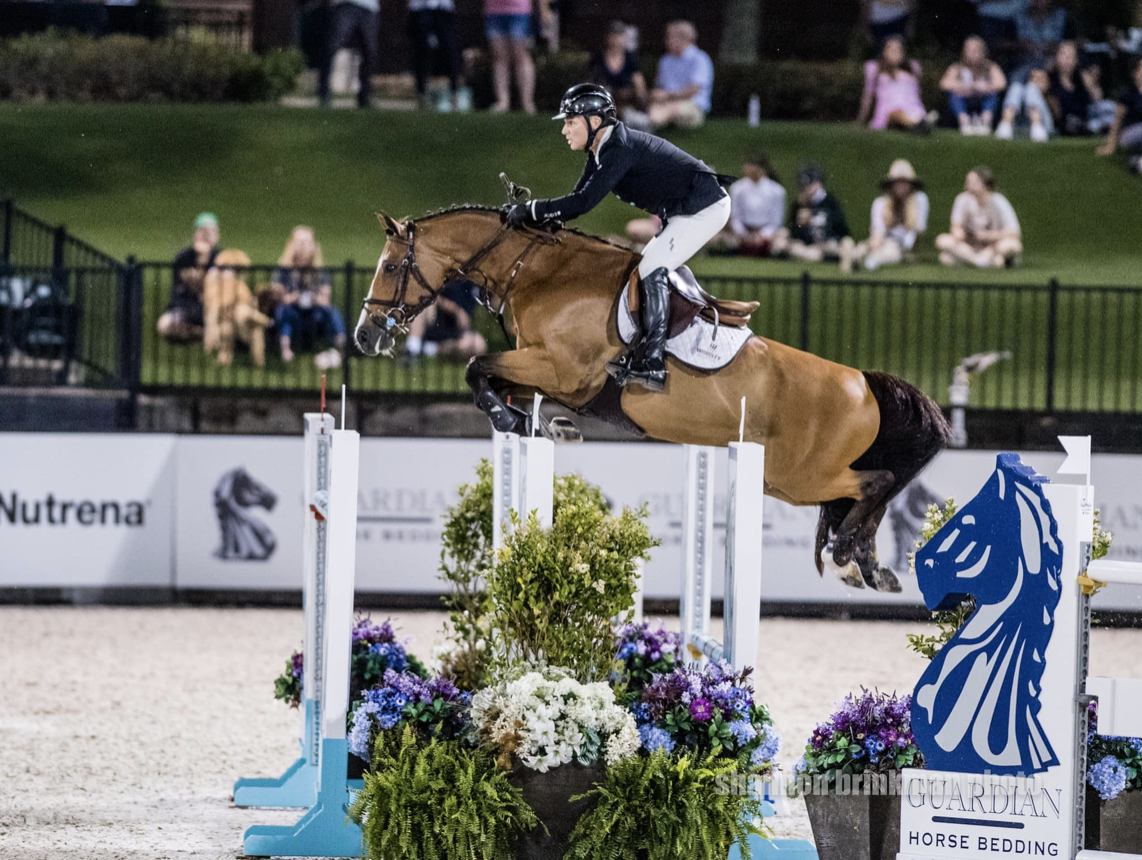 Sharn and Verdini D'Houtveld Z at Tryon in 2021. Photo courtesy of Sharn Wordley.
An Equestrian Upbringing
Horses came naturally to Sharn. Margaret Wordley, his grandmother, was an early pioneer for women competing in jumping. He always loved horses and cites her involvement and equine memorabilia as influences. Sharn grew up riding and competing in his native New Zealand, where he was a young rider champion.
At age 16, he purchased Markar, "That horse was the first that I jumped Grand Prix on; I left New Zealand and took him to Spruce Meadows in Canada, and Europe. We got our Olympic qualification; he was one of the most important horses of my career."
Next, Sharn spent 10 years in Europe, competing and learning about all aspects of the business while developing his own horses and those for clients. He and Craig had met as youth riders in New Zealand, and stayed in touch over the years, working together in Europe some.
In 2004, Sharn and his horses, who were all in their mid to late teens at that point, moved to the United States. He noticed that the footing was 10 to 15 years behind what he was used to jumping on in Europe.
"I had a team of older horses, and it was hard to find shows where they could jump," he recalls. "The obvious thing to do was start a footing company; it was a need in the market. We started working on it in 2006 and no one else was doing free-draining, silica sand like they have in Europe. There was a need in the equestrian space, and we filled it."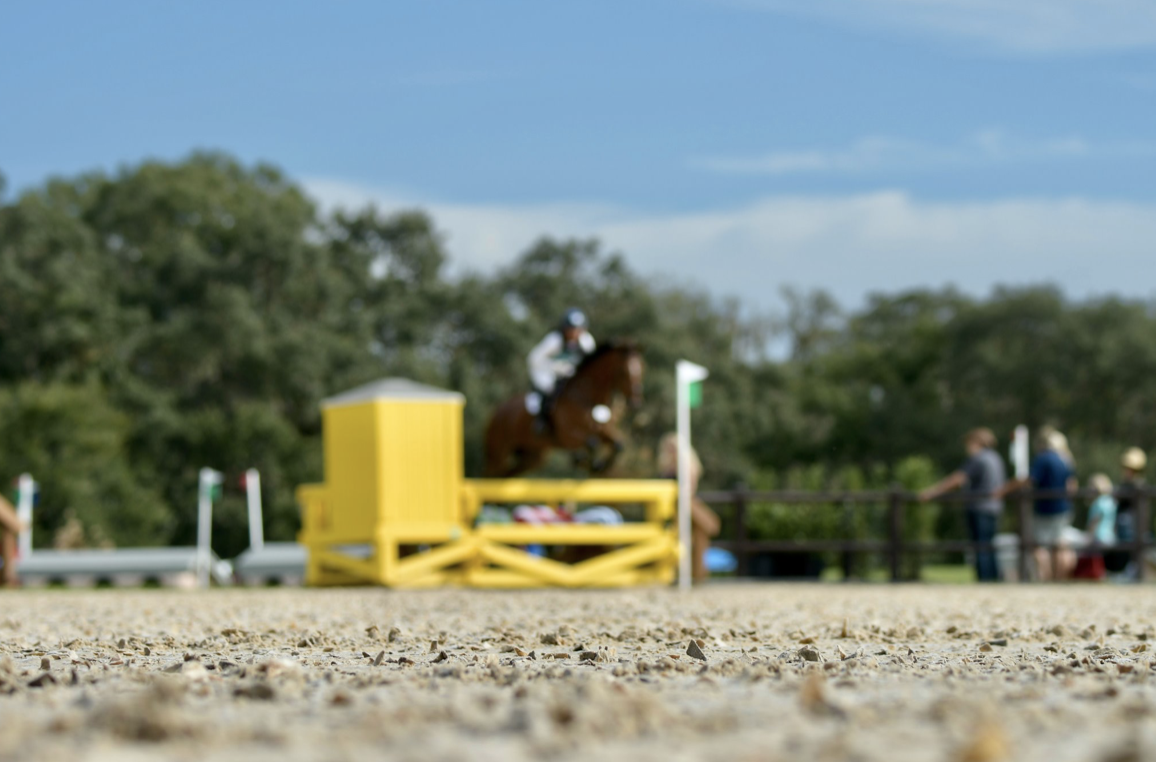 The Wordley Martin footing components make it soft, durable, and consistent. Photo courtesy of Wordley Martin.
The Wordley Martin Difference
Free-draining silica sand, textiles, and fibers are used to create Wordley Martin's dust-free, soft, and supportive arenas. The unique mixture offers consistent and quality footing during any type of weather and throughout the day.
Sharn and Craig developed the footing and then started installing arenas. "Kevin Babington and friends like that, trusted us to put a ring in for them. We knew what we wanted and figured out how to create it. Kevin still has the arena today that we built for him in 2007," Sharn says.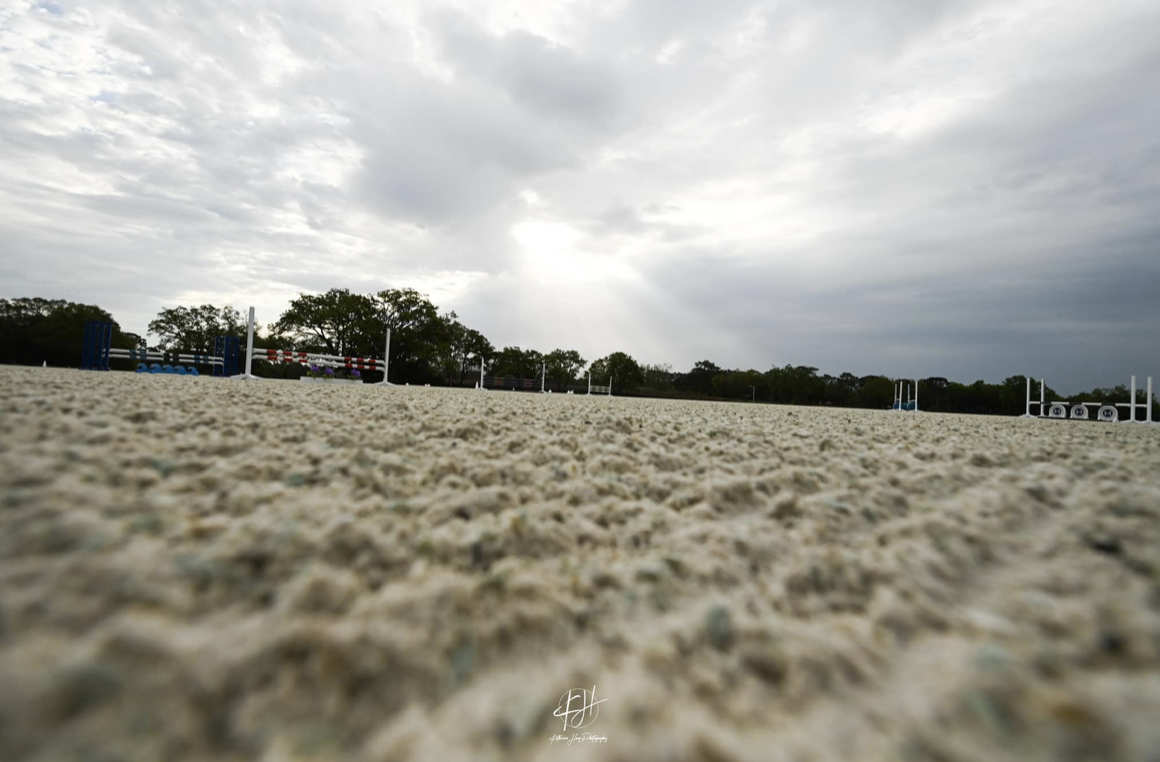 Another view of the footing. Photo courtesy of Wordley Martin.
The soft footing and a free drainage base that the water goes through rather than washing off the top are key features. This combination creates an arena that needs minimal maintenance and has a 30-plus year lifespan because silica sand doesn't break down as easily as other types of sand. Maintenance is always important for an arena, and a Wordley Martin, needs to have the manure picked, a daily drag, and a yearly laser grade.
The company broadened over the years and also helps with design and all installation aspects. They are based in Wellington and Ocala so offer full site build outs there, liaison with architects, and facilitate the entire process for their clients. Arenas are installed all over the country and internationally as well. Their arenas are at HITS Ocala, in progress at HITS Saugerties, and the competition venues at TerraNova Equestrian in Sarasota, to name a few.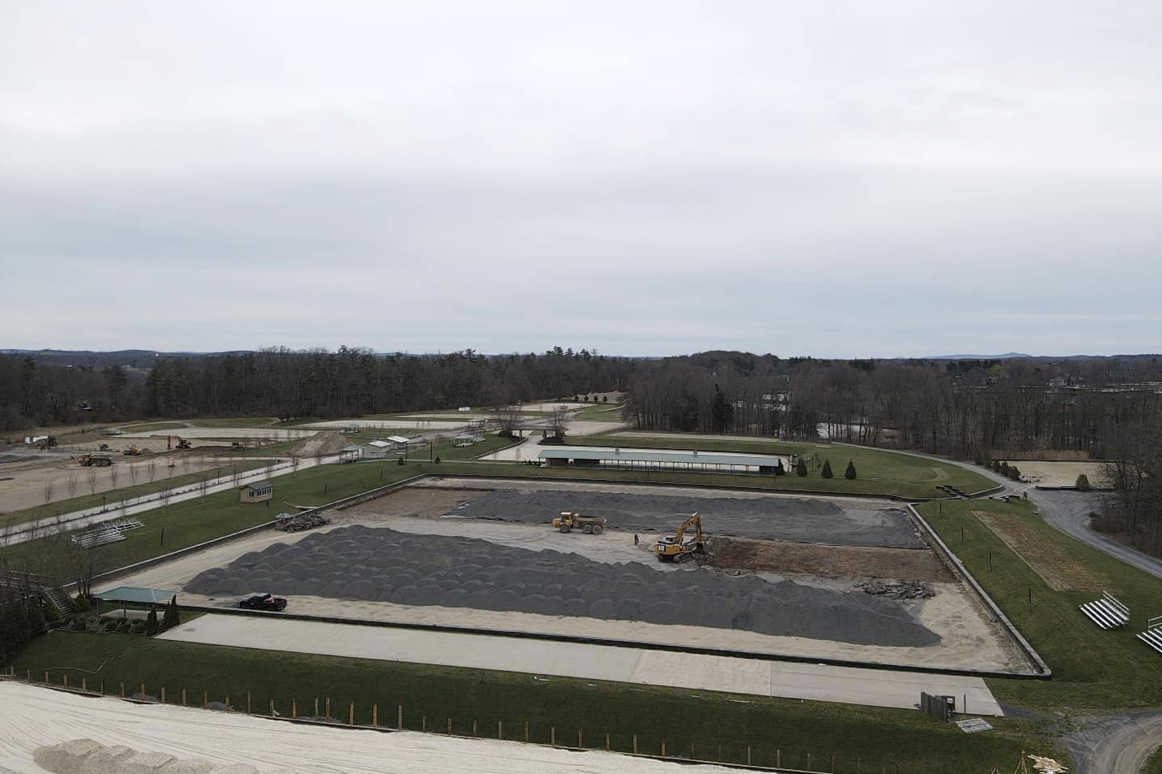 Arena construction at HITS on the Hudson. Photo courtesy of Wordley Martin.
Wordley Martin also manufactures their own drags and are leading the innovation in this product area. It features ripper teeth and spring tines, packing the footing to the desired density while also creating the freshly dragged pattern that makes an arena attractive.
"I like helping clients design their property, there is a lot of satisfaction with it and creating a space that people really enjoy," Sharn says. "It's also fun to be innovative and ahead of the curve creating things for arenas."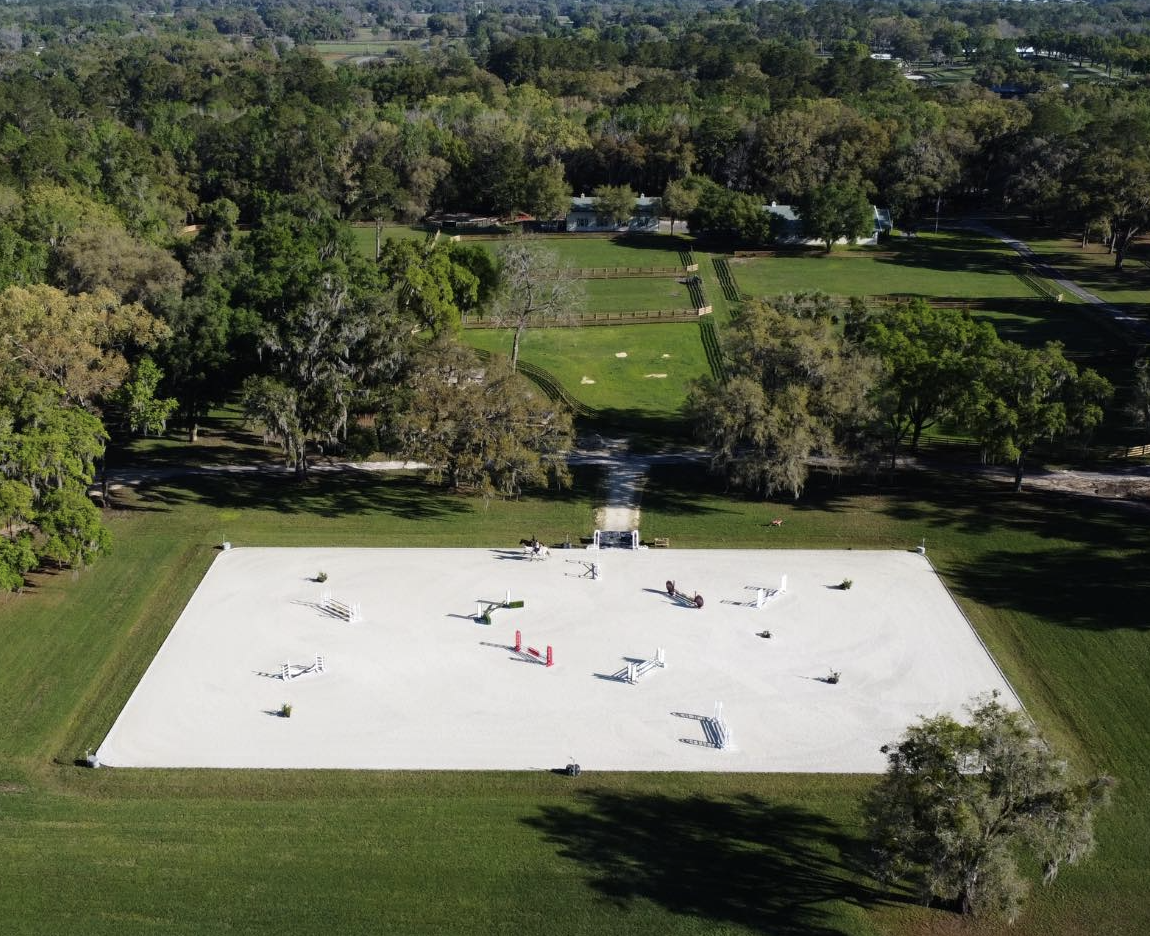 A Wordley Martin arena. Photo courtesy of Wordley Martin.
One thing is certain, with a Wordley Martin arena, there is plenty of hoof and plenty of horse. Sharn credits their footing with helping his own horses compete into their late teens and twenties, and those riding and competing on Wordley Martin footing experience the difference.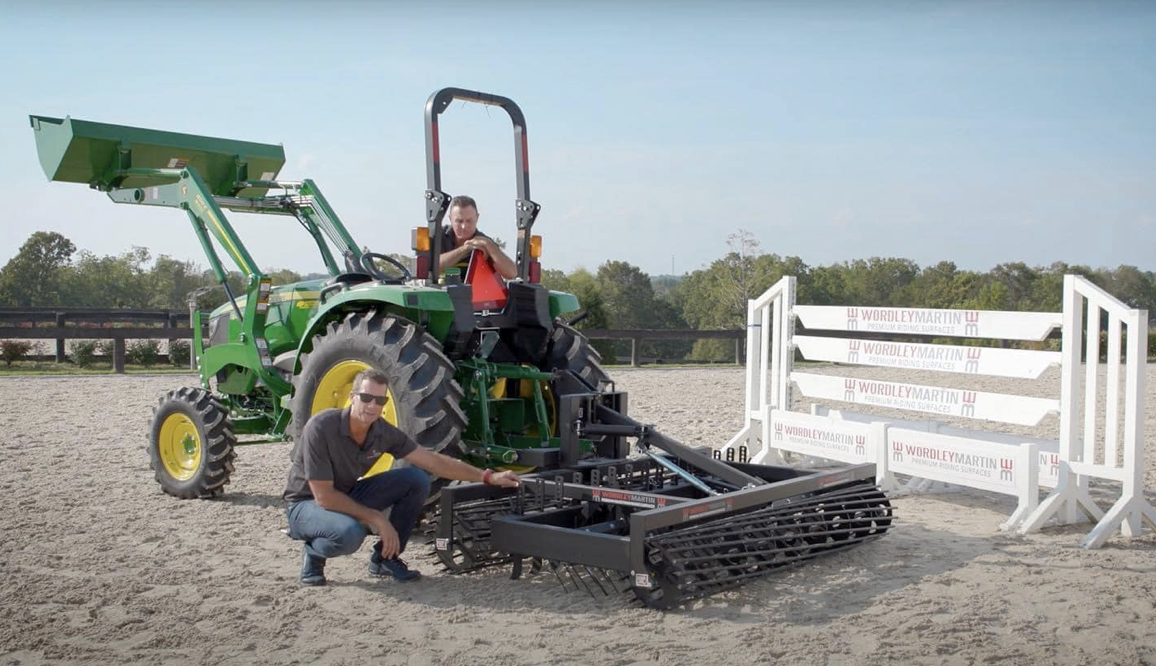 Craig and Sharn with the arena drag. Photo courtesy of Wordley Martin.