Equine Retirement at Stone Columns Stables
Blog
Equine Retirement at Stone Columns Stables
Stone Columns Stables at Elmendorf and Rosemont farms in Kentucky is a premier equestrian center that offers show horse stabling, premium retirement boarding, breeding, short- and long-term layovers and layup, and young horse training and development. Melanie Peterson-Ramey and her husband, Jeff Ramey, own and operate the two facilities that feature 160 stalls combined, ample pastures, and a hay farm, all on around 900 acres of the best Bluegrass. Stone Columns Stables at Elmendorf was once home to Kentucky Derby winners and Hall of Fame Legends and is situated on Iron Works Pike, just five minutes from the Kentucky Horse Park.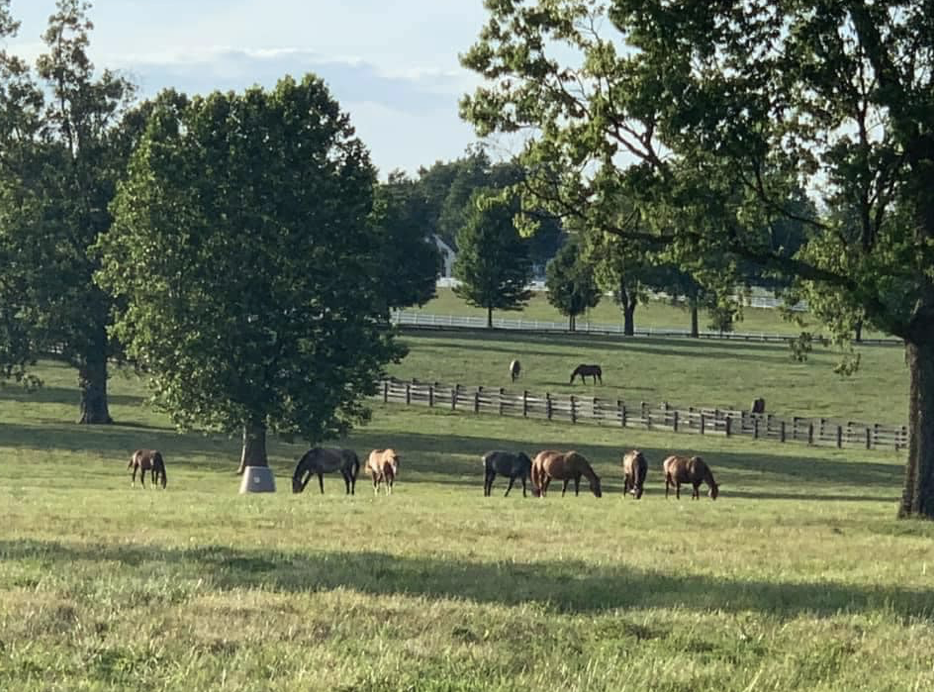 Two herds seen grazing in their respective fields. Photo: Stone Columns Stables
The premium equine retirement boarding that Stone Columns Stables offers is popular with show jumpers and others that want to provide their equine partner with a happy and healthy retirement, at a facility that understands the unique needs of a show horse. A high-quality equine retirement facility provides peace of mind for the equestrian and a peaceful lifestyle for the horse when it is time to transition a show horse out of the ring and take their braids out for the last time.
We sat down with Melanie to learn more about equine retirement and the lifestyle horses lead at an equine retirement facility.
ProEquest: How did you become involved with equine retirement?
Melanie Peterson-Ramey: We decided to specialize in retirement of show horses when I tried to retire my show horses and realized there weren't any good options that understood how to transition show horses to living in a herd and out in a field safely. When we started our retirement program, we really hit a nerve in the market and quickly were getting horses sent to us from top competitors because they knew we understood the specific needs of these top-level horses. 
ProEquest: How does an equine retirement facility work?
Melanie: Our retirement program works well because it is "horse centric" if you will. We cater to each horses' individual needs and allow each horse to determine the pace of their transition process. After the transition, our team is hands on with the horses on a daily basis. We medicate many of them daily and observe and report on any changes in their physical abilities so that the environment they are in is appropriate for what is going on with that horse whether it's a previous injury, arthritis, or just age. We have our farm veterinarian on property at least once a week and she knows all of the horses really well which helps us to stay ahead of any health needs they may have.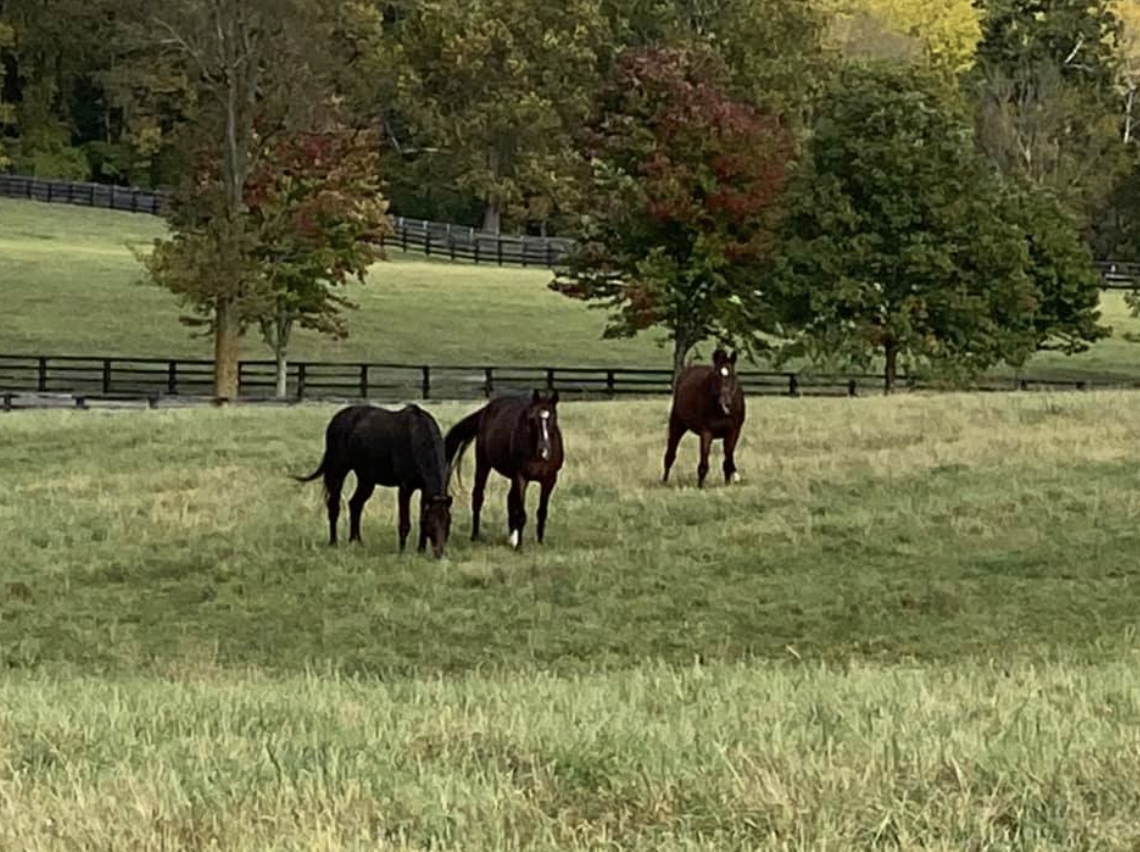 Retirees enjoying their pasture. Photo: Stone Columns Stables
ProEquest: What are the advantages of equine retirement?
Melanie: Retirement of your show horse can be a daunting idea, but ultimately, they deserve a proper retirement after the years of pleasure and competition. Knowing that where you send your best friend is not only capable but well versed in geriatric equine care is what helps to solidify the decision to retire. Many of our clients are happy to give their horses the retirement they deserve, especially at a farm where they can visit anytime.
ProEquest: What does a day in the life of a retired equine look like?
Melanie: A day in the life of one of our retirees is pretty quiet and calm. Each herd is selected based on their physical capabilities and personalities. Our staff is out in each herd each day, whether medicating or feeding, or just checking each horse. We try to do as much as we need to out in their environment so as not to disturb them too much. We even trim their feet outside, so they don't get separated from their herd causing them any anxiety. The horses enjoy a low-density grazing ratio which ensures plenty of forage for all. We grow our own hay, so in the wintertime when we supplement each herd with hay, it is the same exact forage they are used to all year long. Once a week, our farrier is on site to trim or shoe one herd or another.
ProEquest: When can owners come to visit?
Melanie: Owners can come to visit their horses anytime. We do not limit visitation at all. We have an open-door policy which is nice for our clients since we are located just down the street from the Kentucky Horse Park, many of them swing by to visit when they are in town showing. Others, also lease stalls from us for their current show horses during the summer months so it is really nice that they get to see their retirees every day on the farm. For those clients who can't visit, we take lots of photos and videos and keep people up to date regularly.
ProEquest: Who are some of the retired equines at Stone Columns Stables?
Melanie: We have some top horses retired with us. Mr. Commons is probably one of our most famous, as he was a Preakness winner, born on the farm and now retired here along with his mother, Joustabout. Other notable horses are Triviant, Ellesse Gundersen's WEG mount, Capella, owned by Garland Alban, and Balando owned by Charles Stevens. Whether they are famous or not, all horses are treated like royalty with us.
ProEquest: What should people considering equine retirement know?
Melanie: Preparing your horse for retirement is possible for some but not so for others. For example, if the client has a string of show horses that are always on the circuit, preparation for retirement is not an option, which is why we do our step-down program here at the farm. Others may have the ability to start to allow more time in turnout at home prior to the horse arriving to the farm for the process. Either way, we take our lead from each horse in how the process moves forward.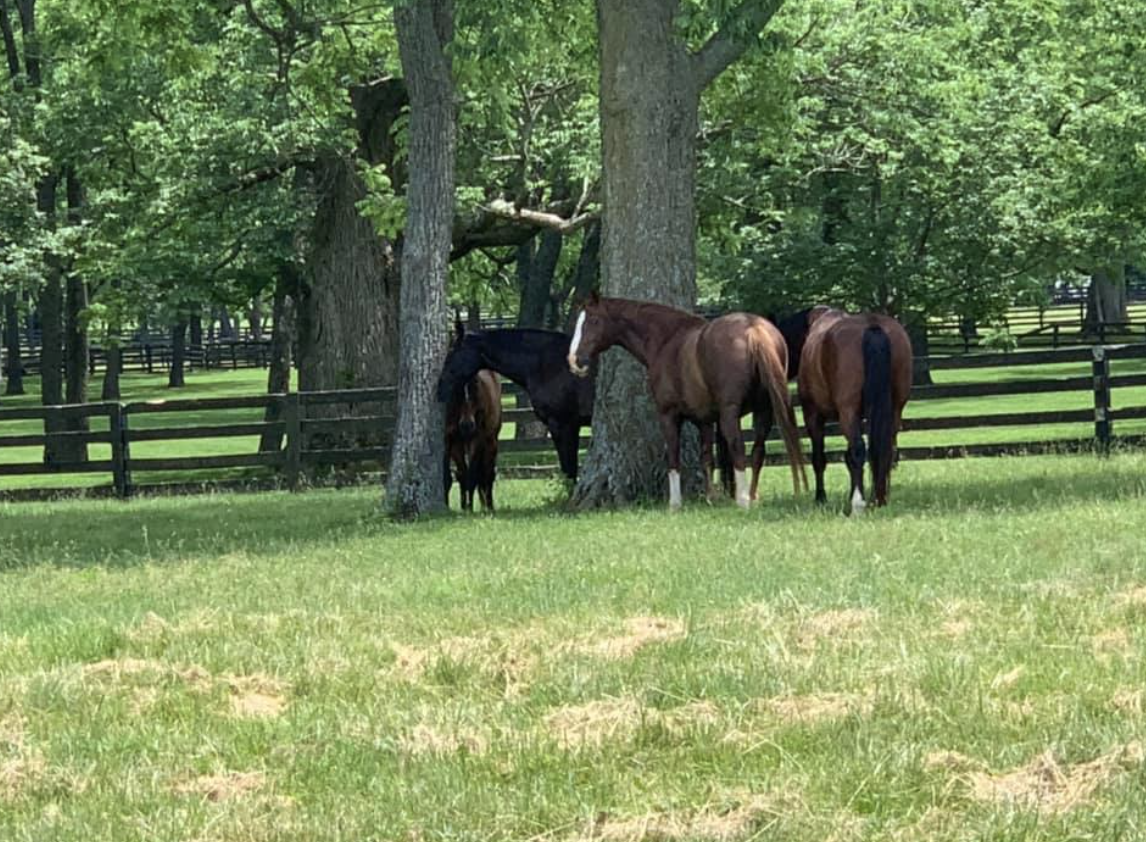 Enjoying their shade trees. Photo: Stone Columns Stables
ProEquest: Can you tell us more about Stone Columns Stables?
Melanie: Stone Columns Stables expanded in 2021 to include another 378-acre farm just down the road that is now home to our Breeding and Young Horse Development programs. We own our own recipient herd and facilitate breeding needs for top show horses while still in competition. We have herds of weanlings, yearlings, and 2-year-olds growing up on the best bluegrass around, learning socialization in the herd, and proper handling from our professional staff. We can handle any and all needs for the client from preparing the mare for breeding to starting and training young stock. We also have done a lot of rehabilitation work for many of our top clients and continue to do so. We work closely with all the top vets around the country to facilitate their protocols in a safe and professional environment. Our rehab riders understand the need for proper under saddle work to get the horses back to show ready shape for our clients. We are veterinarian recommended.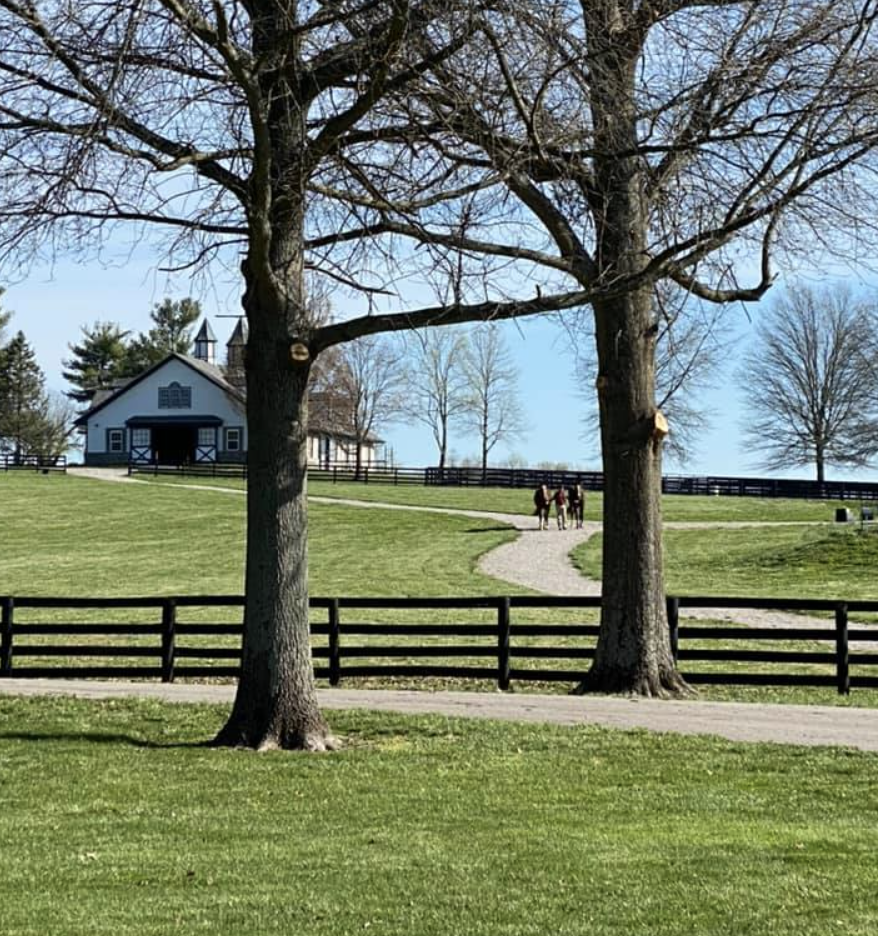 Three-year-olds in training. Photo: Stone Columns Stables
ProEquest: Any final thoughts?
Melanie: This farm is our passion, we do this because of our love of horses and our ability to fill a need in the market for others like us. We are hands-on in everyday decisions and management at all levels. Our clients can rely on us to keep them informed and to help them make decisions for their horses to ensure a healthy and happy horse at all times.
Learn more about Stone Columns Stables and take a virtual tour at stonecolumnsstables.com/.