Exclusive Interview: How Ashley Stannard of Ashbrook Farm Picks Her Next Top Horse?
Blog
Exclusive Interview: How Ashley Stannard of Ashbrook Farm Picks Her Next Top Horse?
Ashley Stannard grew up riding and showing hunters and jumpers in the Midwest with Bill Nunn of Skyrock Farm as a working student. After a successful junior career, Ashley continued her education at William Woods University (MO), graduating with a Bachelor of Science degree in Equestrian Studies. During her time at the University, she was able to intern with many top professionals such as Linda McClaren, Otis Brown and Patty Stovel. From her location in the Midwest, she was able to compete at the Kentucky Horse Park, American Royal, Lake St. Louis and Tulsa as well as many other top show venues. Upon graduation Ashley competed in the A/O Jumpers with Kim and Andy Barone of Raven Ridge Farm traveling with them to the Colorado summer circuit. Ashley has extensive equestrian experience including breaking young horses, teaching, and competing hunters and jumpers at the highest levels. With a passion for teaching riders of all levels as well as riding and showing all types of horses, Ashley concentrates on classical horsemanship and putting horses first.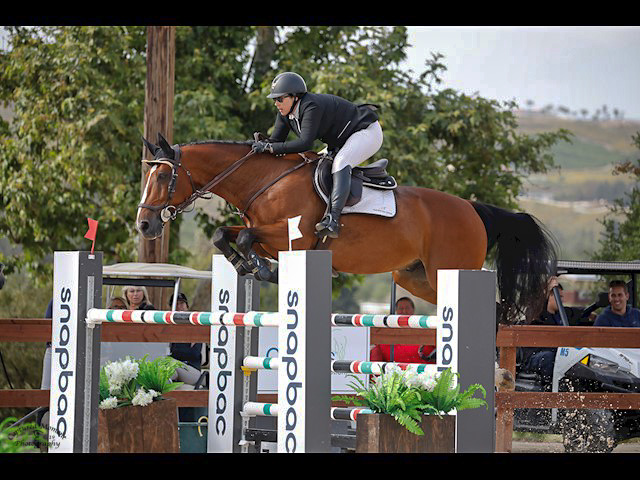 Zodiaque D'Hyrencourt Z owned by Alena Shamsheyeva in the $40k Temecula Grand Prix 2019. PC - Captured Moments photography
PE - What characteristics must the horse have in order for you to consider purchasing? 
AS - Soundness, a solid lead change and a good mind with a desire to "help" the rider are crucial. For myself, I look for horses that have a great canter and want to be careful. For clients, horses that know their job and don't hold a grudge when mistakes are made. A good step to help them get down the lines and through combinations is also something I look for.
PE - Do you have a specific type of horse that you prefer or that you've found to have the most success with? Perhaps they don't move as well but have an incredible jump or vice versa. 
AS - Yes, for hunters it's definitely the type that jumps in consistent form, even from a long or short distance. Movement is also secondary to me. In Jumpers, it's the type that has a lot of heart for the job and loves what they do. I also have found that I tend to get along with mares quite well and have found many that will put in that extra "try".
PE - Do you try to stay within a specific age range when trying horses? 
AS - For a client, generally yes. Most often it's 7-12. However, I have no problem purchasing an older horse that requires maintenance as I know that my team (vet, farrier, home footing management) can keep a horse going for a good amount of time. I would rather go older and experienced than young and needing development for the majority of my clientele.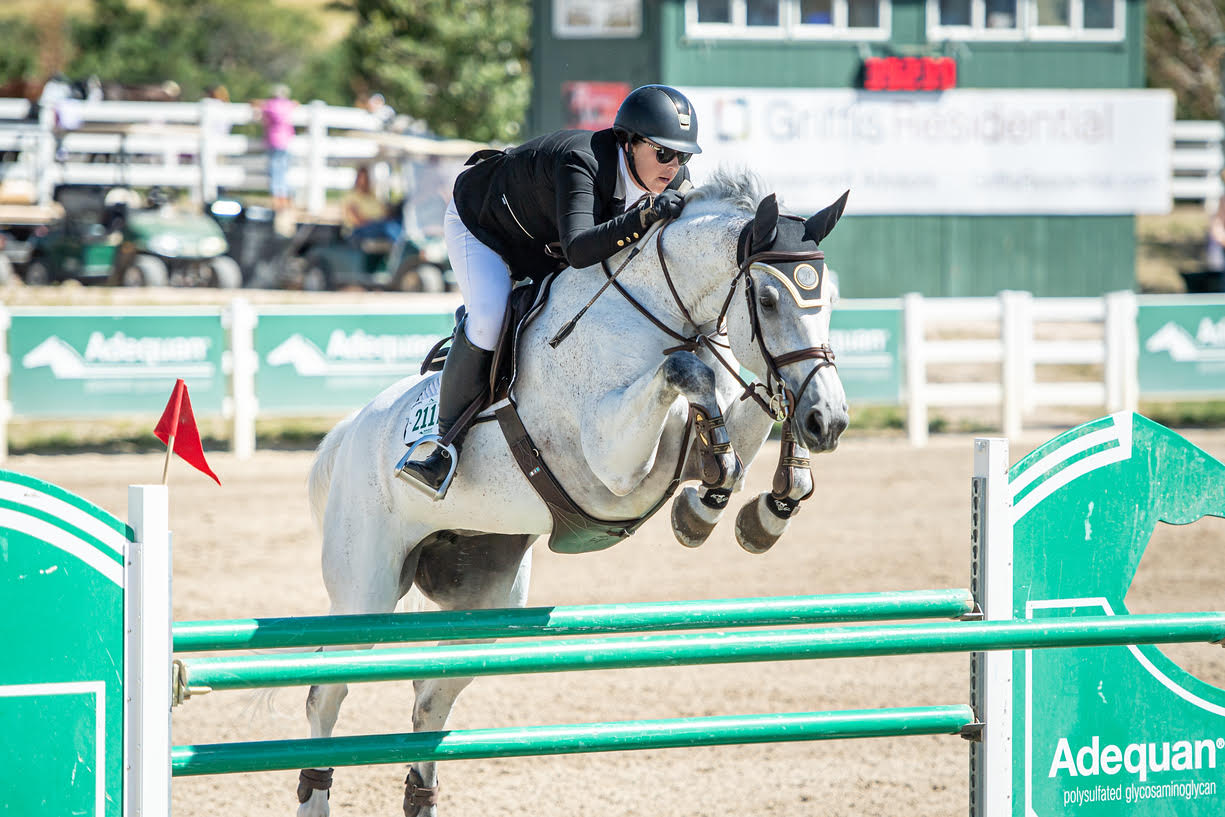 Cincenetty GJ Z owned by Dawn Valerius in the $25k autumn in the Rockies Grand Prix 2019. PC - White Fence Equine 
PE - Do you think the horses physical capability or mental attitude are more important?
AS - Both, but I will take mental attitude for a client, most often. When I look for upper level jumpers for myself, they absolutely have to possess both the ability and the brain. it's just too difficult without both qualities.
PE - What are some of the questions that you ask the horses previous owners or whoever you are purchasing the horse from?
AS - I'm a big researcher. I ask about any gaps in it's show record and I always look to see where they have been shown and how they have placed. I also want to know why they are selling. I also like to ask the trainers and owners the horse's biggest strength and weakness. I pay attention to the type of bit the horse is ridden in and any other special tack they use. I want to know how they medicate or supplement the horse both at home and at shows and what type of prep they typically do at the horse shows. I pay attention to how the horse is shod and of course it's previous and routine injection/medical maintenance and any major medical issues.
PE -  Do you prefer to bring along a green horse yourself or a horse that already has experience and training? 
For me, I love bringing along young talented horses but I like them to have a foundation in being under saddle and some jumping experience. 5-6 year olds are ideal. I have a lot of clients that are coming up the ranks and need more experienced horses. I really enjoy keeping these horses at their peak fitness, performance and happiness. I am able to "save" the jumps for their riders and do most of my training on the flat. My 3 Grand Prix horses right now are all 9 years old, still developing, and I really enjoy that process as well.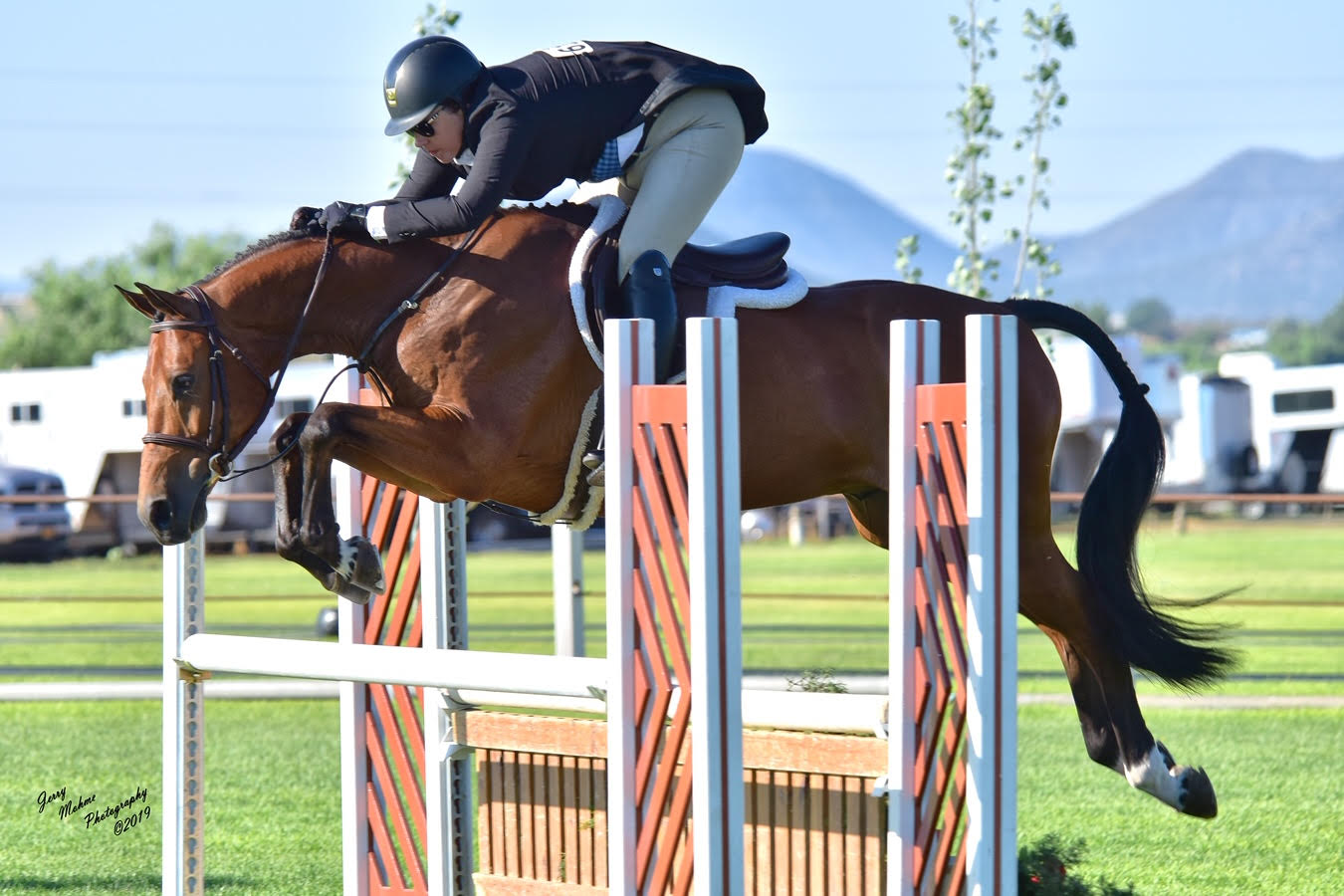 DaVinci owned by Barbara Carrapa in the Santa Fe Sonrisa week Hunter derby 2019. PC - Jerry Mahome photography.
A special thank you to Ashley Stannard of Ashbrook Farms for taking the time to answer our questions and share some of her insights into the equestrian world. To see the current horses that Ashbrook Farm has listed for sale be sure to visit their ProEquest profile!