The Extraordinary One: Sapphire Retires
Blog
The Extraordinary One: Sapphire Retires
May. 15,2012
Erin Gilmore
It was a summer morning in 2002, and McLain Ward only had a few hours before he had to be on a flight to California, where he would compete in the Jerez WEG Trials with Viktor 1. But before he left, he took the time to try a new mare that had just arrived at Castle Hill Farm in Brewster, New York.
With the fog still burning off above the hills surrounding the outdoor ring and the sun giving horse and rider a somewhat celestial halo, he pointed Sapphire towards a jump for the very first time.
He immediately knew that she was going to be something extraordinary, and the rest is now history.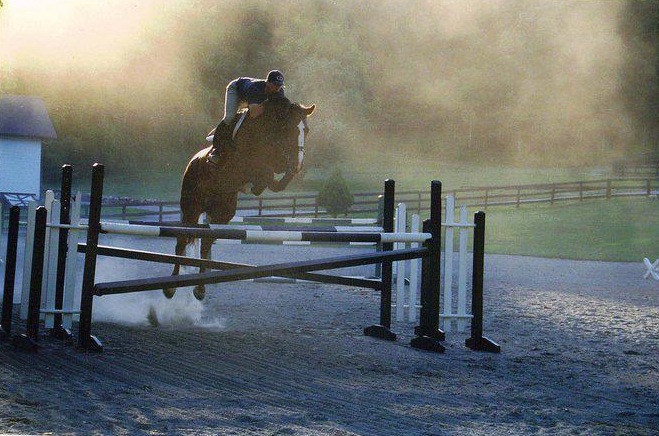 McLain Ward rides Sapphire for the first time. Photo courtesy Debbie Lane/Emma Williams
Is it necessary to list her accomplishments? The short story is two Olympic gold medals, 2004 & 2008; two million dollar grand prix wins, Spruce Meadows, 2009 and the Pfizer Million, 2010; first place in The American Invitational, 2008; The President's Cup at WIHS, 2008; The FTI Consulting Finale Grand Prix, 2009 & 2010; The Grand Prix of Rome, 2010; The FTI Hampton Classic Grand Prix; 2009 & 2010; The Grand Prix of La Baule, France, 2010.
That's the short story.
It was a special kind of thrill watching Sapphire walk calmly into an arena, glance around, and trounce the competition without a backward glance. You couldn't help but hold your breath as she cleared fence after fence in perfect form.
And while there isn't anything at all sad about a healthy, happy horse being turned out in a field to have babies and loaf about to her hearts content, it's a bittersweet piece of news when that horse is America's favorite mare. Yesterday it was announced that McLain Ward's great mare Sapphire is to be retired after an epic career spanning nearly ten years.
There's nothing tragic about her graceful exit; she isn't injured or unhealthy. Yesterday she enjoyed a box of Dunkin Donuts and an extra ration of hay, photo evidence of which was jokingly posted on facebook by her longtime grooms.
The Comeback That Would Have Been
But after a long rest last year to recover from a minor check ligament strain, there were no donuts in sight when she was declared fit and ready to get back into the ring this past winter.
During the first week of the WEF season in early January, I scoured the entry lists until I saw that Sapphire had been entered in a warmup class. It was to be her first start back in the ring in over 9 months, and I wasn't going to miss it. The class wasn't much; a 1.40m open jumper round to allow her to stretch her legs in the ring again. McLain took it easy with her, cantering slowly around the course in anticipation of a long grand prix season ahead. 
Three days later he crashed in the Saturday night grand prix with Oh D'Ohele and everything changed. Her comeback was delayed once more. There was never any question of her being paired with another rider; she would wait and be kept fit while McLain's broken kneecap healed. Based on past accomplishments, they were still named to the U.S. Long List for the Olympic Show Jumping Team in March.
This spring when McLain was able to ride again, the Castle Hill team began working towards the goal of showing Sapphire this week at Old Salem Farm. But for no one reason, she didn't feel 110% percent in fighting form, and the decision was instead made to giver her the retirement she deserves, and has well earned.
Horsemen can tip their hats and applaud Sapphire's team for making a decision that's in the best interest of the horse. At 17 years old and with countless wins to her name, McLain has long said that she has nothing more to prove.
What's Next?
In 2011, several attempts to breed Sapphire with Hickstead via embryo transplant were unsuccessful. In retirement the hope is that Sapphire will successfully be able to carry her own foal, and the top stallion choice is again Hickstead.
Poetic justice would be McLain one day riding a Hickstead-Sapphire foal to a World Cup win, one of the few titles that Sapphire was (quite unjustly) denied. Here's hoping we see that day come to fruition.
It's also worth mentioning that Sapphire has a pair of clones on the ground. Living at Blue Chip Bloodstock in New York, the two fillies have been quietly growing up these last two years, and clearly sport their mother's head and expression. The jury is still out on whether they will inherit her talent, but in three years or so you can count on them getting their fair share of attention.
"Sara" will now begin her retirement, donuts, and all, while being let down at home on the farm in Brewster while McLain goes on the hunt to claim his spot on the Olympic Team with Antares F.
So, here they are over the last fence in what ended up being their last competition round. Happy trails Sapphire, I'll miss stalking you by the ingate rail, watching you dominate the competition, and holding my breath as you clear that last fence.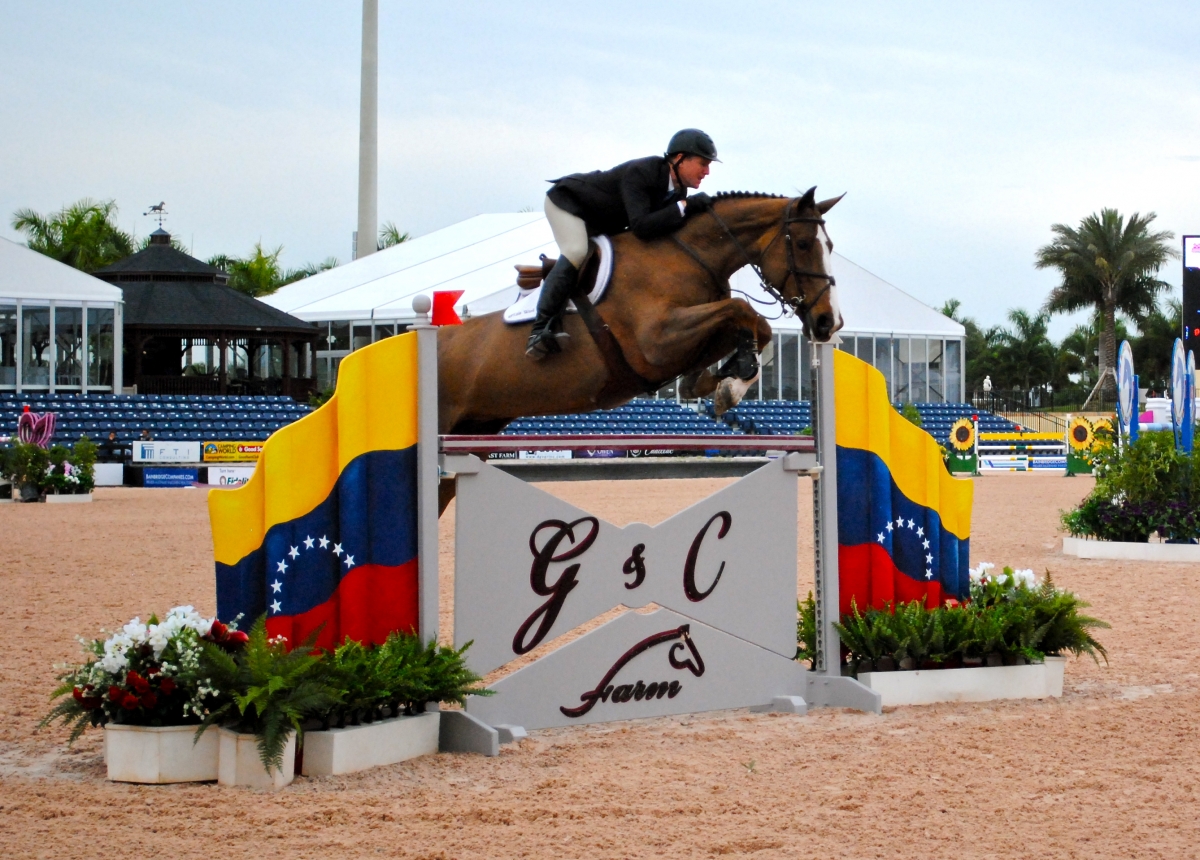 McLain & Sapphire clear their last fence in competition together, January 2012. Photo by Erin Gilmore