Fast, rideable and careful: Peter Wylde talks to ProEquest about what makes the successful speed horse.
Blog
Fast, rideable and careful: Peter Wylde talks to ProEquest about what makes the successful speed horse.
Nov. 10,2019
Ronda Stavisky
Continuing our conversation with Peter Wylde, we turn our attention to the speed horse.  As Peter pointed out, years ago you had one horse to do hunters, jumpers and the equitation classes.  Today, there are specialists, horses that are best suited for each of these disciplines. One of the most specialized type is the speed horse.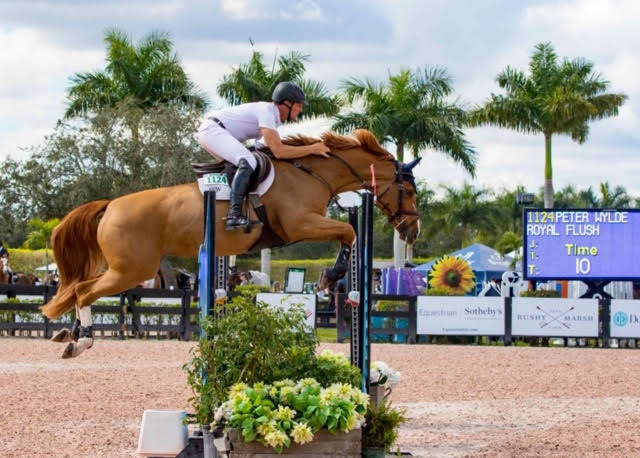 Peter Wylde & Royal Flush. PC Tracy Emanuel
When people hear the term 'speed horse' they immediately assume that it's a super hot horse that isn't quite scopey enough for the big tracks.  "Speed horses are really careful horses, that maybe don't have the scope or aren't brave enough with their carefulness to jump 1.60m classes," he acknowledged, noting though that today "a good speed horse has to have more.  Nowadays, speed classes are more significantly 1.45m classes. Speed horses used to be 1.35 or 1.40m horses, but a top International speed horse has to be a 1.45m horse now" he says. "That's the equivalent of a High Amateur jumper."  The ones that are "really careful and really quick footed can win a lot of classes." In fact, you will see some of the top speed horses crossing over quite successfully in the High Amateur classes.  
In contrast to some of the other jumper types, "Rideability is a bit more important" with speed horses.  "The turn factor is what makes rideability especially important with speed horses. If they are difficult to ride it can be problematic."  While a great speed horse is a great speed horse, "some horses are better indoors and some are better outdoors, some are better on grass and some on sand."  Overall, "for a speed horse, you generally tend to find a "hotter and really careful horse that usually doesn't have a lot of scope." Basically, "some horses just can't physically or mentally jump 1.60m classes but their other characteristics such as carefulness and can make them very valuable speed horses."
When asked to name some of his great speed horses Peter mentioned three; Felix des Neus, Labelle and Royal Flush.  "Two of these were very similar, but all three were incredibly careful horses." Felix des Neus was a1993 Selle Francais gelding and had a pedigree full of blood, both from Thoroughbred and Anglo Arab origins.  He was sent to Peter by a Swiss owner who was part owner of Fein Cera. "She [the owner] had the horse with a young rider and it was too strong for the young rider." Peter remembers, "he was small, he stuck his nose straight out in front and was super careful."  Most notably, "he was incredibly fast. He actually was really hot and really nervous, and when he put his nose out, he would really drag you to the fence. You really had to hope you were always getting the forward distance because there wasn't much slowing him down." "He won a lot. I won a speed championship at the Brussels Masters; it was a three class series and I won an Audi car."  The winning formula according to Peter was that "It just was so hard to beat him because he was just so fast." On the flip side, "he was on the edge of being crazy. You could not do prize giving ceremonies with him, it would be dangerous, he would take out the whole ring!" Overall, "he was much better outdoors than indoors." He was also very sensitive to the surroundings. "If there was a big crowd that was chanting, he would get quite hot and crazy, but he was a really good speed horse and I won a lot of classes with him."  2004 was a big year for Peter and Felix des Neus. In addition to the major championship win in Brussels, their International presence included Zurich, Paris, Goteborg, Lummen, and Cannes among other European shows. Eventually, "Missy Clark bought the horse and Julie Welles ended up riding it afterwards, it was her top Junior Jumper."  
The second horse that Peter remembered is Labelle.  This 1994 Holsteiner mare was by Lux Z out of a Silvester mare.  "She was a very similar horse to Felix des Neus, but super polite in the mouth."  Labelle was owned by Turnabout Farm, for whom Peter rode for about 10 years. "Labelle won the two biggest indoor speed classes in Europe, winning one of them two years in a row."  Their International career spanned Europe, with top placings in Arezzo, Gelderland, Fontainebleau, and Madrid in addition to the big wins in Munich and Maastricht." One of the highlights was winning a Chopard watch for her owner in Munich.  Like Felix des Neus, Labelle "was also incredibly fast." She had "perfect technique and was very careful, but she was also very, very hot." This mare won with multiple riders even before going to Peter. "She won with Sarah Willeman, she won with Ramiro Quintana, she won with McLain Ward," in addition to the many classes she won in Europe with Peter. "She was really careful, in fact, she was among the most careful horses that I've ever known." Also like Felix des Neus, Labelle competed with her owner as a high amateur jumper.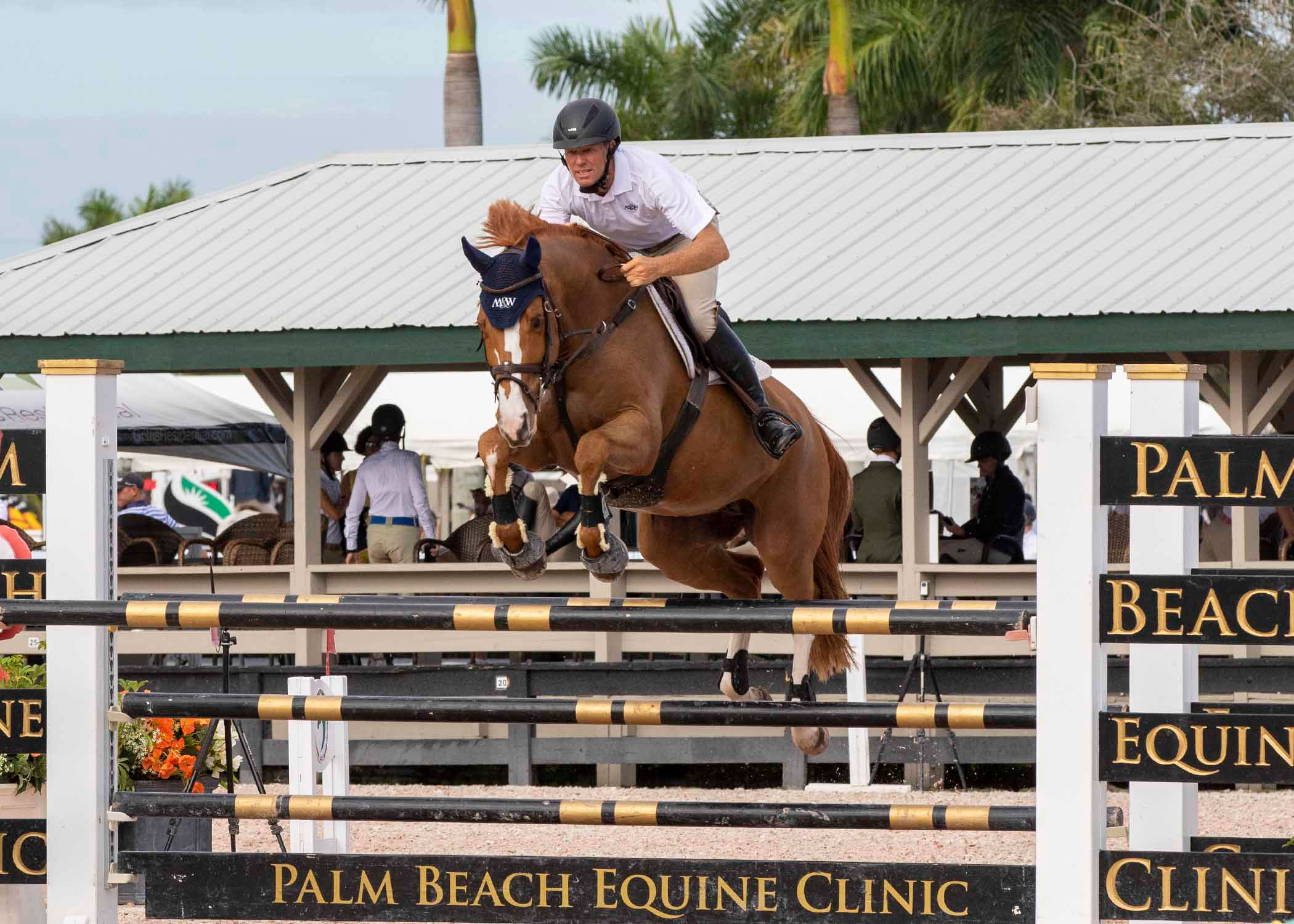 Peter Wylde & Royal Flush. PC Tracy Emanuel
The final horse is Royal Flush.  She is Peter's current speed horse and is living up to her impressive origins.  "She probably is the most consistent winner of classes of any horse that I've ever had" he notes.  He remarked that she is getting a blue ribbon in over 50% of her classes. "I've never had a horse that wins as much as she does." The list of wins is impressive.  They showed in Princeton for two weeks earlier in the year and she won three of her four classes, as well as winning several classes on her return to Princeton this fall.  She did 3 classes in KY this summer and she won two of them. In Florida over the winter "she won six classes, and she was circuit champion even though she only did 10 classes over the whole winter.  Each of the classes that she won had over 100 horses."   
She's quite a bit different from both Felix des Neus and Labelle.  In addition to her unique ability to be successful in both indoor and outdoor venues, on grass or on sand, she "is not that hot, a bit colder, but super rideable, super brave and she's really careful – she's incredibly careful. "  He thinks these qualities contribute to her high percentage of wins. "Because she is a bit cold to the leg, she doesn't get too flat and stays careful." When you watch her rounds, she doesn't look like she's going very fast. "She looks smooth and she just sort of slips around the course, but she can turn so well and slice jumps like you cannot imagine!"  In fact, he notes that he's "always doing one less stride, and it's just easy for her to win classes." She never gets too hot, "the hotter horses have to be ridden in some slow classes from time to time just to slow them down," but not Royal Flush. "I almost never feel the need to do a slow down round, every time she goes to the ring she looks at the fences and is careful.  You can just ride a fast round every time you show her." "That horse has been really special, and what's really nice is that her owners, the Kamines also bred her and it's from their own breeding program. She is by their great stallion Royal Kaliber, who was Chris Kappler's Olympic mount and out of Wildana, who was Nona Garson's Grand Prix mare. "She's a homebred and she's a real winner, and that has been really fun for the Kamines."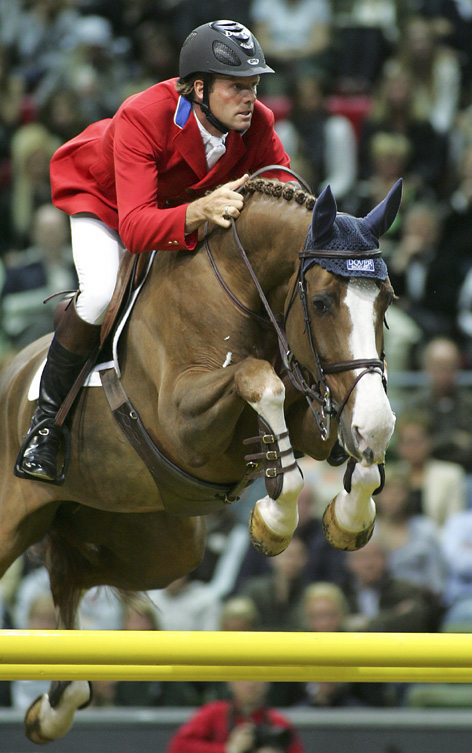 Peter Wylde and Esplanade World Cup 2008 Goteborg. PC - Chronicle of the Horse​​​​​​​​​​​​​​
Check back for our last installment where Peter Wylde discusses what makes a Grand Prix horse great and reminiscences about some of the top horses in the world that were also very special horses in his career.  Also, make sure you didn't miss the first part of the series where Peter describes what to look for in an Equitation horse and talks about two of the best.