Featured Pro: Alex Wilson & Kaitlin Campbell of SWS Training & Sales
Blog
Featured Pro: Alex Wilson & Kaitlin Campbell of SWS Training & Sales
Details matter and can mean the difference between a podium finish and a disappointing ride home. Alex Wilson and Kaitlin Campbell of SWS Training and Sales in Temecula, California understand how important the details are, and it shows in the success of their horses in the jumper ring.
Both bring a foundation from successful young rider careers to their operation. They bought their Temecula facility four years ago and built the barn from the ground up. SWS Training and Sales has all the details they need for a successful sales and training facility, as well as their home base for extensive travel to shows throughout the United States and Mexico.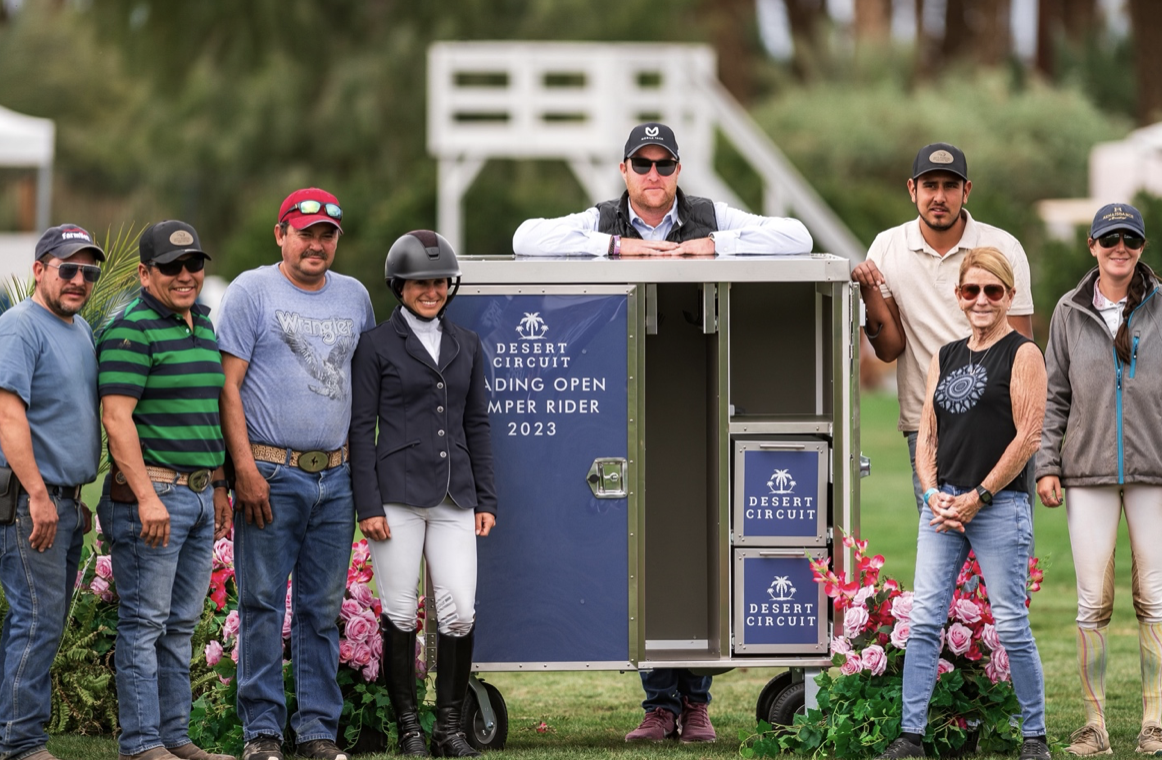 SWS Training & Sales Team at Desert Circuit. Photo courtesy of Kaitlin Campbell.
An Equestrian Legacy
SWS Training and Sales builds on the legacy that Alex's late father, Scott Wilson, began with his Scott Wilson Stables in southern California. Alex grew up riding, with his first win at age two in leadline at the Devon Horse Show. This success continued throughout his junior career, culminating with a team gold at the North American Junior and Young Rider Championships in 2003.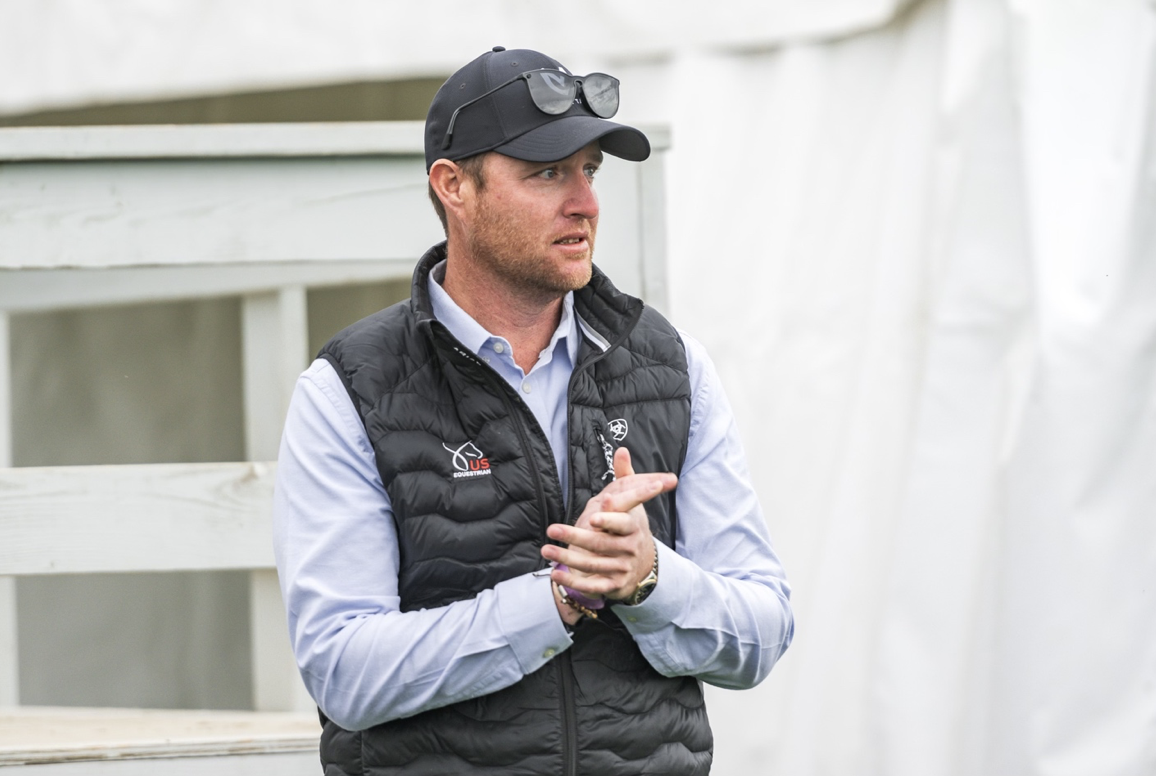 Alex Wilson coaching. Photo courtesy of Kaitlin Campbell.
"My favorite horse memory is growing up with my Dad, having him teach me and be part of my life, and learning from him," Alex says.
Alex took over SWS Training and Sales after Scott passed away in 2009; Scott always wanted him to continue the family legacy. While his father was a major influence on his professional career, Alex also worked for John French for six years. John was instrumental in helping Alex with next steps for SWS. Alex also cites David Bustillos, a fellow California trainer, for helping start the sales side of the business.
Kaitlin grew up in Pennsylvania where she started riding with Patty Miller. Next, she rode with Tim and Kelly Goguen and Shane Sweetnam. She won an individual gold and team silver at the North American Junior Championships. Kaitlin followed the traditional trajectory and completed her bachelor's degree at American University, while still competing as an amateur during college.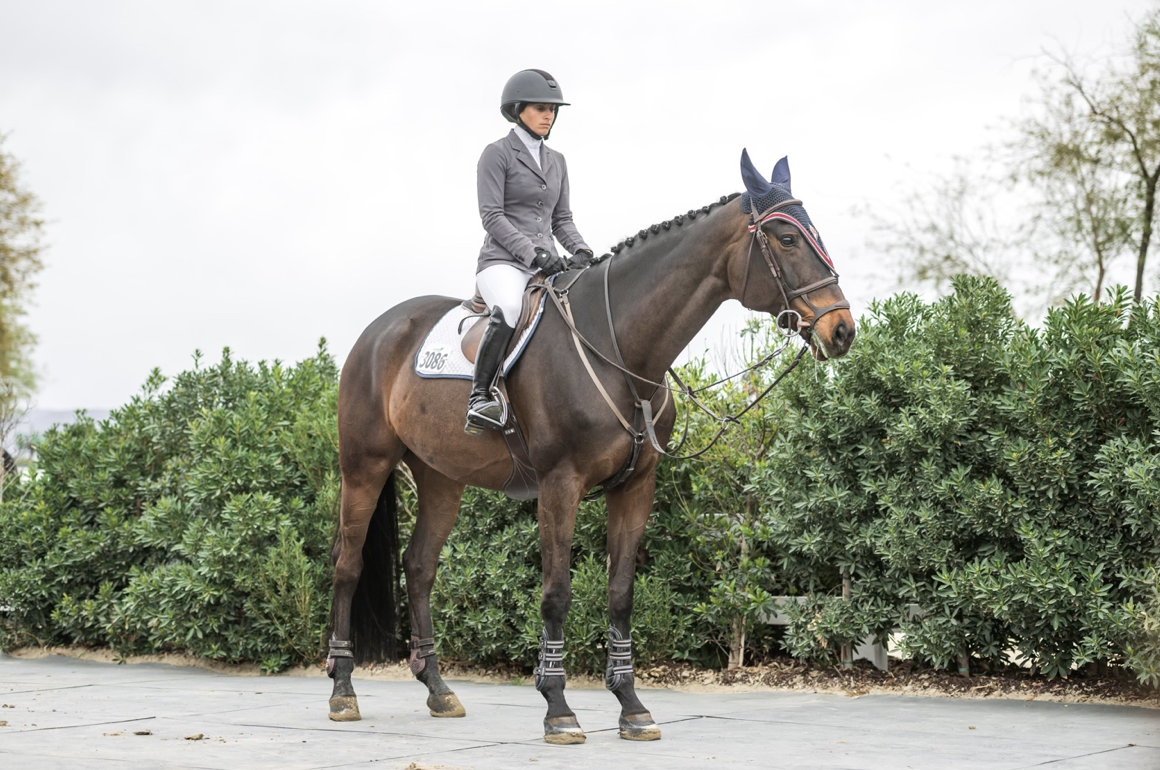 Kaitlin and Palina De L'Escaut. Photo courtesy of Kaitlin Campbell.
After graduation, she became a professional trainer, first working at Spy Coast Farm, and then at Marigot Bay Farm for four years before moving to California. Kaitlin joined Alex at SWS Training and Sales in 2016. "A lot of people have helped me along the way, and I try to take something from everyone," she says.
Building the Business
Alex and Kaitlin have steadily built their business and have jumped over 30 horses at Grand Prix's and also have countless sale and training horses. There are always between 20 to 25 horses at the facility, with higher level competition horses, consignment horses, sale horses that they own to produce, and a few select clients. SWS Training and Sales focuses on the jumper ring but sporadically has hunters and equitation horses. 
"We specialize in finding horses for riders on any budget and making creative ways for riders to find the perfect match," Kaitlin says. "We both like to buy and sell horses, so there's always some project horses in the barn as well."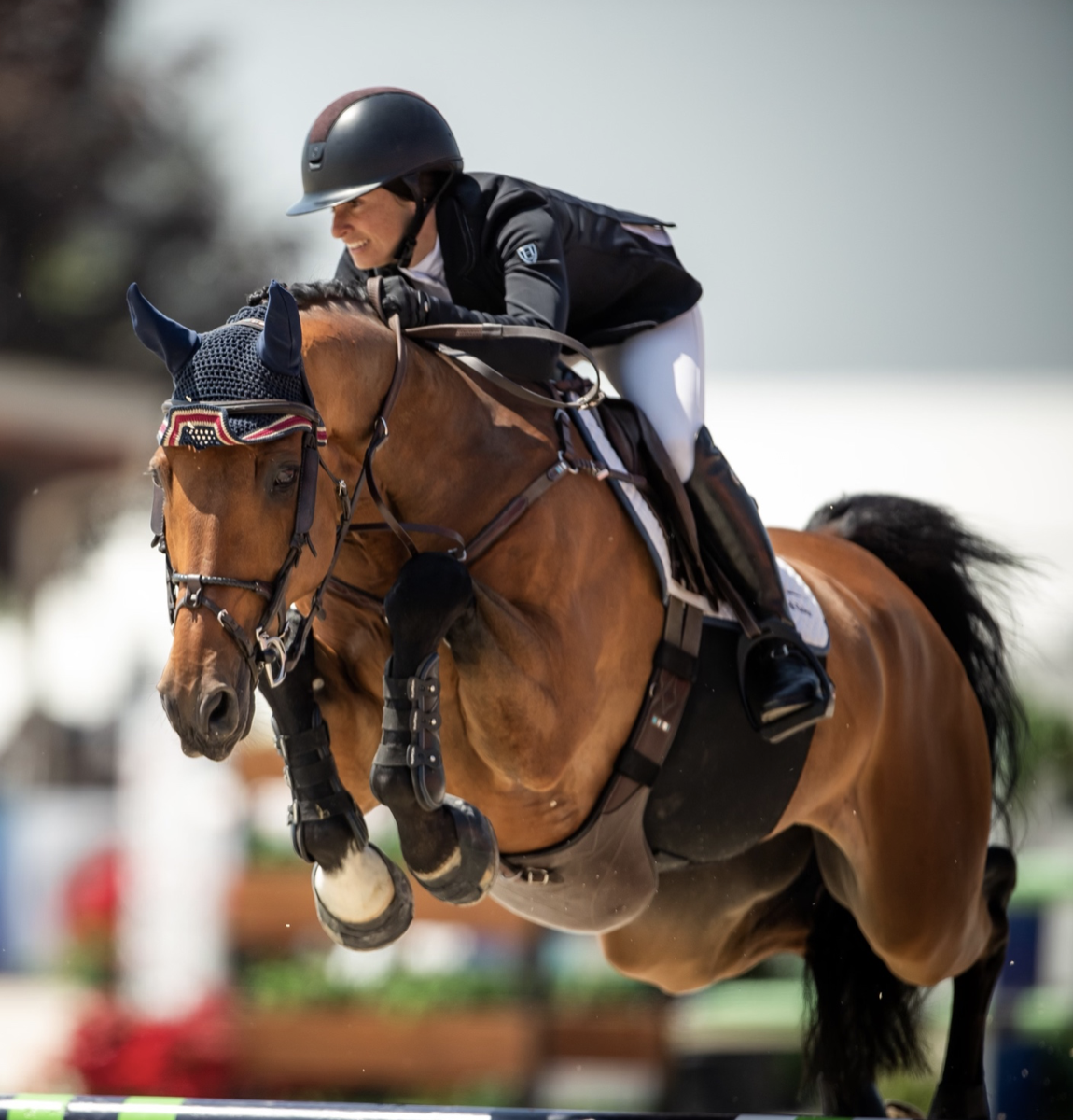 Kaitlin and Diacco-Blue. Photo courtesy of Kaitlin Campbell.
Additionally, they travel more than most barns. Last year, Kaitlin and Alex showed in California, Eastern and Western Canada, Mexico, Florida, Michigan, and Texas. 
They also accept short term coaching clients. Many riders have trained with them just for Thermal or the summer. Or people who have bought horses from them and want to come to shows their home barn can't go to, so they stay for a while and then head back to their home barn. SWS is relaxed, casual, and drama free, making it a welcoming location for all horses and riders. 
The Will to Win
Kaitlin and Alex both seek horses with a heart and that want to win. Their extensive experiences allow them to find horses that others may overlook or who've had some issues, and they work with them to bring the horse to the next level.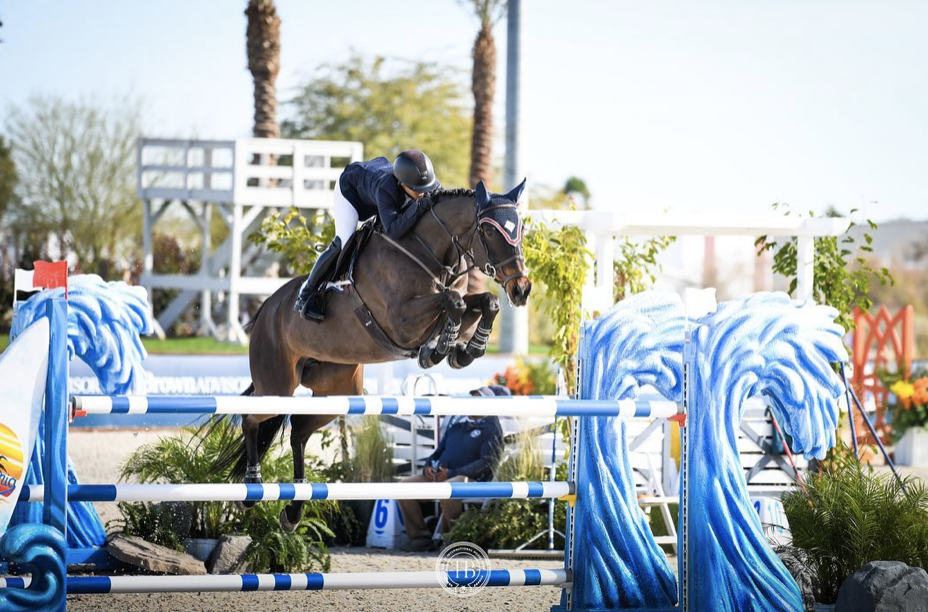 Palina De L'Escaut at Desert International in February 2023. Photo courtesy of Kaitlin Campbell
There are unique attributes they look for in horses. "For myself to ride, as long as they want to win, I don't care about much else," Kaitlin says. "For sales and amateur horses, we look for easy going, predictable horses. Every horse is going to have some quirk, but as long as it's predictable it's okay."
"Their heart is important," Alex says. "I want a horse that tries really hard. We don't always have the largest budget and look for a horse that's a real doer. We take them past what they've done before and want horses that love their job."
SWS spent the spring and early summer on the East Coast getting to know some new horses and competing at the FEI level with their more experienced horses. For now, they are home before heading back East and to Mexico for their Major League Show Jumping Team, the Desert Horse Park Roadrunners. Kaitlin is one of the team members, while Alex is the coach. The goal is to be in the top three at the end of the season, and for Kaitlin to make the Nations Cup team.
At the end of the day, successful horses are still what matters most, and attention to detail ensures the horses are successful. "For me, it's seeing the horses have success and their career to continue to grow," Alex says. "It's nice to get phone calls that a horse is doing super, or watch Kaitlin bring a horse up through the divisions."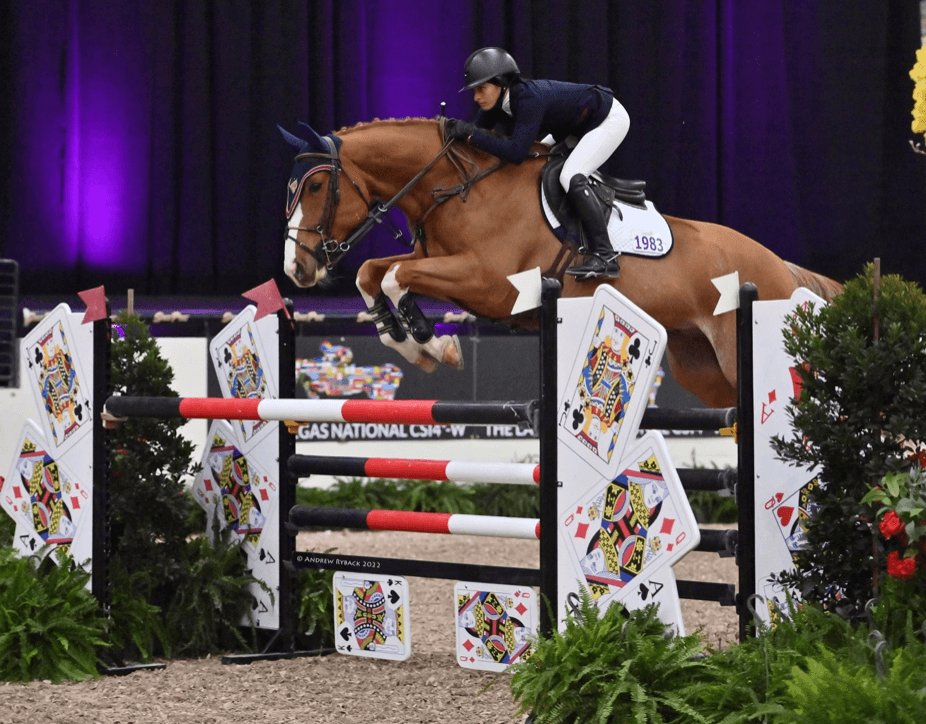 Sun Warrior in Las Vegas, November 2022. Photo courtesy of Kaitlin Campbell.
"Obviously when competing, a win is always rewarding," Kaitlin concludes. "It's also very rewarding when you sell a horse, and it goes even better for the person that bought it than it did for you."
To see the current horses that SWS Training and Sales has listed for sale be sure to visit their ProEquest profile!