Featured Pro: Kelly Maddox
Blog
Featured Pro: Kelly Maddox
Kelly Maddox is sitting in the sunshine on her 23-acre property, The Maddox Family Farm, in Pleasanton, California. The three barns, paddocks, two indoor arenas, and the rest of the farm's amenities stretch out in front of her, as a horse whinnies a greeting in the background to a friend. "I got everything I've ever dreamed of, now I'm refining it and making it better," she says.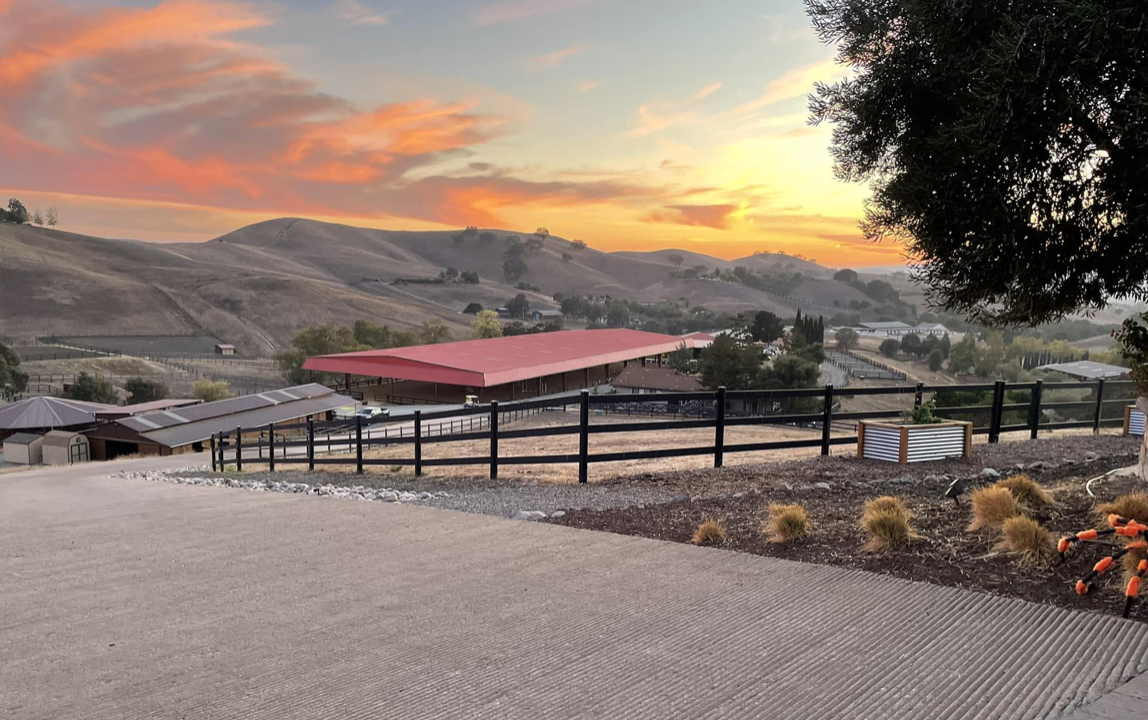 The Maddox Family Farm. Photo: Kelly Maddox
Team KMT – Kelly Maddox Training, Inc. – moved to the facility in February 2022 after Kelly and her family purchased it. Owning a facility is a long-held dream for Kelly, and this property is even more special. She tried to purchase it in 2020 and was outbid. A phone call on her birthday let her know it was available again, and this time Kelly, along with her brother, Kevin, and sister, Kieran Dulik, bought it.
Horse Crazy Childhood
Kelly learned to ride in Japan when she was seven years old. Her Dad was in the container shipping industry, and the family moved every two to three years. Kieran was already riding when they moved to Japan, and Kelly begged to have riding lessons too. She and Kieran would ride the bus to the barn, she recalls, drinking their Fanta sodas, and then have their lessons. The family moved to Taiwan, and the girls kept riding, then it was back to the United States.
"I got my first pony, Munchkin, when we moved to Illinois from Taiwan," Kelly says. "We were horse crazy kids and lived at the barn every day. Turtle was my first horse, and he was a great inspiration. He was difficult when I purchased him, and I worked hard on developing the relationship with him. We won a medal final at the end of his career. Horses need time to be listened to; I never gave up on him, I loved him and wanted to make it work."
That perseverance with Turtle was the beginning of her professional career. She started working for Mike Nielsen when she finished high school, and then for Mickey Hayden. Kelly loved each and learned different things from them. "I was missing the business side of it though, so went back to school and then started working for Enterprise Rent-A-Car too, where I got corporate experience."
When Kelly got married and moved to Toronto, she reverted to amateur status. While in Canada, she started riding with Wayne McLellan, and that led to buying, and selling a few horses too. After her divorce, she moved back to California and started working for Enterprise again. But she missed the horses. Soon, Kelly started her own business with one horse at Shiloh West, eventually giving up the corporate role with Enterprise and concentrating on the horses full-time.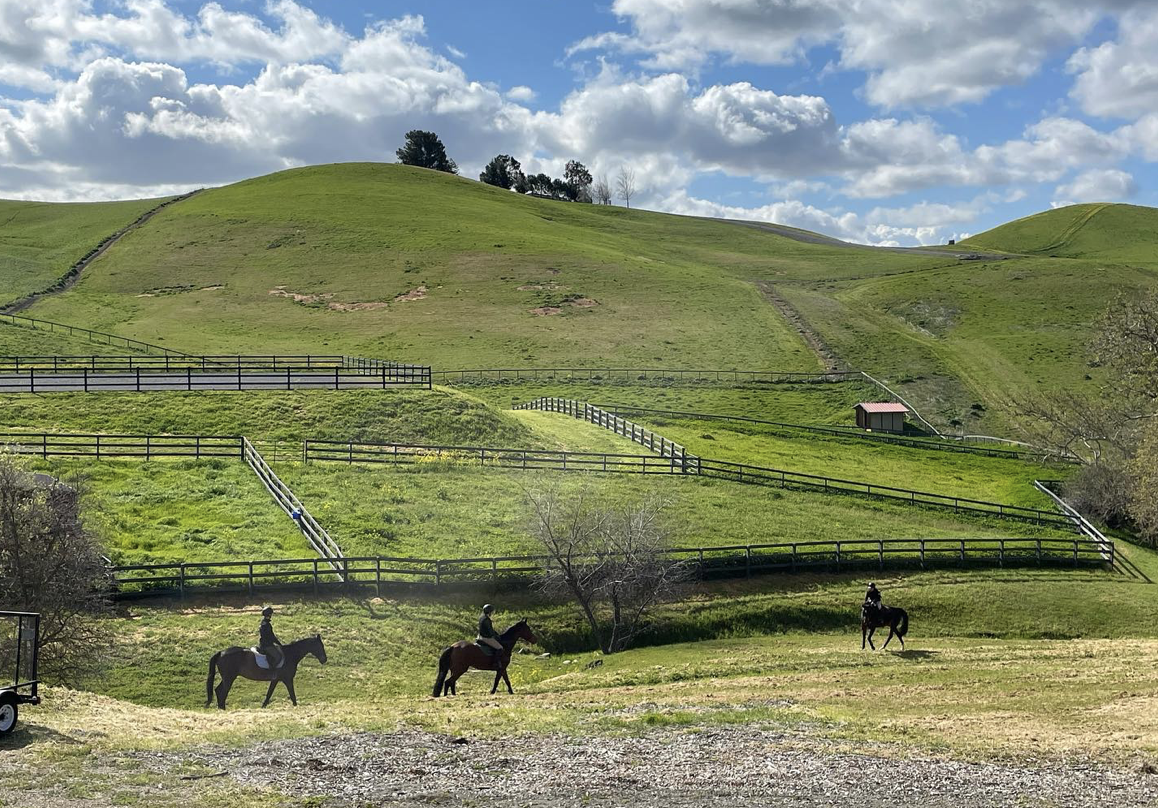 Riders hacking at home. Photo: Kelly Maddox
Team KMT
Team KMT operated out of Shiloh West Equestrian Center from 2003 through February 2022 when they moved to The Maddox Family Farm. The barn is a family – both in terms of the family operating it, and the clients and team members who become part of the family. Kelly's training and teaching centers on horsemanship, sportsmanship, teamwork, leadership, and the barn family.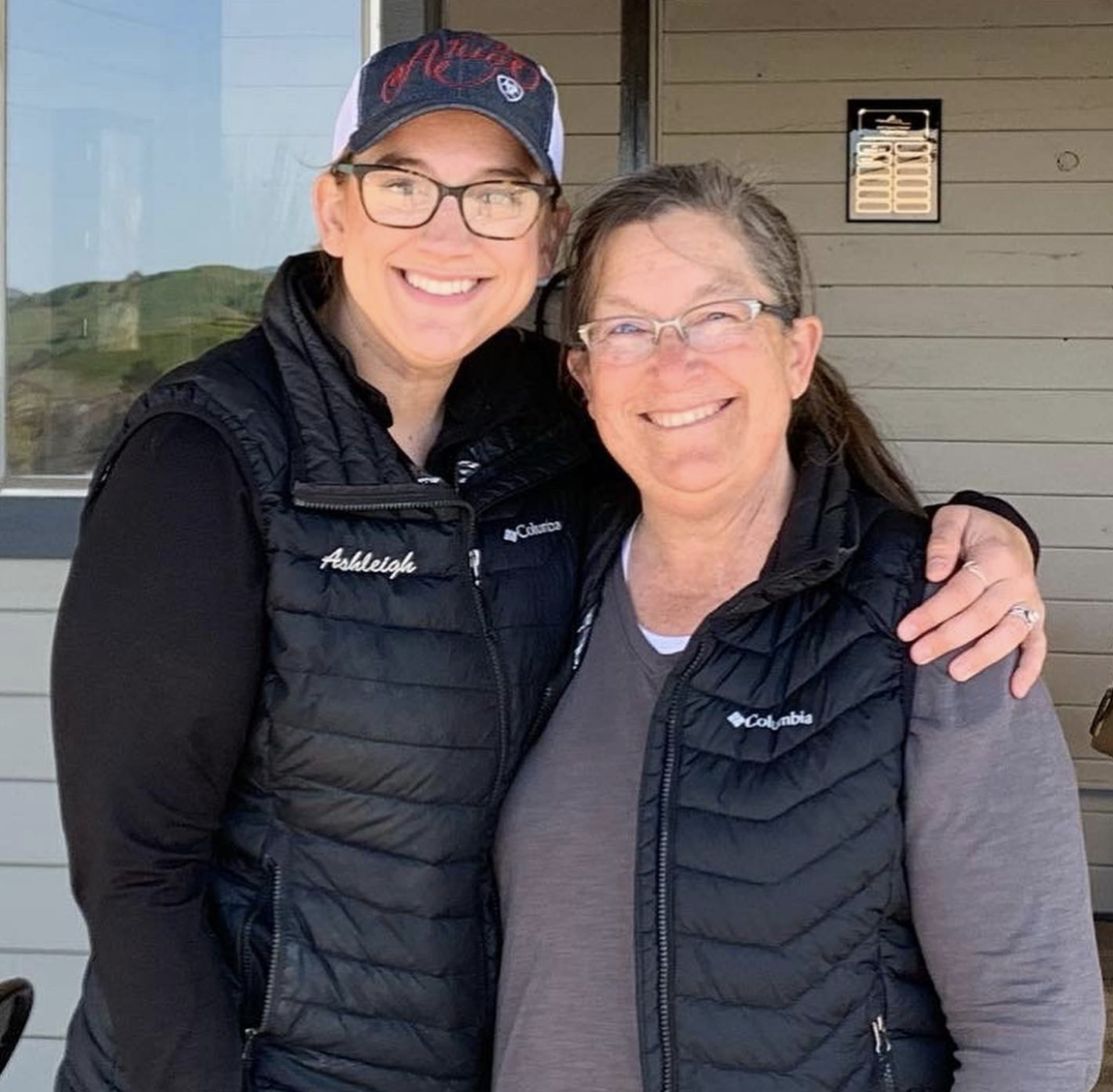 Ashleigh and Kieran. Photo: Kelly Maddox
Two years ago, Kieran moved back to California from Indiana, where she owned and trained at Castle Heart Farms. "We always dreamed of working together, there's something about having family here, the trust," Kelly says. "I always said I wish there was two of me, and now I feel like there is two of me. Kieran works so hard at the management side, caring for our horses."
Kieran's daughter, Ashleigh Culiver, and her husband Collin, moved to The Maddox Family Farm in 2022, and Ashleigh joined the team as Riding Academy Manager. Dana Foremsky is assistant trainer, and Catie Carlson rounds out the team. Catie is 18 years old now and has been riding with Kelly since she was five years old. In addition to being an outstanding rider and trainer, she's also an inspiration to the young riders in the barn.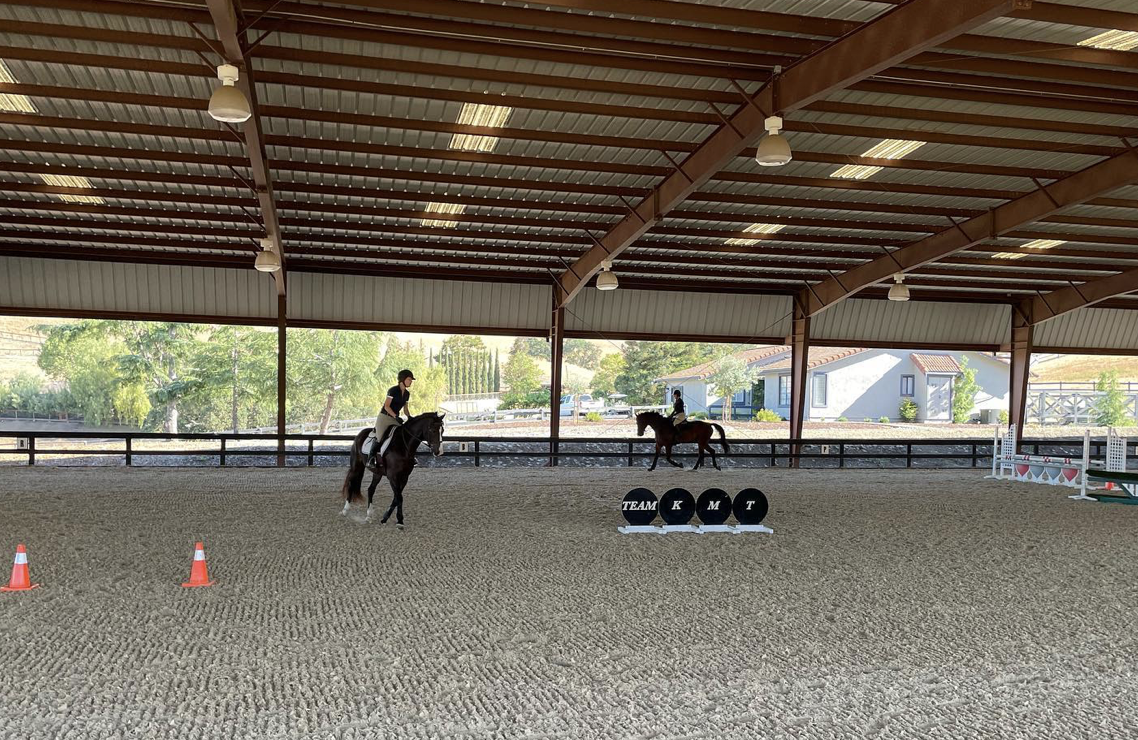 Riders practicing in the indoor at home. Photo: Kelly Maddox
Clients are young riders and amateurs, and the entire staff at Team KMT works hard to give young riders leadership opportunities. It's about the entire experience for them. Clients do all their own work at the barn and young riders can be barn rats if they want. It's about the horses, working together, learning, and horsemanship. Kelly loves seeing them having fun and giggling in the barn and taking it seriously in the ring.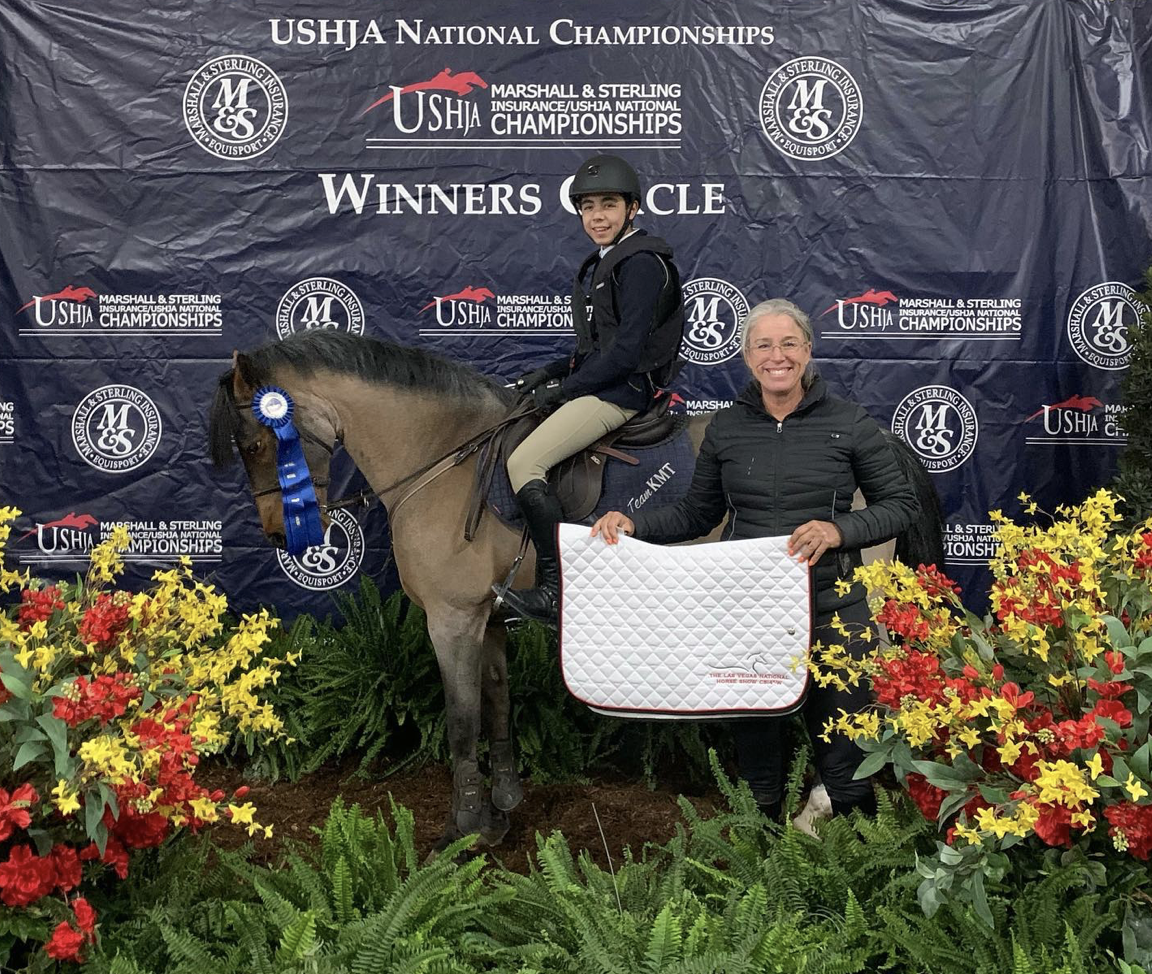 With a young rider. Photo courtesy of Kelly Maddox
A variety of opportunities are available for the young riders, to provide the best possible learning and leadership opportunities. "I worked with the late Victor Hugo-Vidal in southern California, and valued how he coached," Kelly reflects. "Victor inspired my coaching style as it is today. He got you thinking as a rider and worked with you to find the right solution. I cherished the moments I had with him, and even today, I can still hear his voice in my head."
Team KMT organizes and hosts the Tri-Valley Classic Horse Show Series, with Kieran as show manager. It's a series of three schooling shows and a championship at the end of the season. The Tri-Valley Classics are a great opportunity to introduce young horses and newer riders to the showing experience, or a chance for more experienced riders to practice.
There is also an IEA team, a junior trainer program for young riders ages 16 and 17, summer camp, and an advanced summer camp. "The students stay at the farm during advanced summer camp and are up at 6 AM to feed and muck stalls each day," Kelly says. "They are tacking on shoes, trimming feet, and learning other parts of horsemanship. It's one of my favorite programs."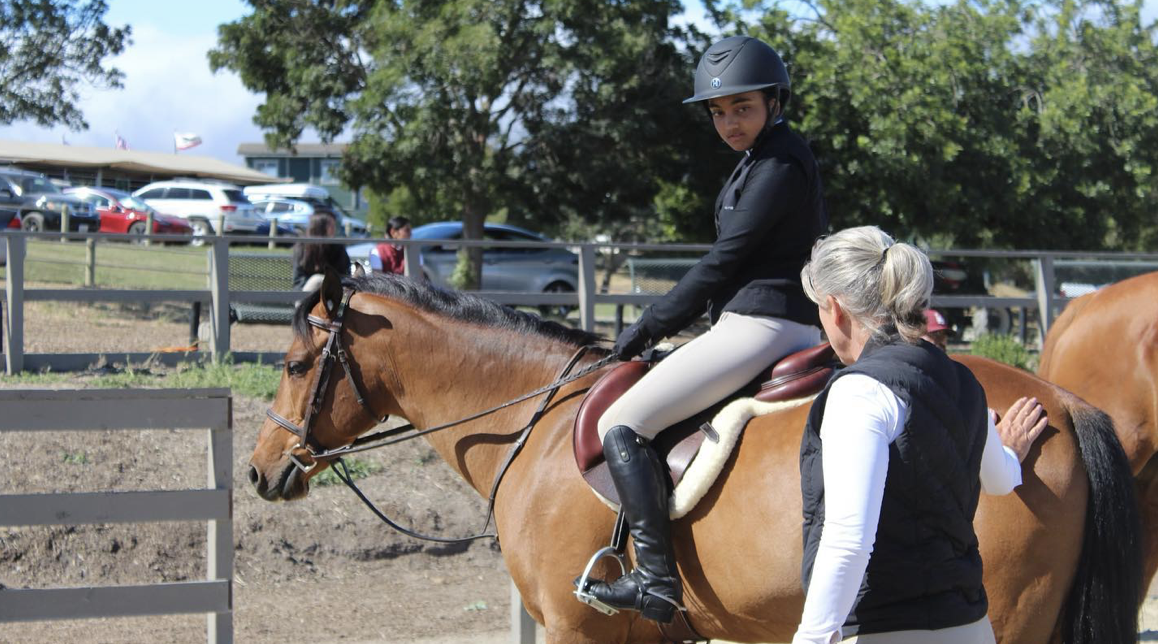 Kelly coaching a young rider at a show. Photo courtesy of Kelly Maddox
The future looks bright for Team KMT, and not just because of the sunny skies in northern California. Kelly and her staff have an excellent group of riders, with more joining. She reminds the young riders that they're athletes; all are setting goals, learning leadership, and they understand that it's more than just a hobby, her riders take the sport seriously. Kelly encourages them to work out, ride extra horses, and become better competitors.
"Becoming a professional has been my calling my whole life. I love the business side of the industry and incorporate that into my horse business; I also love people, my horses, and coaching. The cherry on top was getting this property," she concludes.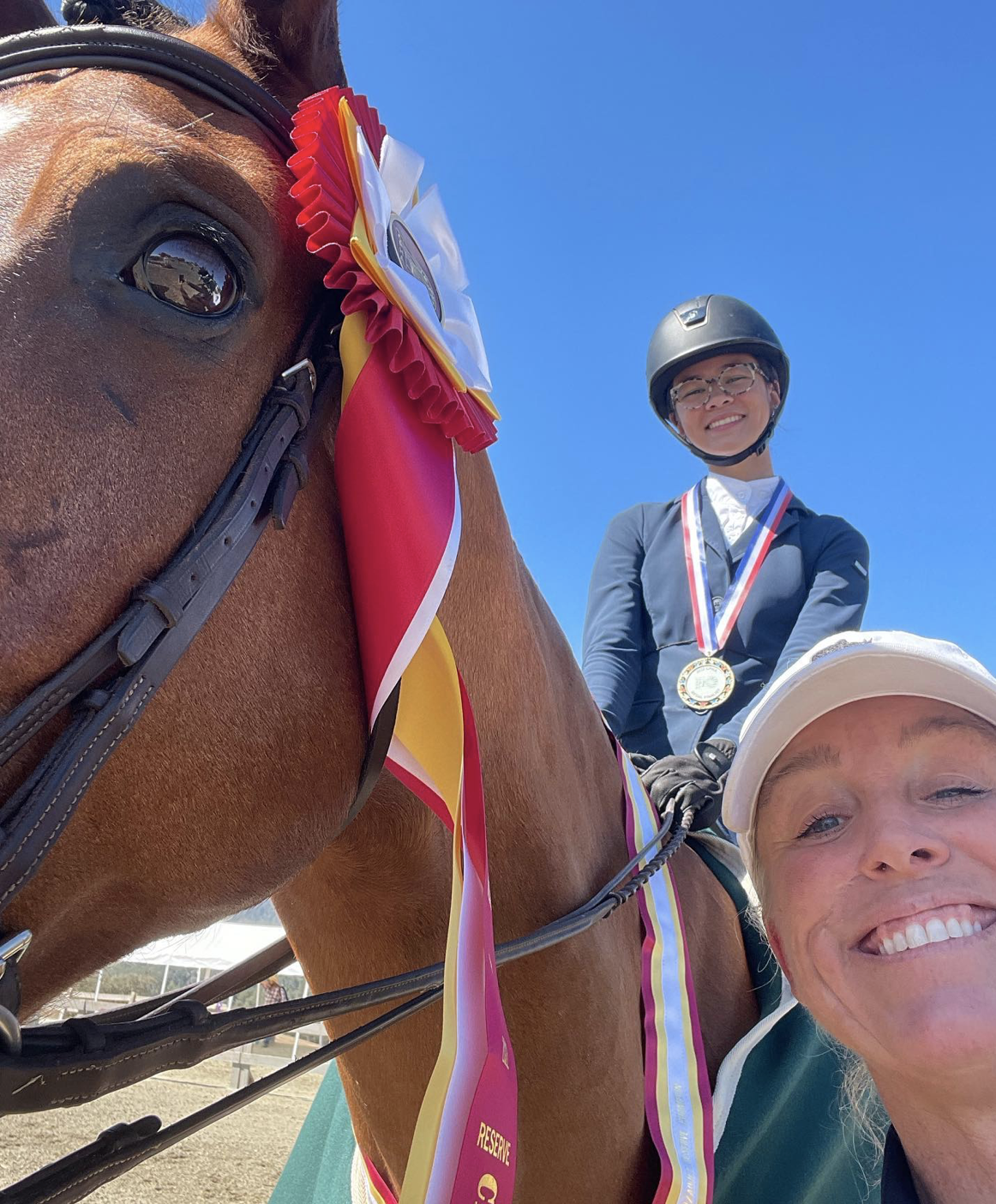 Selfie with a student and her horse. Photo: Kelly Maddox
To see the current horses that Kelly Maddox Training, INC has listed for sale be sure to visit her ProEquest profile!