Featured Pros: Petschenig Show Jumping - Nathalie and Peter Petschenig
Blog
Featured Pros: Petschenig Show Jumping - Nathalie and Peter Petschenig
Petschenig Show Jumping in Pilot Point, Texas is a well-known force in the hunter/jumper circles on both the East and West coast.  Their consistent, winning performances are what sets them apart from the rest. Nathalie (née Cooper) and Peter Petschenig joined forces and moved their business from California in 2016 and opened the doors to their Texas facility in 2017.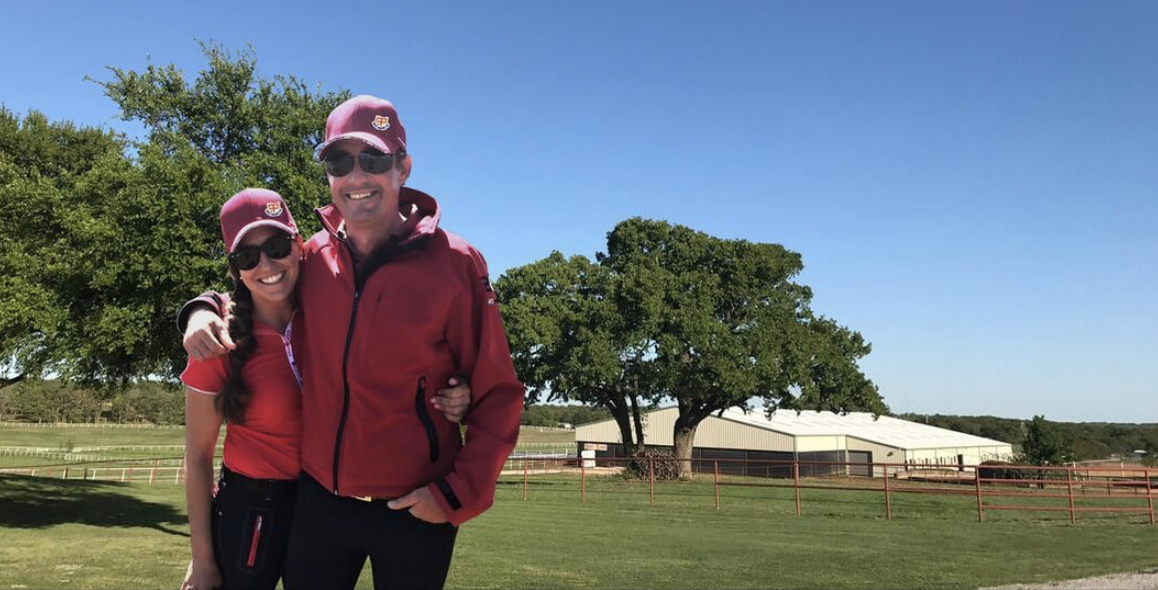 Nathalie and Peter at their barn in Pilot Point, Texas. Photo courtesy of Petschenig Show Jumping LLC.
"Petschenig Show Jumping is a competitive show barn. Our clients' goals are to learn and progress while becoming better horsemen, competing, and moving up in the sport.  We tailor our programs based on the horse and rider and are lucky to have a lovely group of horses and clients in the barn now," Nathalie says.
This equestrian power couple is creating a love of the hunter/jumper sport in new riders and guiding their more advanced students up to the highest levels of the sport. They also have big plans for the equestrian community in the Dallas-Fort Worth area as Petschenig Show Jumping continues to expand.
Equestrian Childhoods
Nathalie grew up on the East Coast in an equestrian family. Her grandfather, Morton "Cappy" Smith was inducted into the USEF Hall of Fame in 1991 after years of show jumping success, serving as director of the Royal Winter Fair, and master of the Orange County Hunt in Virginia. Nathalie started riding with her grandfather at age three and learned a love of horses and deep respect for horsemanship. Her grandmother, Joan Irvine Smith had a large breeding and show farm in California.
She attended Mount Holyoke College in Massachusetts, where she served as captain of her IHSA team and won numerous individual and team awards. After graduation in 2007, Nathalie moved to California to start her business, Acorn Farm on her grandmother's farm, The Oaks, in San Juan Capistrano. Acorn Farm was one of the leading Orange County training programs.  Nathalie and her clients garnered many wins in the Grand Prix's, hunter and equitation divisions.
Peter grew up in Salzburg, Austria. He started riding at age eight and was jumping m1.30 by age 13. Peter's extensive resume includes Grand Prix wins in Europe, South America, and the United States. He had apprenticeships with top trainers, including Hank Melse in the Netherlands and Willi Mellinger in Switzerland, among others.
Petschenig Show Jumping
Peter moved to the United States ten years ago, his vision was to blend the classical equestrian heritage of Europe with the competitive spirit found here. Together, Nathalie and Peter bring that vision to life every day at Petschenig Show Jumping.
On a trip to Texas, the couple realized that the state offered the ability to compete on both the East and West Coast and had a great community to raise their family in. "I fell in love with the Pilot Point area," Nathalie says. "It was convenient to the DFW area and the resources within the community were unmatched." They purchased their property in Pilot Point and opened the doors in 2017.
"Peter and I have individualized, one-on-one programs for our horses and riders and that makes us different than others in the business," Nathalie continues. "The most important things to us are the safety, well-being, and happiness of our horses and riders. Our training style brings out the best in every horse and rider we work with."
The results speak for themselves. Nathalie has guided her students from the beginner levels up through the Maclay Regionals and various jumper championships and hunter derbies. Peter has had a lot of success in the Grand Prix ring most recently. "It's so rewarding to see riders that start with us and move up the ranks and do well," Nathalie says.
There are currently riders ages 7 through 70 at all levels training at Petschenig Show Jumping. Nathalie and Peter enjoy seeing them learn and move up with confidence and skill. They are frequently on the road showing and have a wonderful staff that accompanies them to shows and keeps the farm at home running while they're away. The staff have all been part of the Petschenig Show Jumping team for years.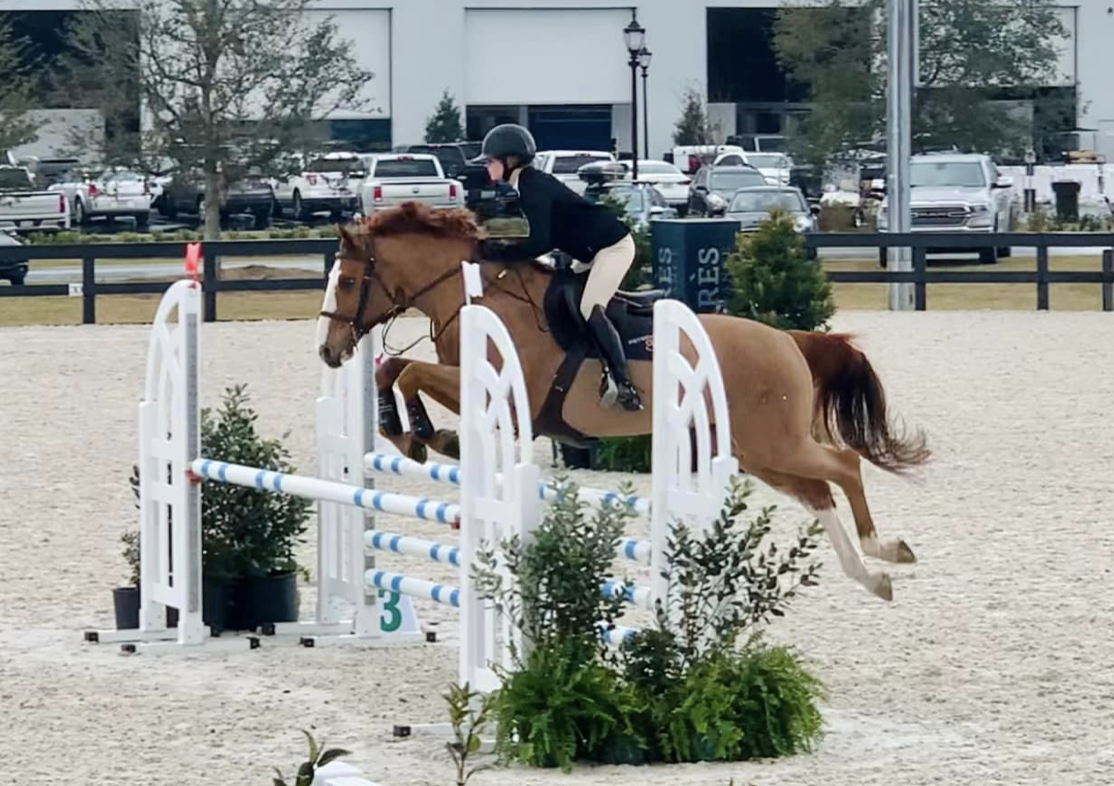 Petschenig Show Jumping clients and their horses at various events this spring. All photos courtesy of Petschenig Show Jumping LLC.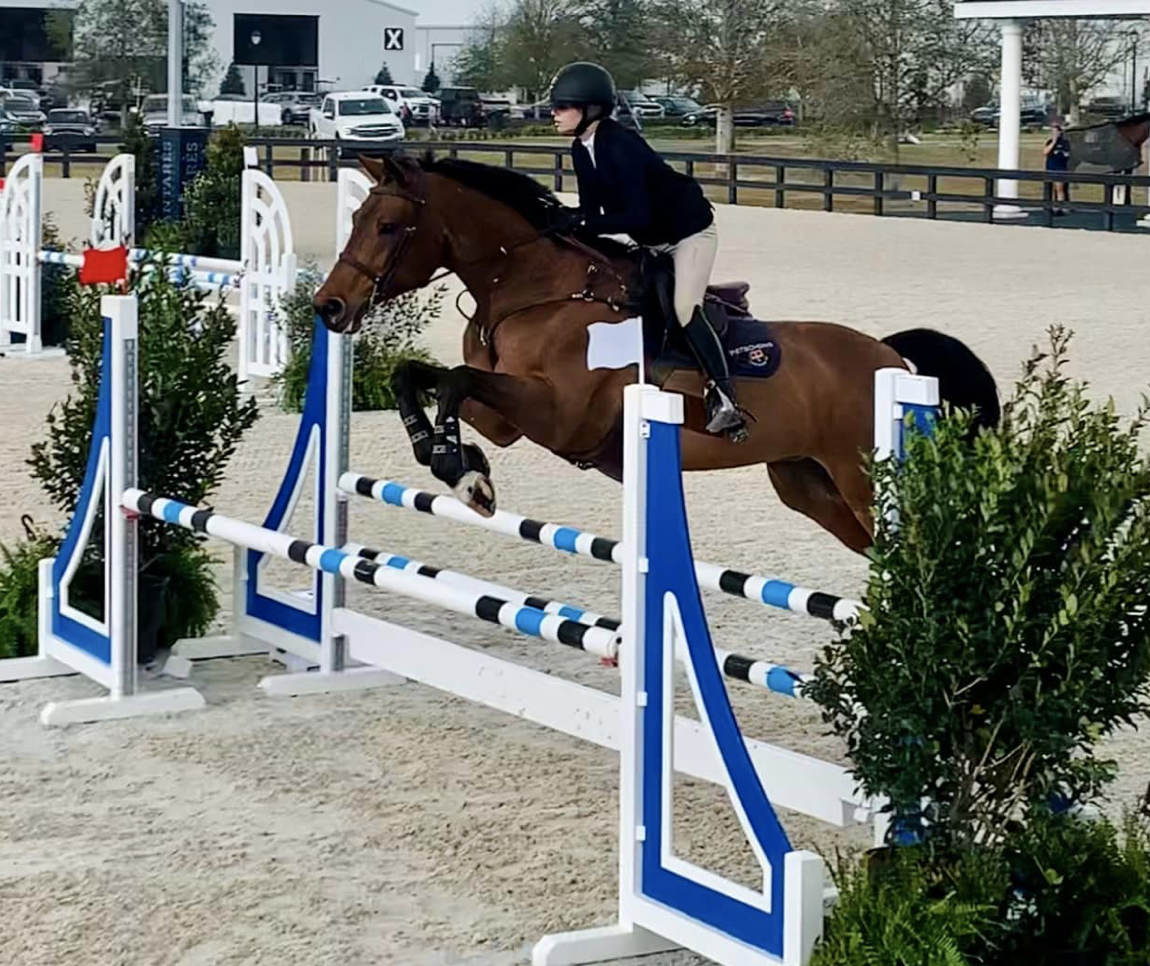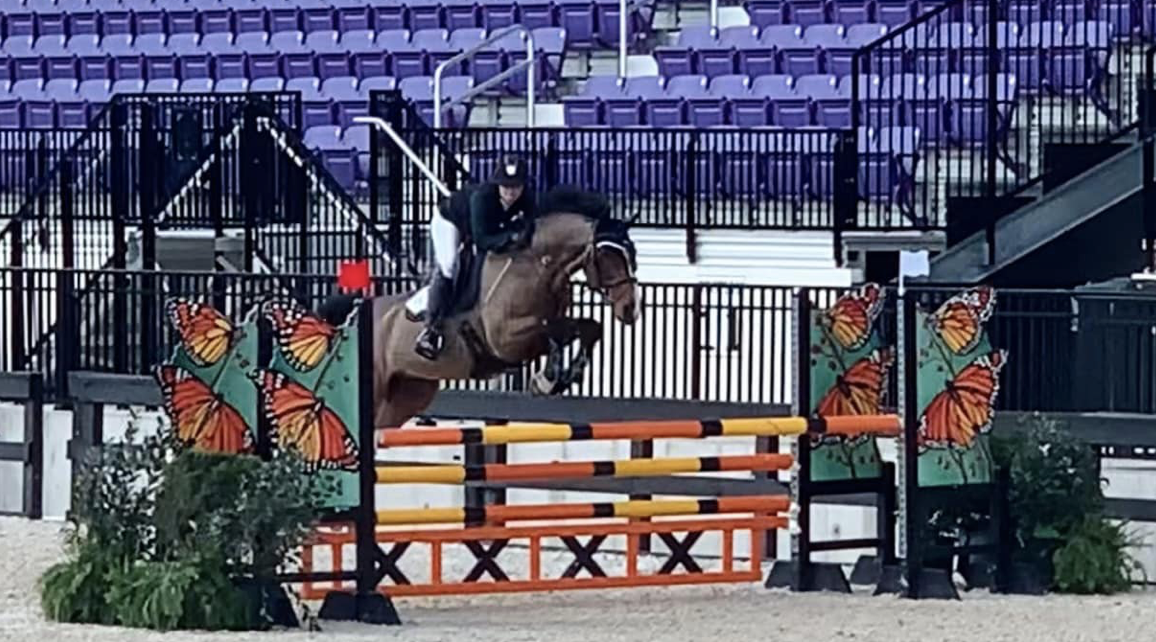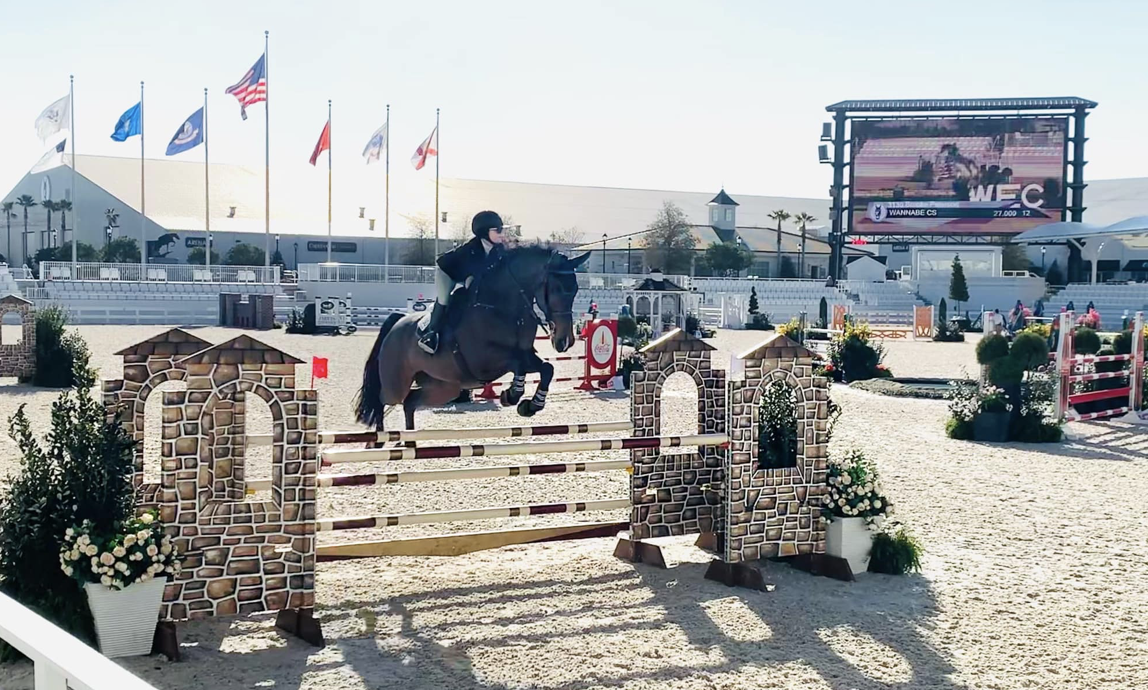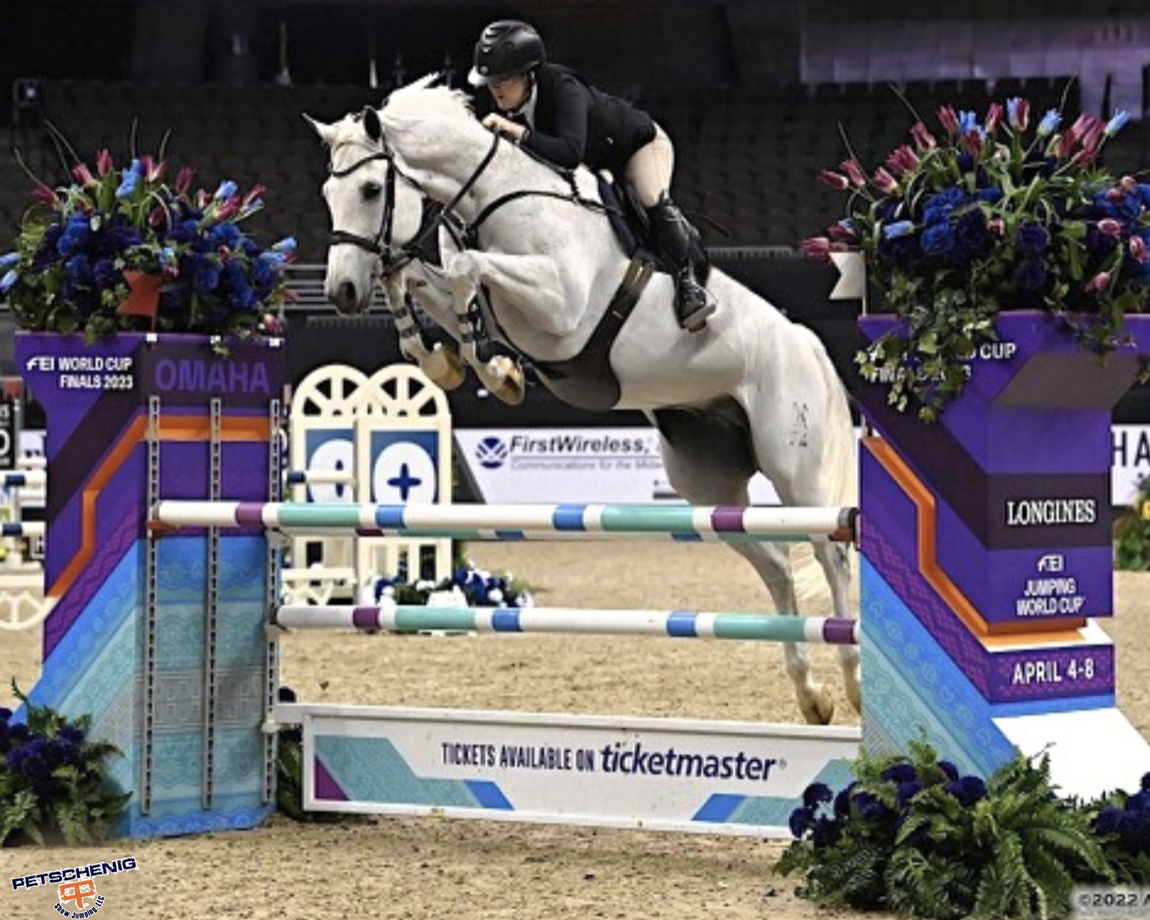 Looking Ahead
The success of Petschenig Show Jumping is a testament to the work, talent, and dedication of the pair and their team.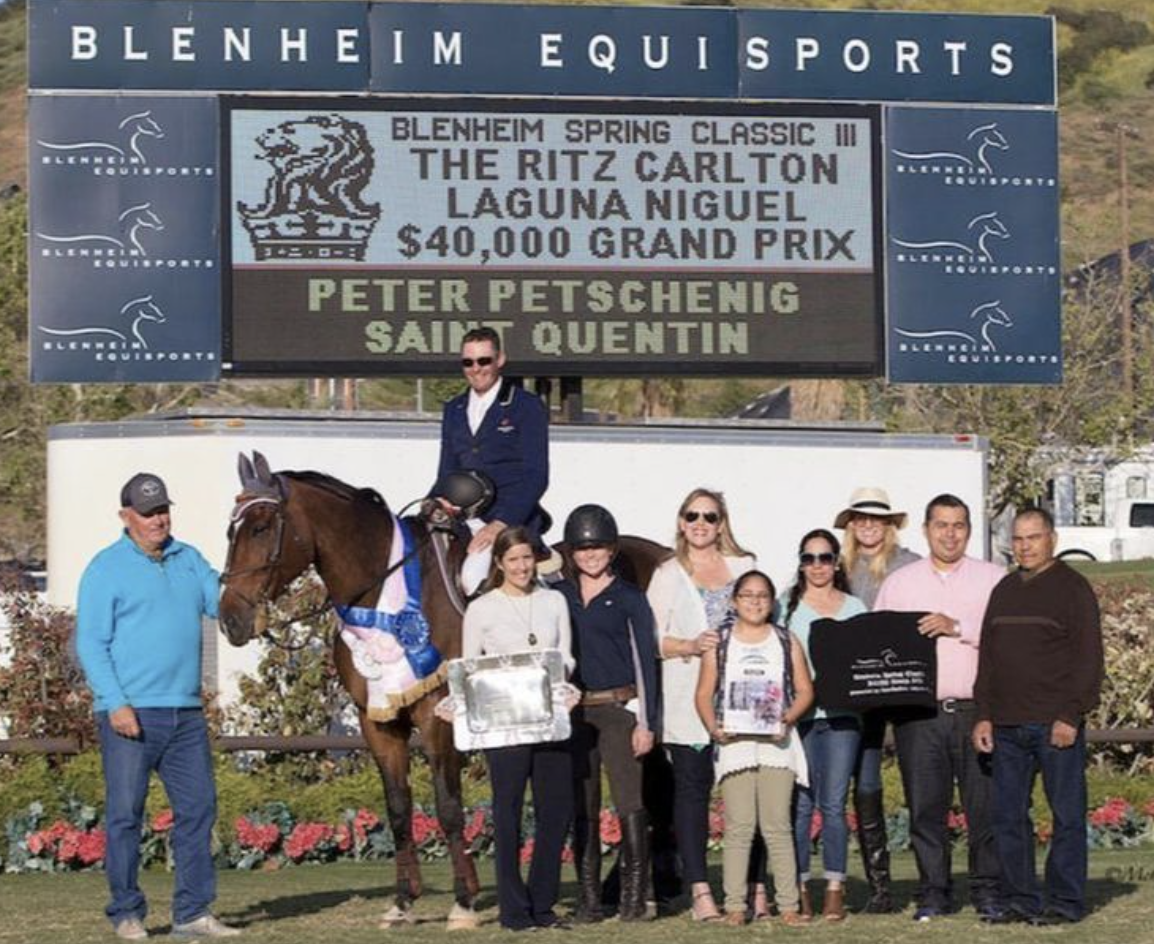 Peter and Saint Quentin with Sergio Farias, the Mayor Pro Tem of San Juan Capistrano, and his family; Carrie Borg of The Ritz Carlton; and Lauren Davis of EquiFit after winning the Ritz Carlton Laguna Niguel $40,000 Grand Prix at Blenheim in 2017. Photo courtesy of Petschenig Show Jumping LLC.
Saint Quentin was Peter's most memorable horse. The horse was on it to win every time. He's retired at their farm now. Color Your Life is another of Peter's memorable horses that competed at the World Cup level. Peter took her from the young horse classes up to the World Cup. While she has since sold, they were able to breed her and have one of her babies at the farm now.  This baby, as well as others on the farm have bright futures ahead. Most recently Peter won two of the $75k WEC winter circuit Grand Prix's on two different mounts. One win on Wannabe CS and another win on Ennebel Van Het Posthuijs.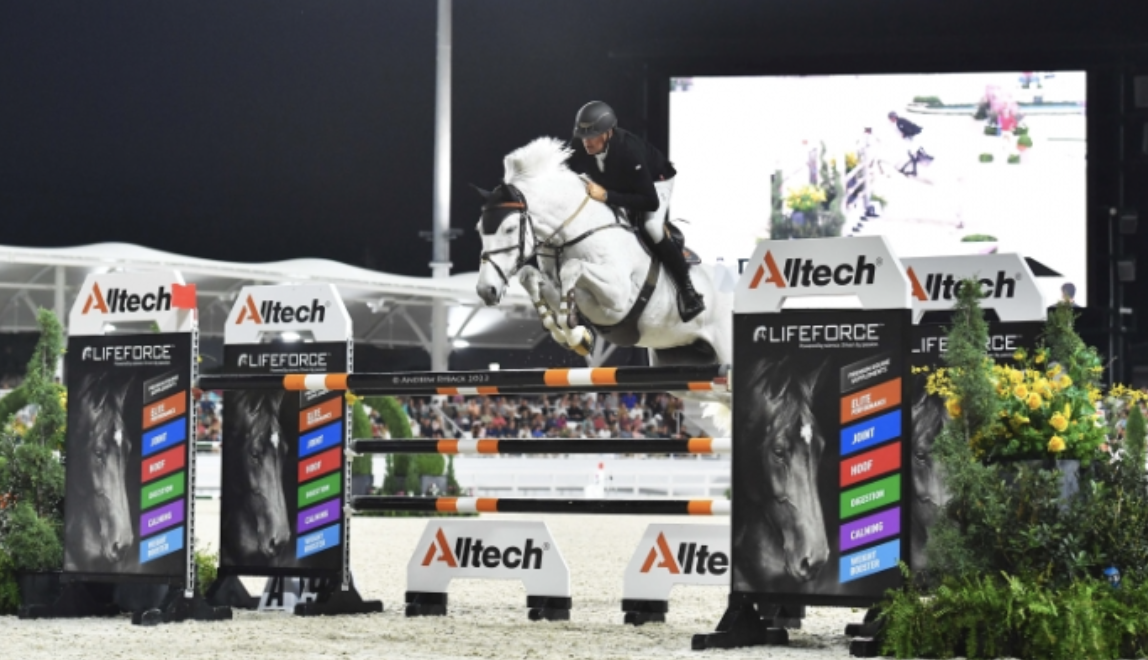 Peter Petschenig & Ennebel Van Het Posthuijs in the $75,000 Alltech Grand Prix. Photo Courtesy of Andrew Ryback Photography
Nathalie has multiple Grand Prix wins with her longtime partner, Con Spirit.  Recently they won the Grand Prix at Great Southwest in Texas. "He's 16 now and I'm thankful to have had him as a partner for so long and to still be at the highest levels of the sport. It's just fun at this point, and the wins are icing on the cake. I imported him from Belgium when he was six years old and won my first Grand Prix on him in 2015. He'll probably be the horse our kids, Owen and Piper, learn to ride on."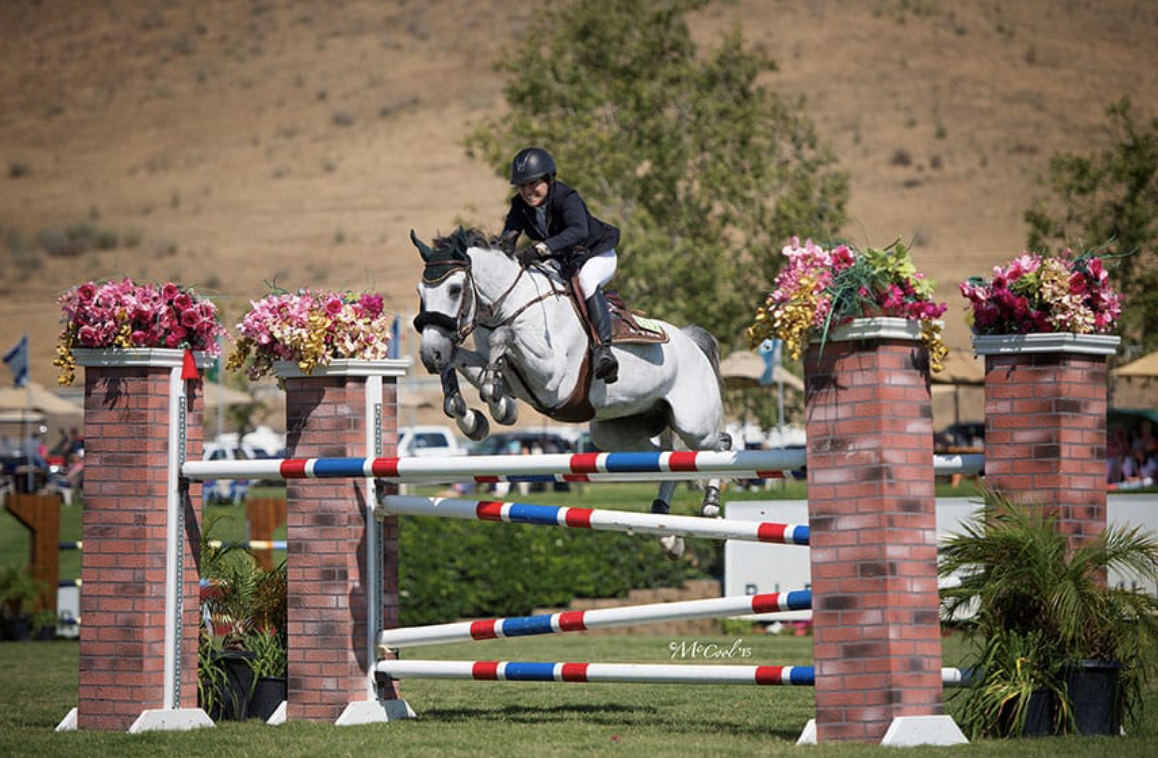 Nathalie and Con Spirit in 2015. Photo McCool Photography.
Their current herd includes babies bred from original lines from The Oaks, to stallions like Saint Quentin. The horses are like family to them. Nathalie and Peter continue identifying talented horses, and work with Peter Glisic in Germany to import horses. They also offer sales horses in addition to their training services.
With dreams of expansion the couple purchased property in Collinsville, Texas, just 10 minutes north of their current location. It's 230 acres and they are building a state-of-the-art 44-stall barn and training facility, as well as a home for their family.
"We're building the new facility and our long-term goal is to develop nice horse shows in Texas, there's a need for that in this area," Nathalie says. "Houston is our closest horse show and it's four and a half hours away, the rest of the time we're at WEC, Tryon, and other facilities. Right now, we're building our training facility.  We're meticulous about our horse care and keeping our horses happy and in perfect conditions. Once the training facility is complete, we can expand to horse shows."
Nathalie and Peter infuse their values and talent into the horses and riders of Petschenig Show Jumping every day. Their comprehensive and fun approach to equestrian sport is helping riders achieve their dreams. Smiling riders and happy horses fill their barns, all doing what they love under the careful guidance of Nathalie and Peter.

To see the current horses that Petschenig Show Jumping LLC.  has listed for sale be sure to visit their ProEquest profile!