Heritage Farm: It's All in the Numbers
Blog
Heritage Farm: It's All in the Numbers
Feb. 09,2012
Erin Gilmore
When the day begins at 4:30am, when over 80 horses are awaiting daily care, when riders are arriving to compete in over 200 rounds, "organization" quickly becomes the most critical word in the barn.
But for Andre Dignelli's Heritage Farm, those numbers are business as usual. One of the nation's top hunter and equitation trainers, Dignelli oversees his successful show stable as a CEO runs a corporation. Customer service is key. Attention to detail is a must. Staff attendance: mandatory at weekly meetings.
By the numbers, Heritage Farm is indeed the elite A-circuit's version of a corporation, albeit with summer, and winter headquarters. Season to season, Heritage's horses, their equipment and staff make the pilgrimage from New York state to Wellington, Florida, and then back again after the 12-week winter show circuit. During their time in Wellington, the Heritage team calls a spacious farm in Grand Prix Village home. The facility has an oversized arena and nearly 100 stalls, all of which are filled. The photos below illustrate moments in a typical morning at Heritage during the peak of winter show season, the Winter Equestrian Festival. 
Despite, or perhaps because of its overall horse count, Dignelli can proudly point to a level of quality and proof in results that is hard to match in the highly competitive hunter/jumper show world. Top hunter rider Patricia Griffiths has been under Heritage's employ for almost 15 years. Heritage students have won multiple ASPCA Medal Maclay and USEF Finals. Grand prix riders Kent Farrington, Maggie Jayne and Kirsten Coe began their careers with Dignelli. And young Lillie Keenan was the latest Heritage rider to make headlines as she skyrocketed to the top of national equitation and junior standings, and won the USHJA International Hunter Derby Finals last year.
With so many horses filling his barn, Dignelli is used to being asked if quantity ever trumps quality at Heritage, but he insists that isn't the case.
"From the outside it looks like a factory. But if you're on the inside and you watch us compete you realize that the quality is very, very high," he explains. "I'm very proud that we have this problem – that we have so many people wanting to come ride with us that we have to have this level of organization."
Organization, down to the whiteboard in the barn's main aisleway that intricately maps the riding lists, class times, horses and tasks of the day. Organization, down to the whereabouts of every horse and its rider, every class and its ring location. At Heritage, showing up late just doesn't happen.
And even when the day doesn't end until 7 or 8 in the evening, before they leave for the night, the staff spends 45 minutes planning a detailed work list for the following day.
"I'm sure the day will come when I know that I physically can't bring 75 or 100 horses to a show," Digelli adds. "But as long as I continue to get joy out of it, I'm going to keep going at the speed I'm at right now."
Want to put it all in perspective? Imagine managing an operation with these numbers:
87 horses
20 grooms
6 trainers
3 riders
3 barn managers
23 horses to braid before 7am
28 horses to lunge
36 horses and ponies to show in 7 rings
435 bags of shavings per week
60 bales of hay per day
30 loads of laundry per week
80 bridles to clean daily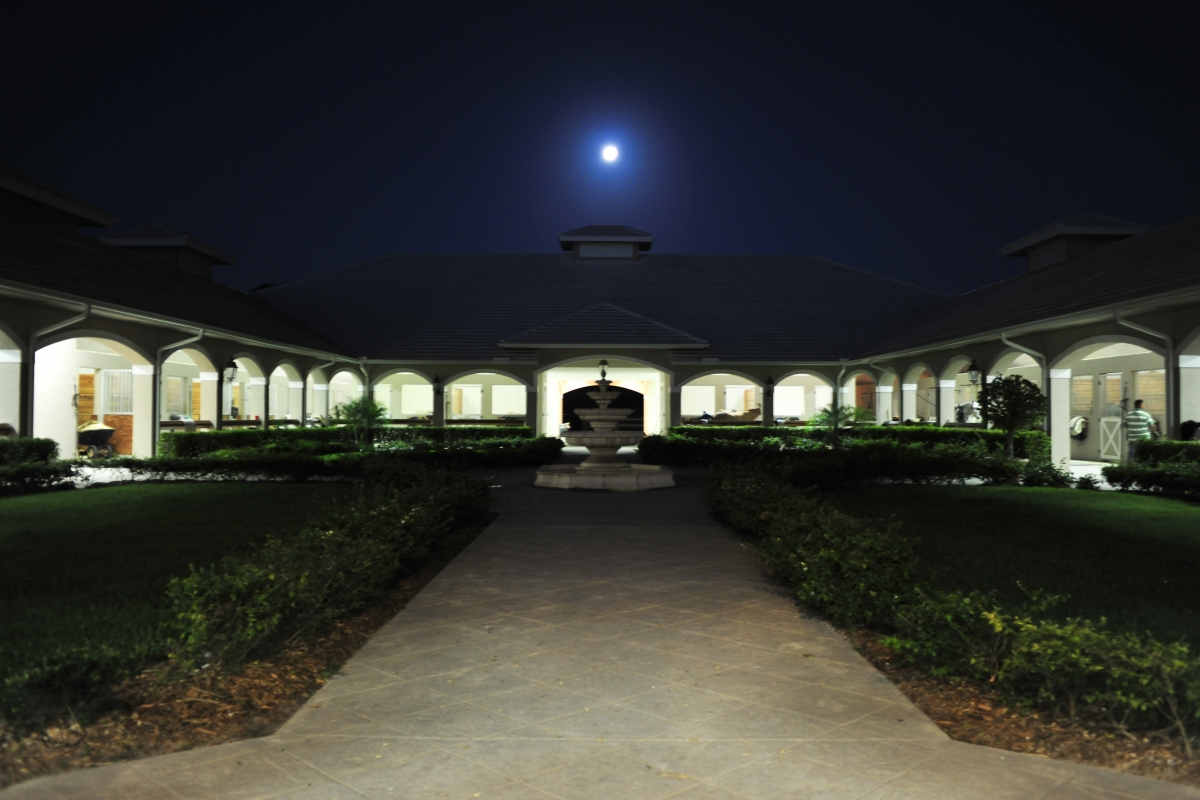 Show days start well before sunrise, when the moon is still high in the sky.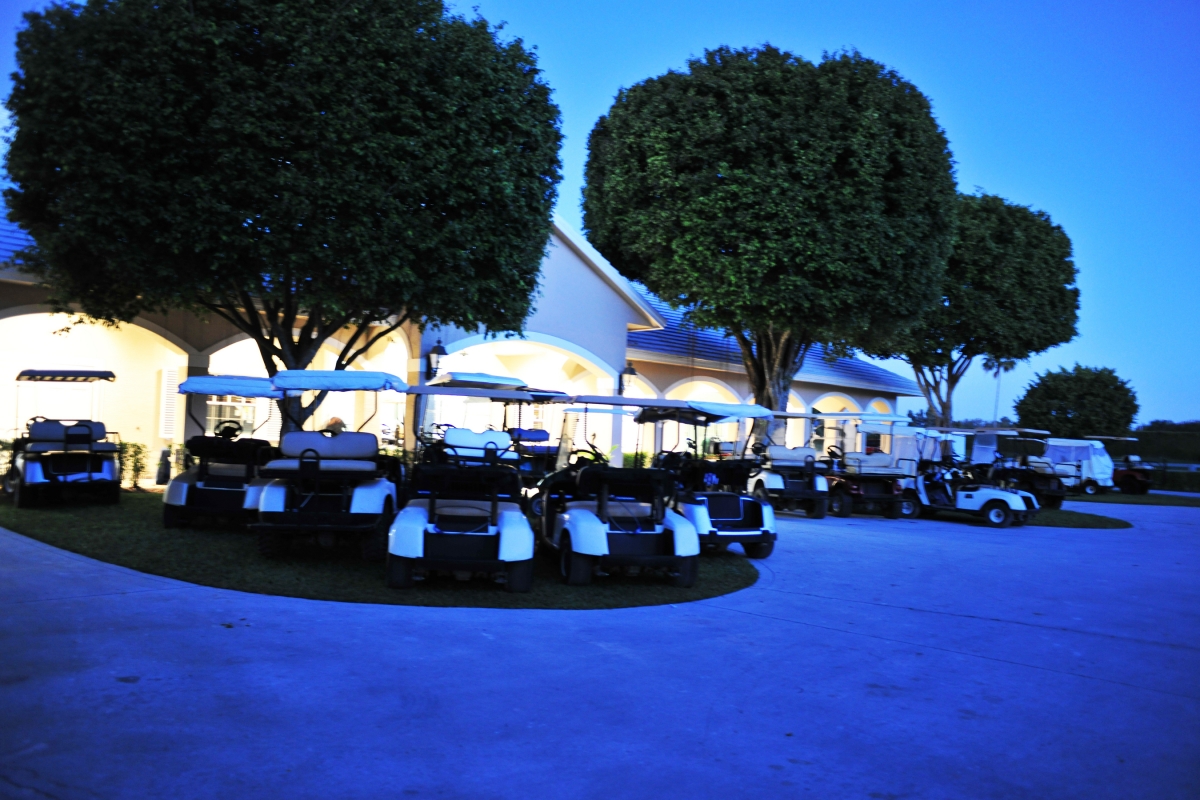 A bevy of golf carts await to ferry riders, trainers, and their various entourages to and from the show.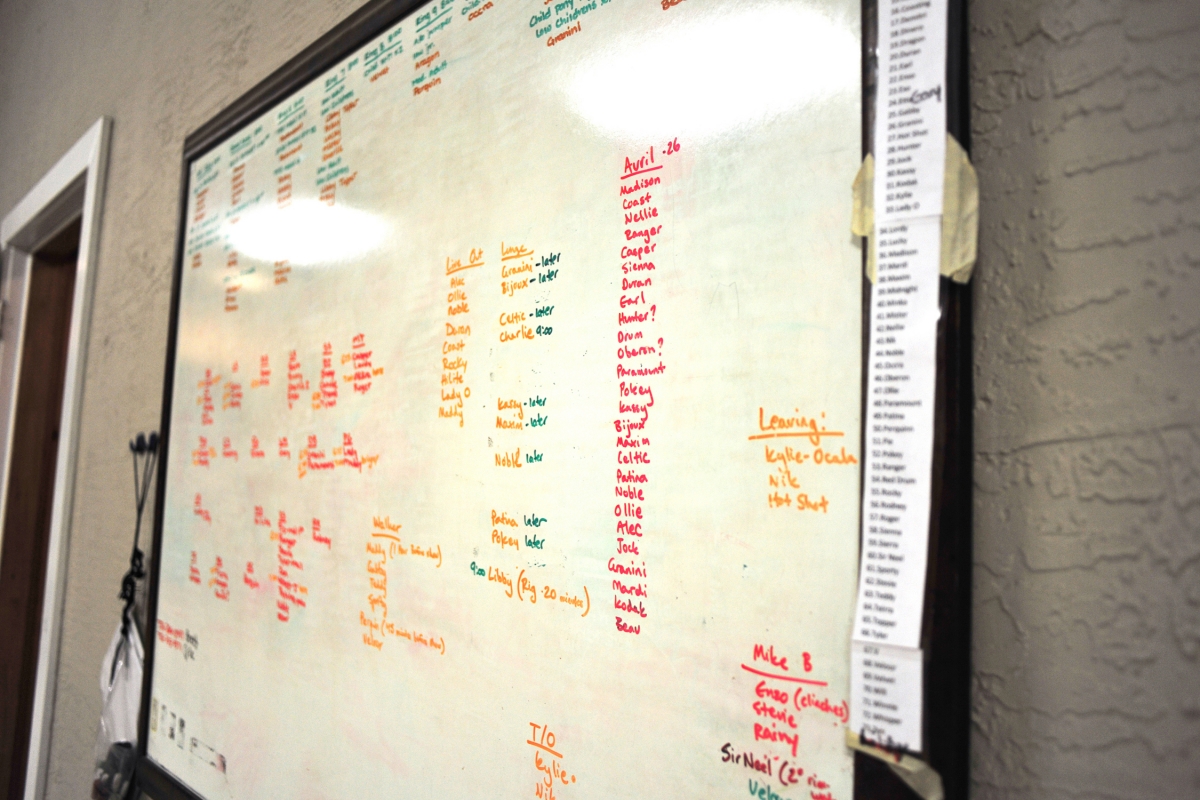 Keeping up an organized white board is an undertaking in itself. The entire barn's schedule is outlined every day, down to each lunge, each ride and each braid.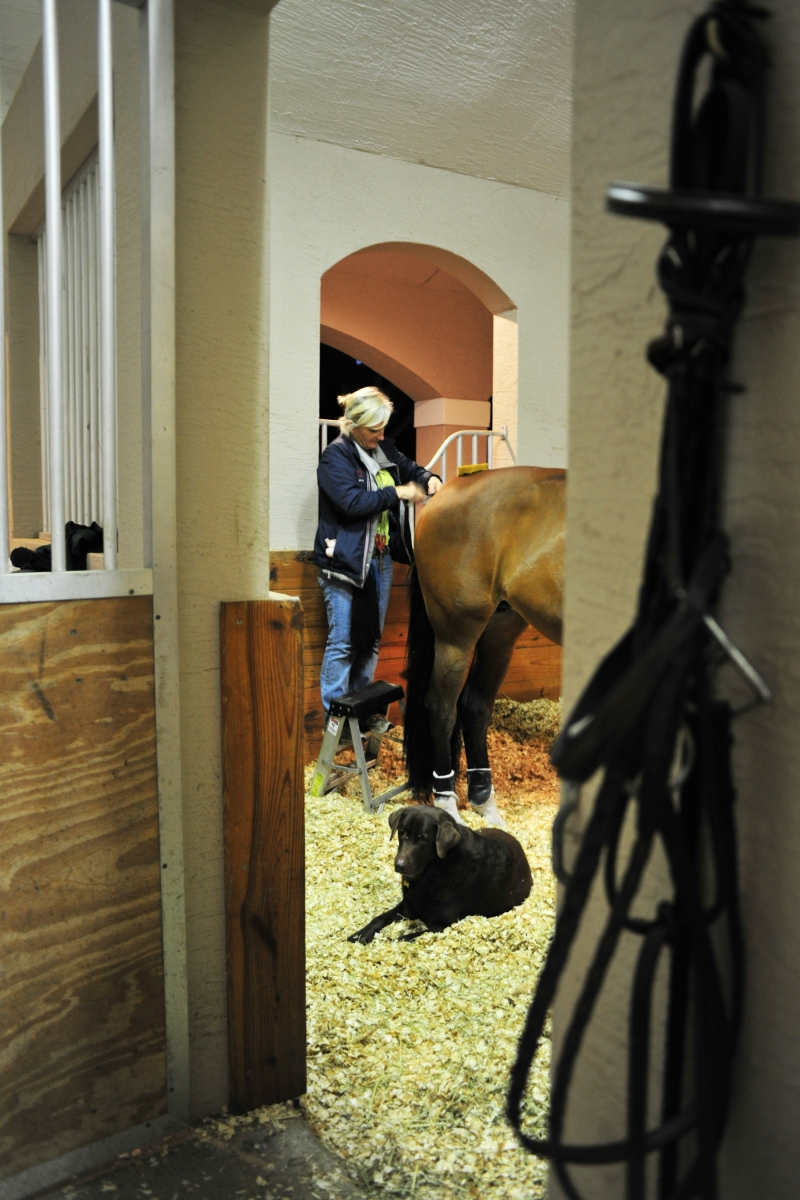 Heritage employs a full time braider who keeps up to half a dozen other braiders in work all season long.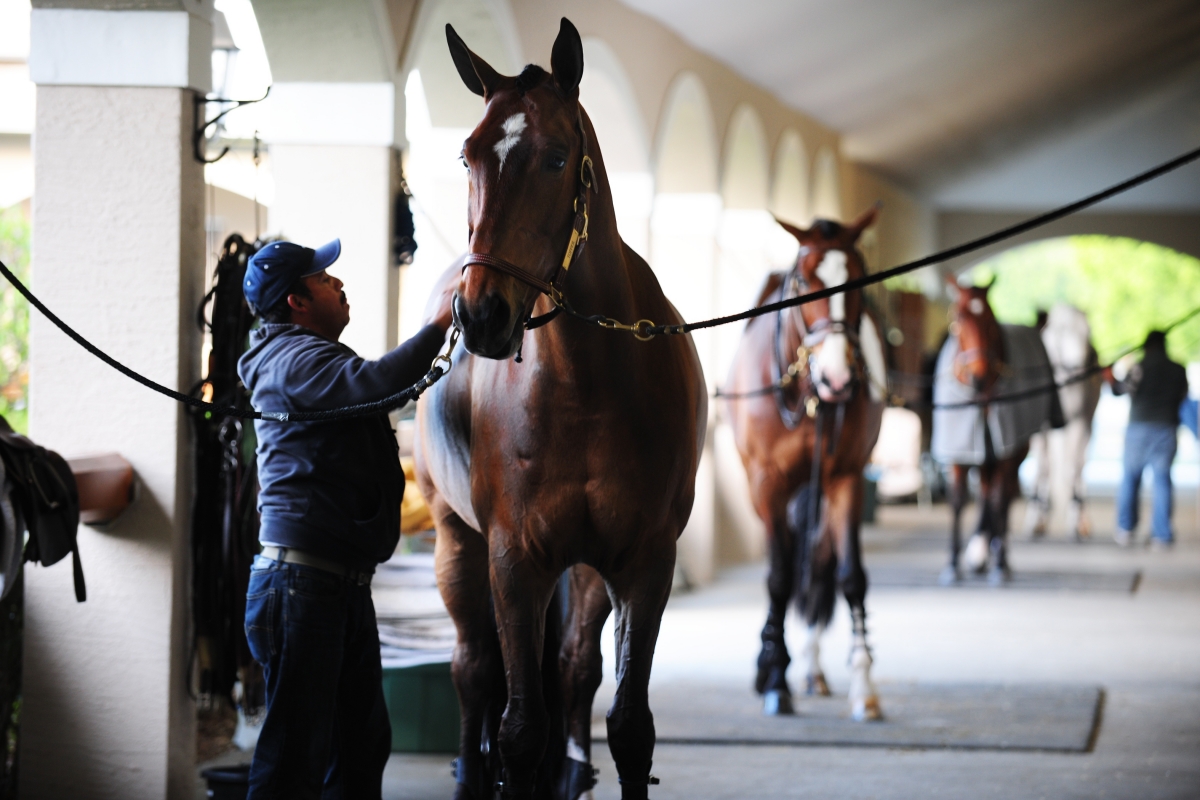 Every groom works under a head groom, who works under a barn manager, who in turn works under Andre.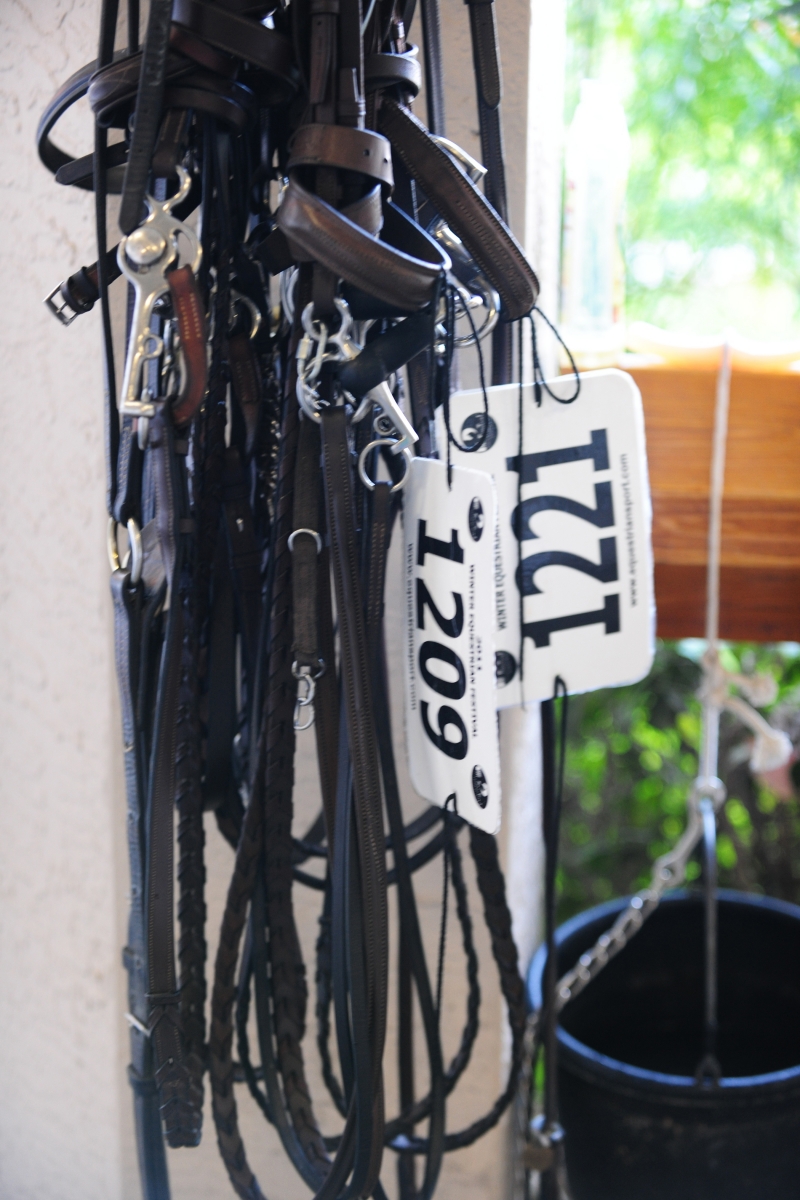 The amount of tack that is kept organized for 80-plus horses is no small task. Yet Heritage always brings the correctly tacked horse to the ring - on time.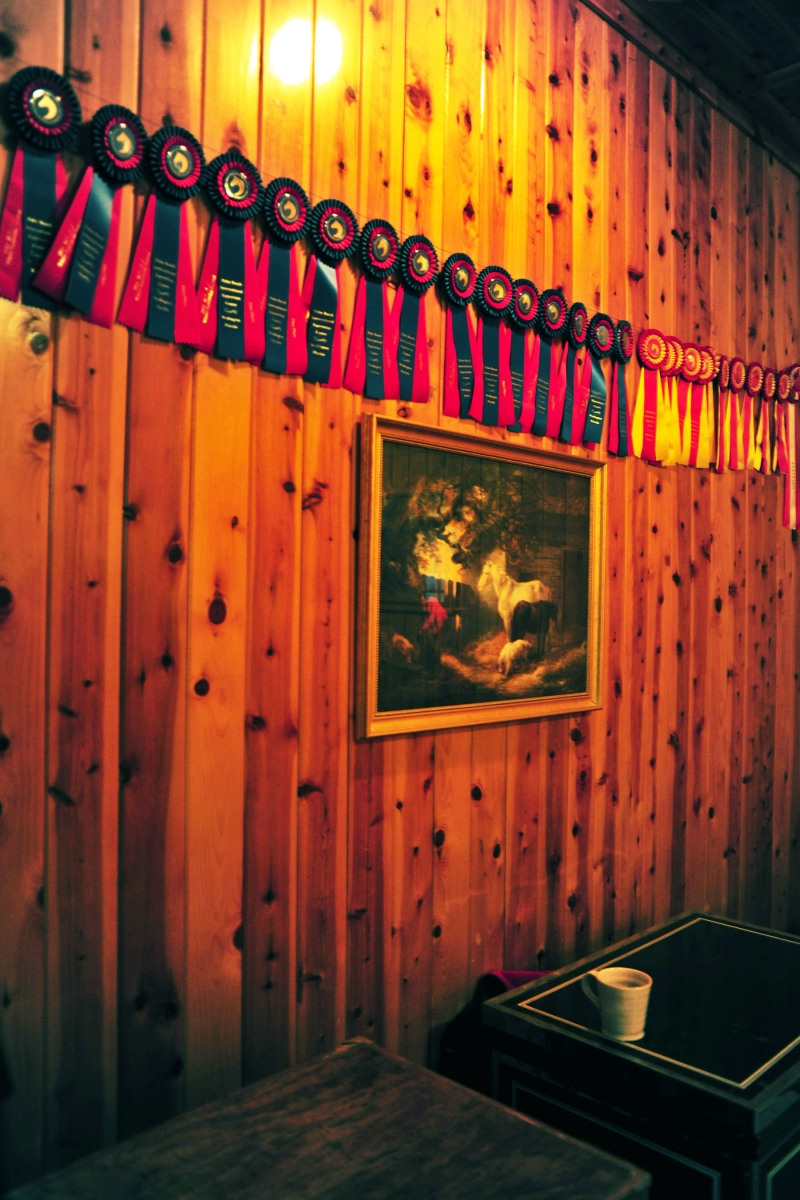 Every tack room is neat as a pin.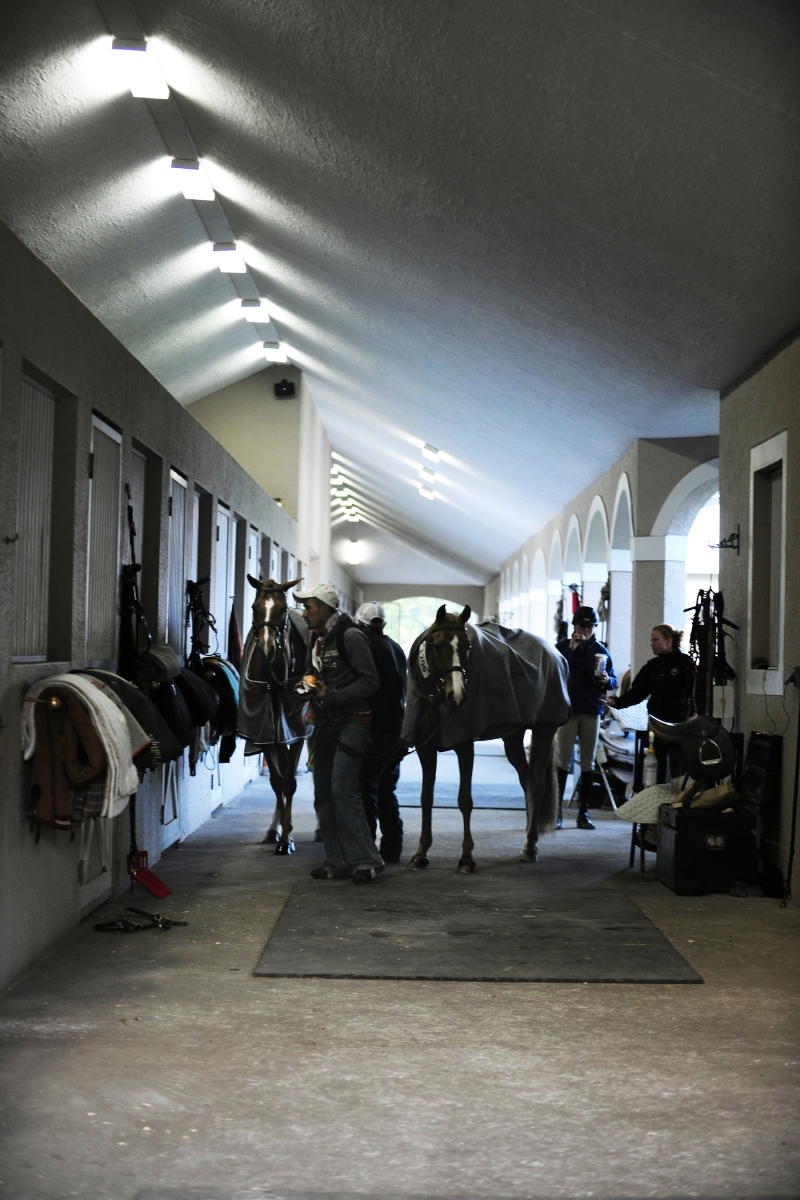 Depending on their job, horses will stay at the show, or be walked the short distance there by a groom.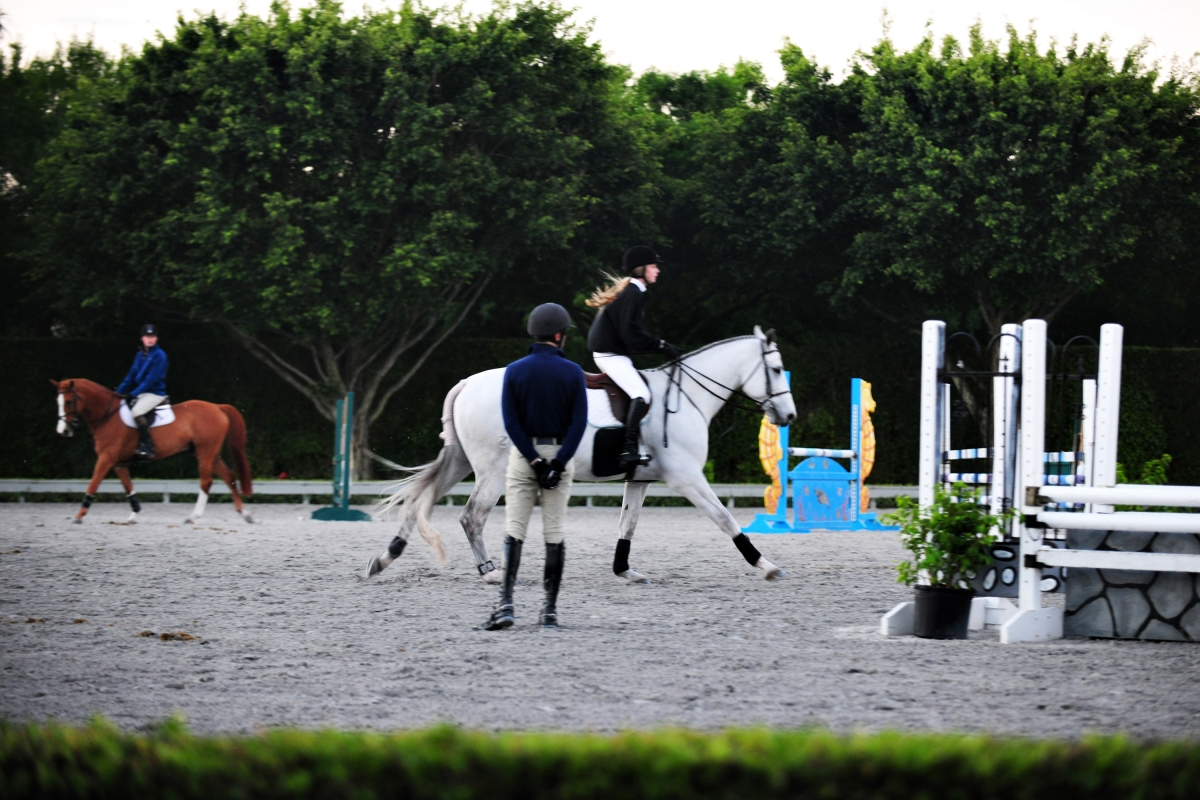 Andre schools students in Heritage's home ring before heading to the show.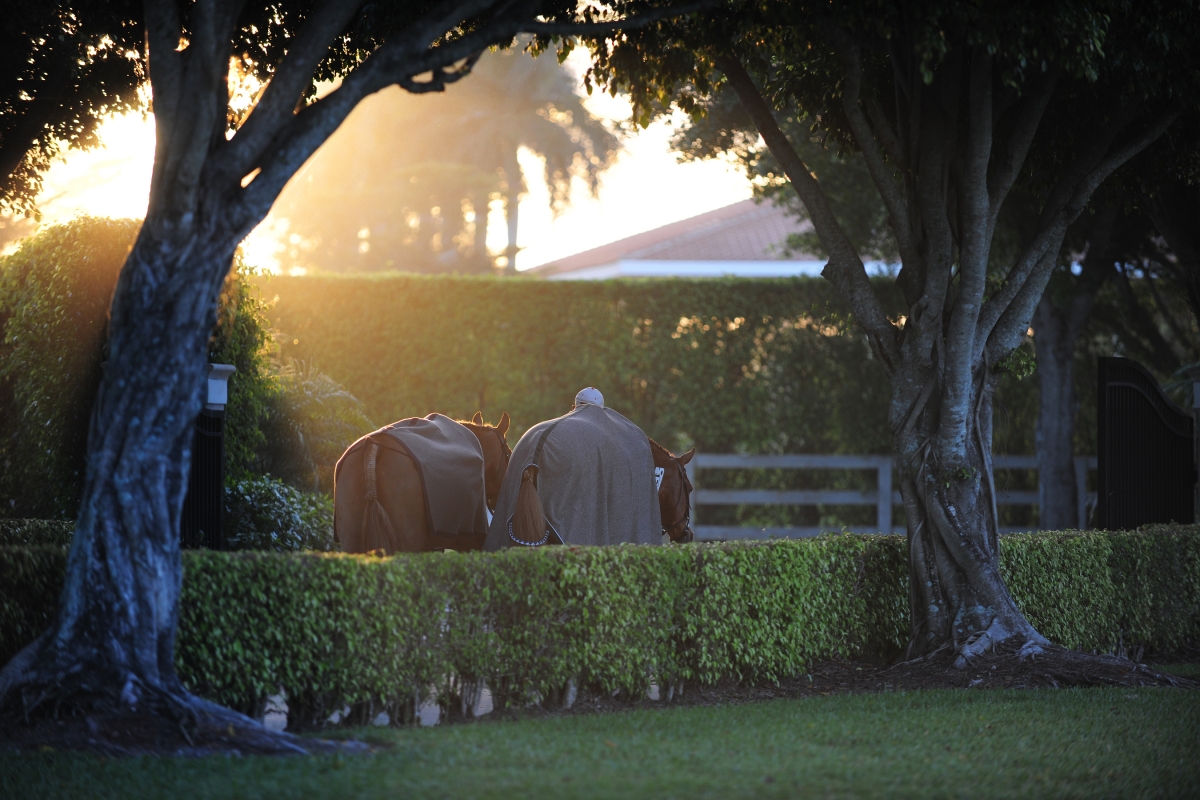 Horses move down the picturesque driveway on their way to WEF.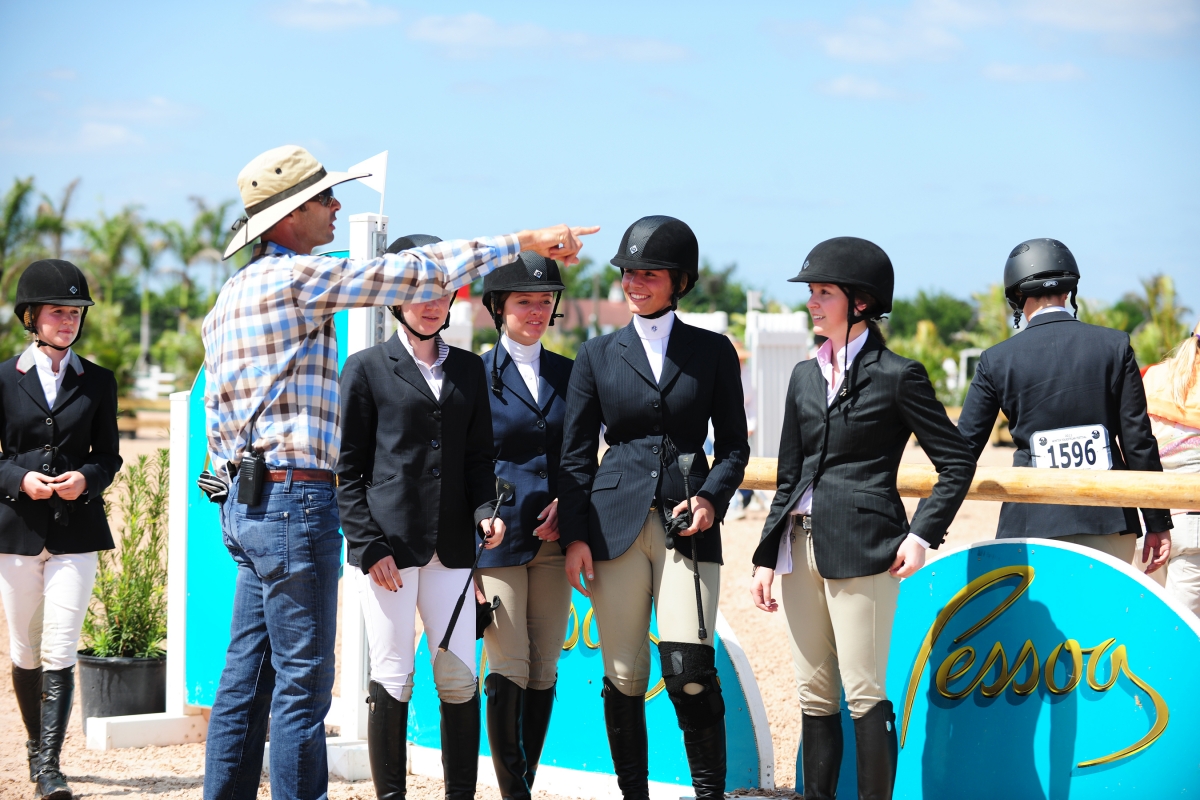 Andre meets students at the ring several times per day to coursewalk and coach.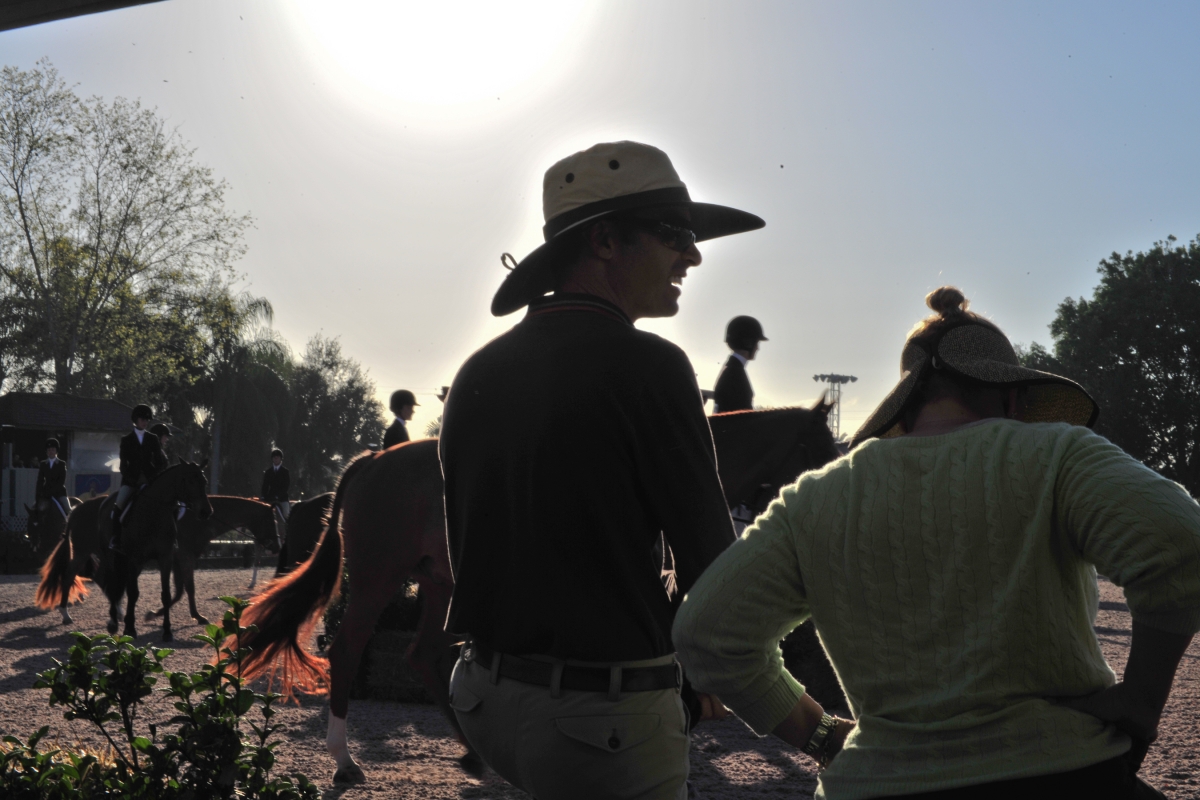 It's all in a day's work. All photos ©Emily Allongo