Peter Wylde: There's No Place Like Home
Blog
Peter Wylde: There's No Place Like Home
Feb. 04,2013
Erin Gilmore
There were many reasons why Peter Wylde decided, after nearly a decade of living, training, and running a business overseas, that it was time to return home.
There's no doubt about it; Europe was very good to him. For over eight years, the U.S. Olympic Gold Medalist went to work every day at a stable on the edge of a tiny, post-World War II border town in Germany. The cozy, red-bricked barn where he kept his horses was owned by a local businessman, and was a friendly place to be a rider and trainer. Hectares (acres to you) of borderland forest were carefully preserved for equestrians, and much of the local population commuted by bicycle.
Wylde married a Dutch national and all but settled in Europe, personally and professionally. He traveled throughout the continent and enjoyed success at the most elite competitions in the world. And in recent years, he attracted a talented group of international students who came from all over the world to train with him.
Always a Competitor
And so it was somewhat of a surprise when it was announced in October that Wylde would be closing up his stables in Europe and moving back to the United States.
"I love Europe. I loved living there," Wylde says. "I loved horse showing there. But, the time was sort of right for me to come back here. I was missing friends and family in a big way."
And for years, Missy Clark, of North Run Stables in Warren, Vermont, had been asking Wylde to come ride for her. The two are longtime friends and business partners; in 2003, Clark was instrumental in maintaining the ride for Peter on Fein Cera, the horse that had carried him to a bronze medal in 2002 at the WEG in Jerez, Spain and would go on to win a Team Gold Medal at the 2004 Olympic Games in Athens.
But after the retirement of Fein Cera in 2007, and an unsuccessful bid for the 2008 Olympic team, Wylde took a step back from competing. He focused on coaching and maintained a very busy sales barn. However, he quickly felt a void.
"The problem was after three or four months of only doing some training classes I realized how much I missed it," Wylde explains.
Competing had always been Wylde's strongest passion, and when a talented sales horse came into his barn, he once again stepped up to top levels.
An Eye for Talent
That horse, Sanctos Van Het Gravenhof, would compete with Wylde for an entire year before buyers approached with an offer too good to turn down. That horse, now known as Hello Sanctos, was paired with British rider Scott Brash and earned an Olympic gold medal last summer in London.
Wylde attended the London Olympics as coach to Japanese rider Taizo Sugitani, a role he relished. But soon after the Games, he got a call from Clark asking him once again to consider partnering with North Run. This time, taking the leap back to his home soil felt right.
Familiar Faces
When he arrived in Wellington on December 27th, he was reunited with two of his former sales prospects that had developed into two very talented jumpers. Ridden by Darragh Kenny to great success in U.S. grand prix classes, Wannahave and Sandor De La Pomme are now Wylde's to ride and compete at the Winter Equestrian Festival and beyond.
He sold Wannahave to Clark two years ago, and Sandor one year ago. Having training and showing history with both horses, the recent job of getting to know them again was fairly seamless.
"Wannahave and Sandor are perfectly trained," he says. "And I am totally ready to get back into (the big classes)."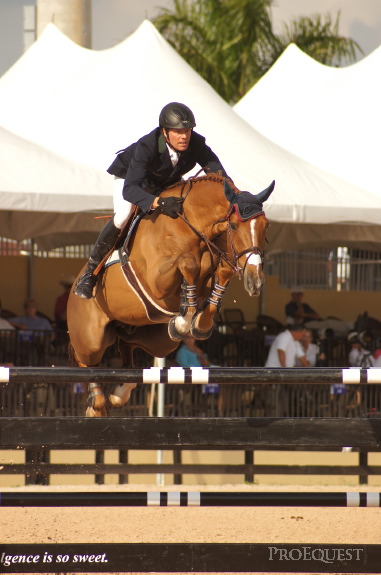 Competing with Sandor at WEF, January 2013
Wylde proved he was indeed ready early on in the WEF circuit; in just the first three weeks of competition he placed 2nd with Sandor in the $30,000 Ruby et Violette WEF Challenge Cup Round 1, won the Week 3 $25,000 1.50m Suncoast Classic with Wannahave and picked up a 1.45m win with Zidane. Look for him in the Saturday night feature grand prix classes soon.
Opening Eyes and Doors
His own riding isn't the only reason for being back in the United States; Wylde is actively involved in the USHJA's Emerging Athletes Program as its head clinician and Vice President, and he is looking forward to helping EAP grow even more.
The EAP, which was created as a stepping stone for riders who want to reach the top of the sport, saw its 2011 winner Jacob Pope do just that last year. After Pope won the '11 EAP Finals, he was offered a working student job with equitation trainer Andre Dignelli, and he went on to win the 2012 Maclay Final.
"We open eyes and we open doors with the EAP. We want to show young kids who don't have the means to be riders financially, how to get into the sport and be successful at it," Wylde explains. "We want to try to identify super talented kids who might otherwise slip through the cracks and we want to help them."
EAP regional clinics are held throughout the year around the country, and Wylde plans to attend more of them, both as a clinician and an observer.
"I love this program, it's good for our industry and good for our sport," he adds. "I want to be more involved at every level. And if I happen to identify a talented kid out there in the trenches with the rest of us, I might say you know, you should consider the EAP program."
Wylde's two longtime sponsors Dover Saddlery (as a teenager Wylde worked in shipping and receiving at Dover's very first store) and Cavalor have stepped up to support the EAP, and Wylde continues to work with EAP President Sally Ike to expand the program.
Now in lush Wellington, Florida for the winter season, his surroundings are far removed from the quiet German countryside, but Wylde isn't looking back. Working in concert with Clark, her husband John Brennan and the North Run team, there's no limit to what he's aiming for.
"I want to do everything," he says. "At this stage it's a matter of putting my head down, trying as hard as I can and seeing where I end up."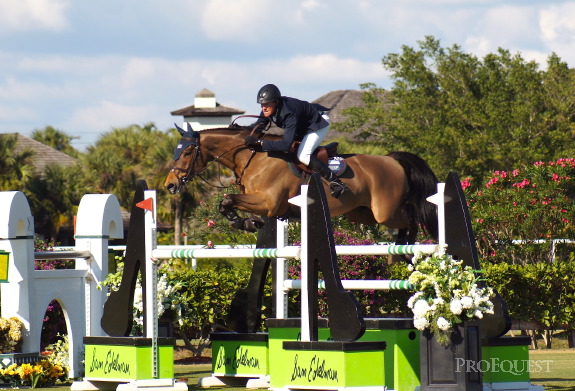 With Lewin 5 at The Stadium at WEF, January 2013