Tara Arrowood: Capturing Connection and Feeling Through Photography
Blog
Tara Arrowood: Capturing Connection and Feeling Through Photography
Photographs that capture the authenticity and emotions of the subject speak to viewers.  Their essence is in capturing the horse, dog, or human as they really are. Tara Arrowood of San Francisco captures life's fleeting moments with her camera lens. Browsing through her portfolio makes you feel like you are there with her subjects and you see their inner beauty and individuality. Tara's portraits offer an intimate look at the real lives of those she captures.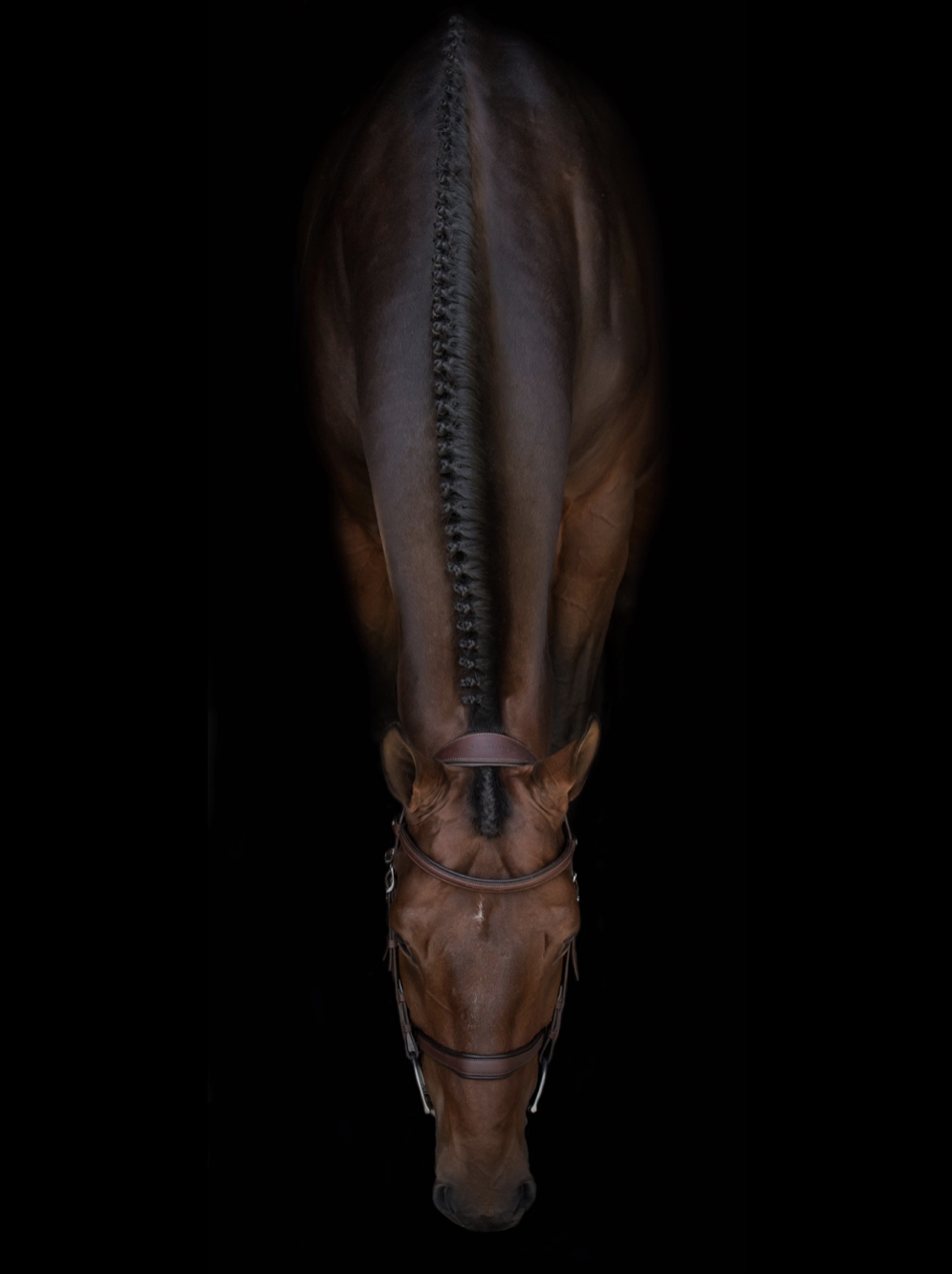 A portrait session where Tara demonstrates Equine Art in its finest!
"Most of all, nothing makes me happier than to see a beautifully curated fine art, custom framed print hanging in a client's home or facility," she says. "This is truly a representation of my passion, dedication, and hard work."
The Journey
Tara has always loved photography and grew up in Pennsylvania surrounded by farms with cows, chickens, pigs, and horses. She spent her weekends as a child visiting and photographing animals. Summers were spent at the family's vacation home near Assateauge Island where she watched the wild horses on the beach. 
In high school, Tara was a photographer for the school newspaper. In addition to shooting for the paper, she developed film in the darkroom, exploring the many aspects of the profession. She studied engineering in college and then was working as an Engineer in California. Tara's passion for photography never waned though, and she started photographing weddings in 1999 in addition to her full-time job. In 2004, she followed her passion and started Arrowood Photography and Cinema full-time.
"Having found quick success as a wedding and portrait photographer, I realized my passion was a lot of work and I feared I made a mistake," Tara says. "A good friend suggested that I go 'photograph something you love' – so, off to a horse rescue I went! I photographed at local horse rescue sanctuaries, producing my first fine art show in 2007. I donated 50% of the profits back to horse rescue organizations."
Tara focused on horse sanctuaries in the beginning, giving a voice to the horses residing at them and telling their stories through her photos. Then, she started teaching horse photography workshops at a wild horse rescue in northern California.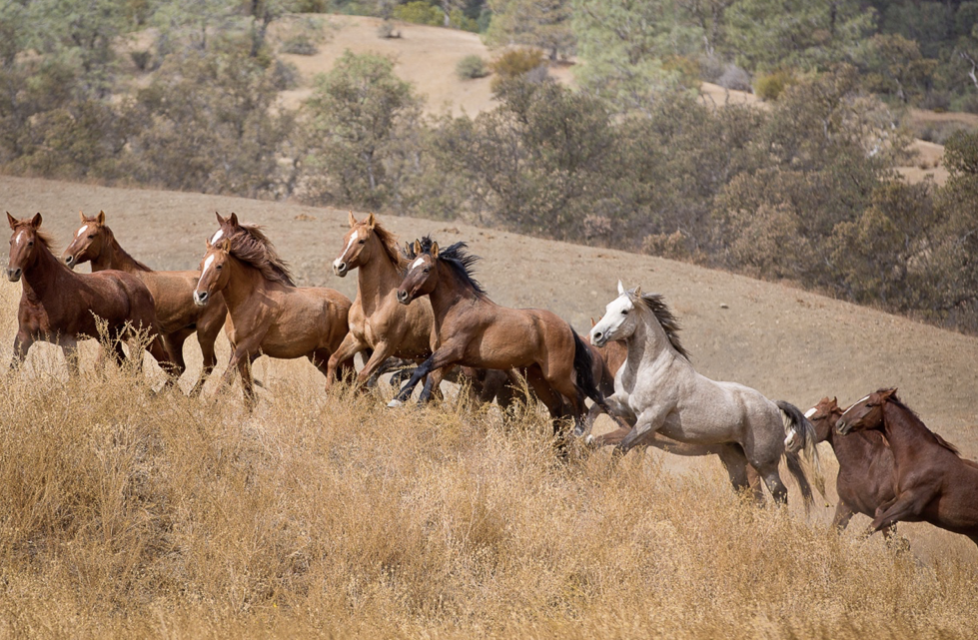 Forever wild mustangs at Montgomery Creek Ranch – Wild Horse Sanctuary in Northern California – captured just as the Mustangs were moving across the ranch in their forever home during one of the photography workshops Tara hosts.
"Although I love riding trails and galloping through fields, my true passion is observing these beautiful animals from the ground, and capturing their beauty and personalities," she says. Indeed, the time spent observing farm animals near her home in Pennsylvania and the wild horses on Assateague translated into a keen understanding of animal behavior that she captures with each shot of her lens.  
Capturing Connection and Feeling
"This passion for observing animals from the ground eventually led me to photographing people with their horses and creating stunning horse portraits for clients. I love capturing the horse-human relationship. In my photography career as a portrait photographer, I have learned how to capture 'connection' – in the best light and composition."
Tara's unique perspective and her willingness to be creative in capturing it allows each of her photographs to tell a unique story, whether it's the connection between horse and human, the endearing personality of a horse, or a moment of joy in daily life. She also loves her work as a photographer and her philosophy is to "Do What You Love." Tara captures her subjects doing what they love, and that is the essence of the authentic moments and the emotional bonds we have with our horses that are seen in her photos.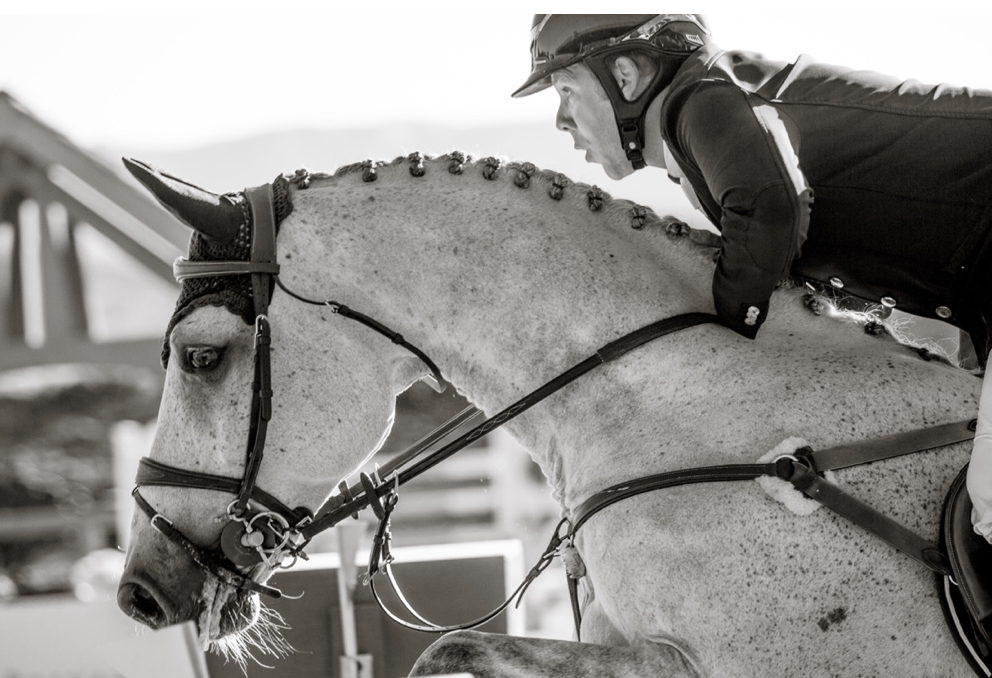 The close up of horse and rider says it all! Tara loves capturing these closeups (of both horse and rider) over the jumps.
She honed her style as a wedding and portrait photographer. It's second nature to capture feeling and connection with people and horses. But the feeling is not only "captured" but created because of the perfect light and composition. Light is a dynamic element that can help or hinder a photo, depending on how it's used. Composition encompasses how you bring all the elements of a photo – the light, subject, background – together and use them to tell a story. Tara is a master at infusing the feeling and connection of her subjects into photographs using light and composition.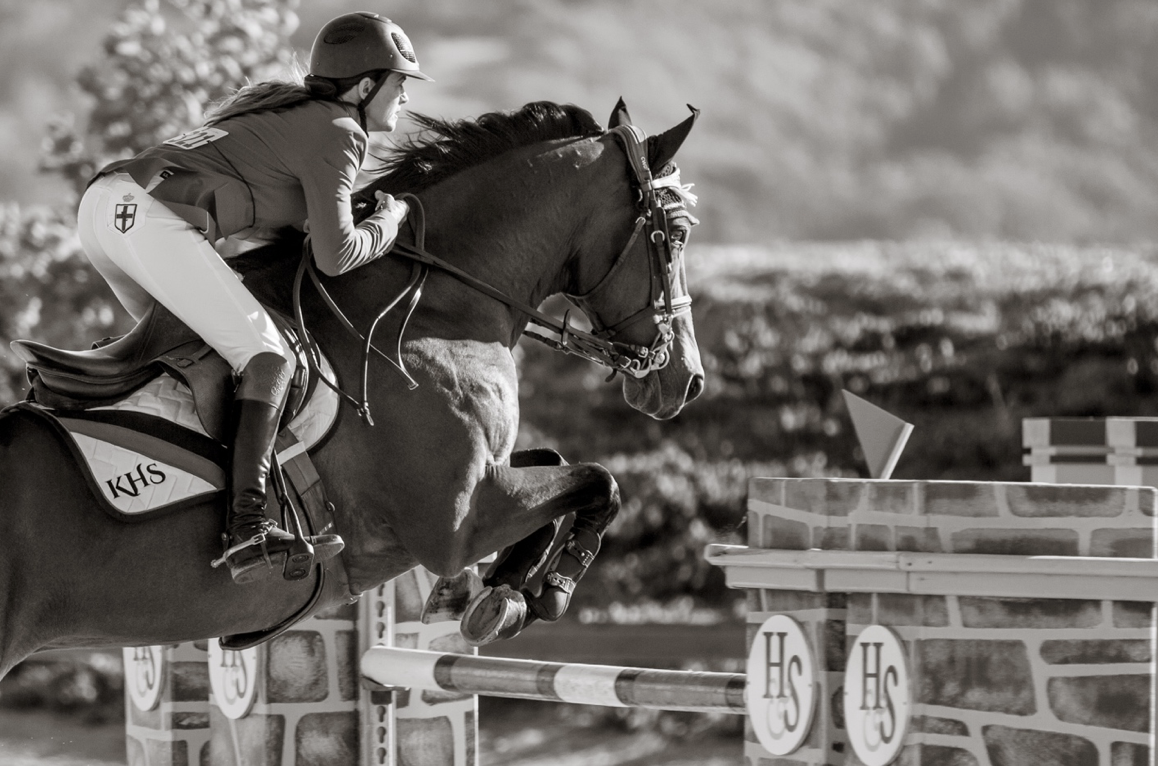 "Kristin Hardin is just simply bad ass," Tara says. "She flies over these jumps. I like to think of this photo as a great branding photo, the jump, the saddle pad, the britches."
"I approach every shoot, (wedding, event, portrait, equine, interior, branding) with no expectations except to capture the true feeling," she explains. "This is most important with horses given their unpredictable behavior. After setting the perfect stage with lighting and location, the owner or the handler set the energy of the horse and I just observe. It takes patience and confidence - but mostly patience. I'm looking for the best light, great composition but mostly good vibes, the feeling you get when the horse connects. I can send 20 photos of the same scenario to my client, and he/she can pick the ONE that captures the 'true' personality of the horse. And I can see it too, but I still love letting the client pick and see if it's my favorite one too!" 
The Profession
Horses can be hard to photograph; Tara has heard this often and agrees. As humans, we are often impatient, and she explains that we have to train ourselves to observe the horse and be patient. Tara further explains that iPhone and wide-angle lenses aren't flattering to horses. She uses a long telephoto lens to help with the head to body ratio of the horse and gets down on the ground level. She also recommends having no expectations for the photo shoot, but instead letting the right photos come to you. 
Our time can be fleeting, especially that with a special or heart horse. We often postpone scheduling a portrait session, thinking there will be other opportunities. Tara recommends capturing those special horses before it's too late. "I have many clients with photographs of their horses hanging in their homes and this horse is no longer with them. They cherish this photo, it's because they can forever see the connection they felt when they looked at their horse and that horse connected back with them."
Her work has expanded to helping local barns in California with their branding by showing their spaces at a different angle. She's spent over twenty years as a professional photographer and has developed a trained eye for capturing the aspects of facilities and the people and horses at them that encompass what we love. 
"I feel that your brand starts with your facility, the architecture, how it feels in the barn, how you treat your staff and animals, the 'behind the scenes' people, the tack room, even the stalls," Tara explains. "I capture images for clients to post on social media, websites and advertisements. Basically, I'm capturing my clients' idea of their brand through my images."
Tara's authentic lifestyle that embraces love and beauty shines through in her art. Over the years, she has made thousands of lasting memories while capturing those moments for her subjects. "I have to say, walking through a field of wild horses, with my camera in the early morning light is pretty special," she says. "Having them stare at me, come closer (or not), walk up to me, sniff me, play with me and my camera. I can still smell the air, feel the energy of every ear moving, tails swinging, wild eyes, or hearing the licking and chewing of each horse as I move slowly through the herd. It's quiet and serene except for the occasional neigh or the scuffling of one horse chasing off another. This is my idea of heaven."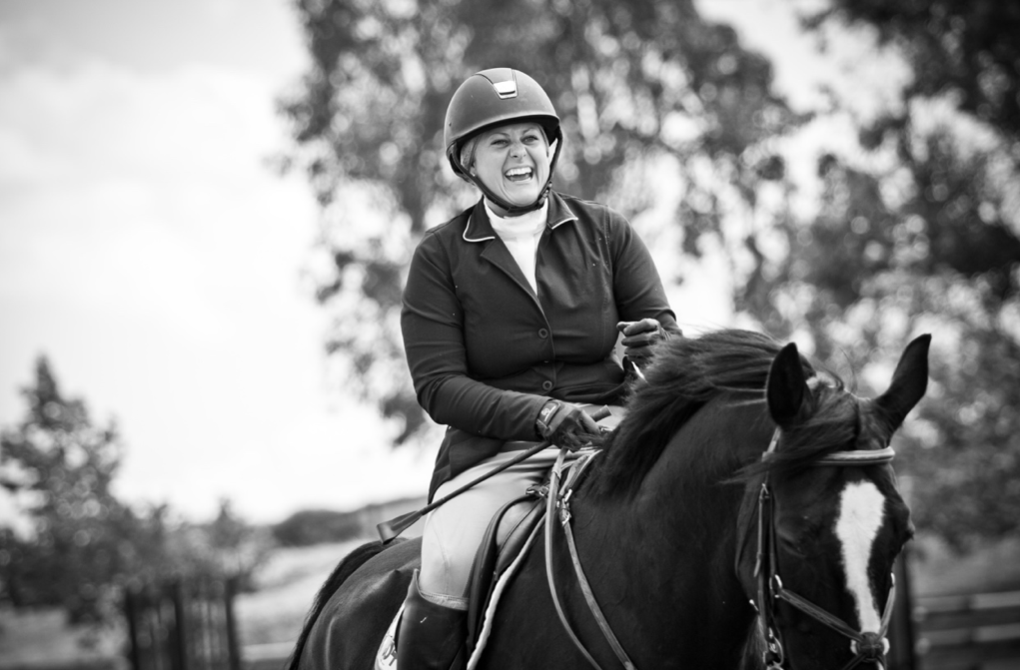 Winning smile! Tara loves capturing these expressions when a rider finishes a great round!
Life's beautiful moments, that heaven on earth feeling is preserved forever in Tara's photos. The majestic beauty of our horses, the rugged landscapes where we live, and the people that make it all worthwhile are shown in moments of pure joy and love.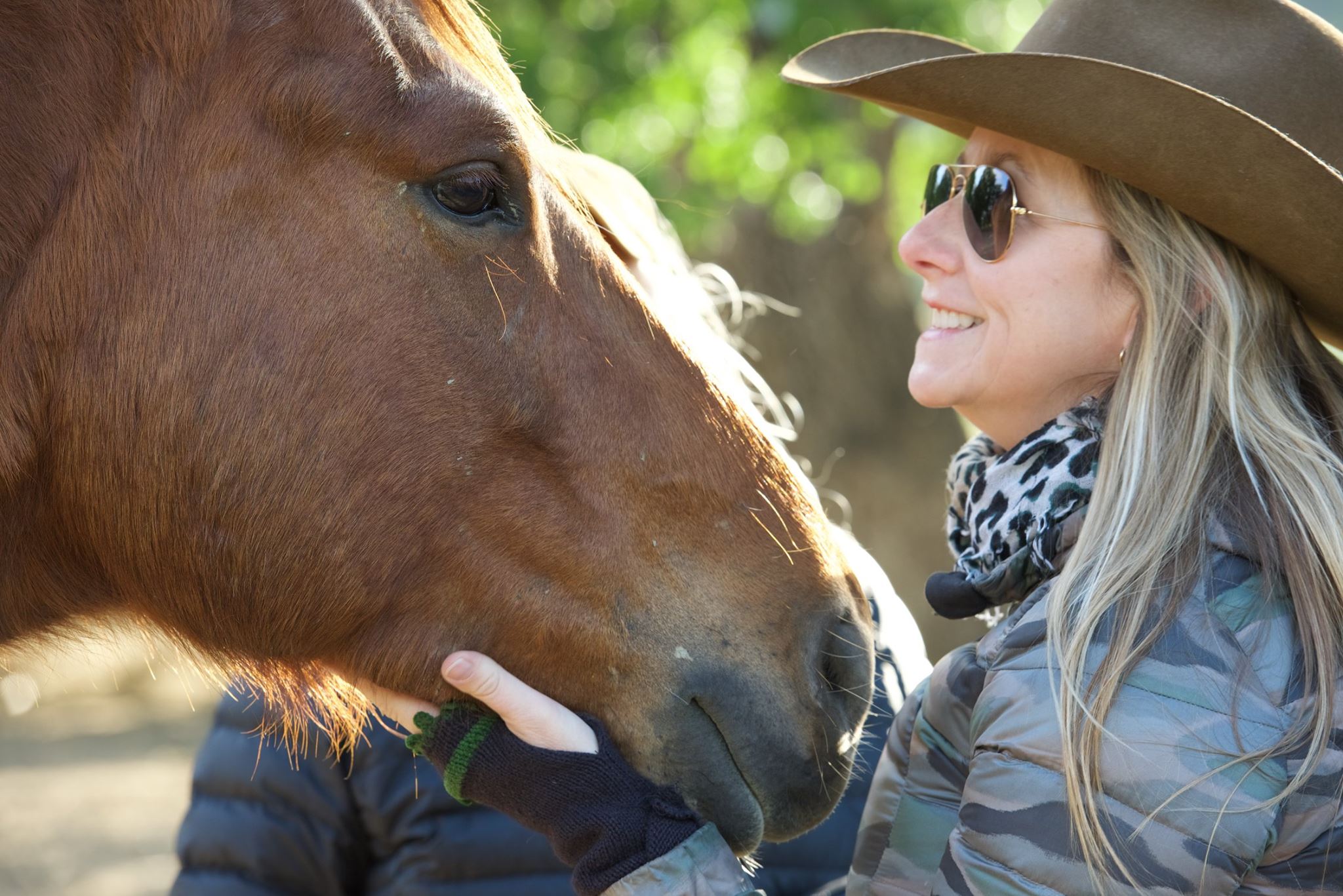 Tara at Montgomery Creek Ranch!
View Tara's portfolio at https://www.arrowoodphotography.com/.