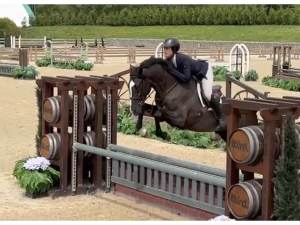 Casall Nero
2017 - 6yo Black Gelding. 
Imported into Canada fall 2021.
 
Very handsome & brave young gelding with a scopey canter & fantastic mind! Big stride and easily bounces from the base of any jump —  naturally athletic like his 1.60m father the famous stallion 'Casall'.
 
2022 was Nero's first show season and he competed in the 3foot hunters while crossing over into 1.10m jumpers.  He also showcased his cool mentality in the Thunderbird Show Park Grand Prix grass ring.  He has a promising future as a 3 ring competitor with any amateur and/or junior with talent to jump bigger as he develops. 
He will thrive in equitation type divisions such as the Washington Medal as he loves hunter fill and rides very handy! Easy jump to stay with and very comfy rhythmical big canter stride.

Super sweet and cuddly on the ground and loves muzzle kisses! 
• auto changes 
• clips, hauls, and trail rides
• current clean X-rays available 
additional videos available 
For sale
$50,000 - $75,000