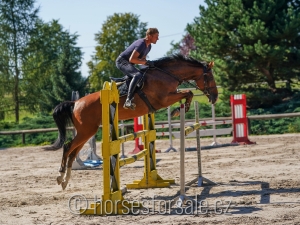 CASSIE
CASSIE - talented mare for show jumping, perfect brain
Cassie is a very promising mare with perfect jump and amazing brain. She comes directly from breeder's hand, came to training later due to lack of time, but is already passing her first show experience. She is easy going, nice to ride, not mareish, not spooky, always wants to jump, shows perfect technique and a lot of scope. X-rays available.
Price: 16.000€. Feel free to contact me for more information. Tel.: +420 602 862 723.
Born: 2016, height: 171 cm, pedigree: Cassini's Son (Cassini I) x Cassilius
Location: 1 hour from Prague, Czech republic, Central Europe. Transport can be provided.
*** more horses on my website www.horsesforsale.cz ***
For sale
$10,000 - $20,000
Information
Location
Prague, Central Europe
Czechia
Sire
Cassini's Son (Cassini I)
More Horses by this Seller