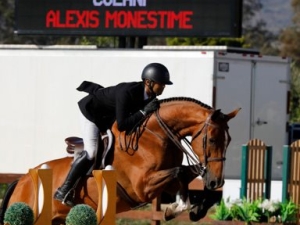 Colani

****Colani*****
After a successful career in the 1n45s in Europe this 14 year old gelding successfully started his show career in america going straight from the trailer to the Derby rings, Equ rings and of course the big jumpers both with a pro and an amateur. 
Colani is  a bold fancy gelding with a form over fences to die for and lots of heart.
Simple over all to handle, 16'2, thick built, auto changes, good uphill carriage. He fits most level riders, has some blood to be competitive in the jumpers if needed as well. 
Priced at $38k for a 6 months lease, located in Temecula. 

Call o text 9513884155 fro more details!
https://www.youtube.com/watch?v=dFTFqnSssqM
https://www.youtube.com/watch?v=Mp0tnhvqp20
For lease
$35,000 - $50,000
Information
Location
San JAcinto , CA 92582
United States
More Horses by this Seller