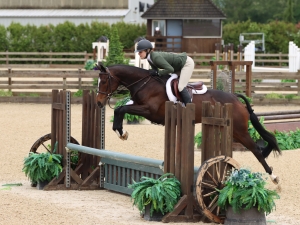 Fendi
Fendi has started her career in hunters and has already had championships under her belt in the baby greens and in the Pre-Childrens hunters.  She has a big step and beautiful picture perfect jump, and always gets a good ribbon on the flat. She is 5 years old and stands at 15.3 without shoes on, she will develop into a great small hunter but is brave enough to cross over to the jumpers.  She hauls, stands for farrier and vet, baths and can ride out on trails. Great with other animals and horses, easy enough for a kid to ride. Recent PPE available for viewing, with a 0/5 for all flexions and perfect body score. 
Fendi has been an absolute joy to train and bring up, she has a heart of gold and the best brain. No spook, no prep, and a puppy dog personality. 
Please contact for more information. Plenty of videos available upon request. 
Information
Location
Lake Country BC V4V2C8
Canada
More Horses by this Seller