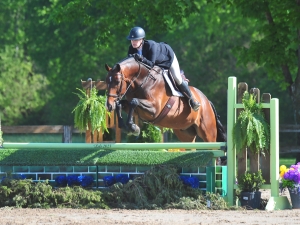 Iconic
2013, Imported German Warmblood gelding standing at  16.2 1/2hh.
At just 10 years old "Iconic" is a very seasoned JR/AO Hunter/Eq horse. He has a successful show record a mile long. His major accomplishments include Reserve Champion 3'3 Junior Hunter Finals West 2019, 3'3 Junior Hunter Classic Winner at 2019 Las Vegas National, and 3'3 Junior Hunter Reserve Circuit champion at ESP Holiday Classic.
Iconic's just came off of lease taking a child from 2'6" to 3' during the 2023 WEF winter circuit and earned Reserve Champion in the Older Children's Hunter against a tough class of 24 horses.
He has been ridden by his amateur owner in the 3'0 Adult Equitation divisions/medals, 3'3" AO's, and National Hunter Derbies with great success and tri-colors at each show. They earned 2021 USHJA HOTY award in the Adult Equitation and a National Derby win! 
This horse always jumps a ten and is a hack winner in good company. He has all the buttons on the flat with automatic lead changes, counter-canter, and turns on a dime. He clips, trailers, and stands for vet/farrier without issue. Located in Knoxville TN but will be at Brownland and Tryon for trials throughout the spring/summer. 
Available for lease or purchase. Please get in touch with Bonni McDonald at (865) 258-0126 with questions.
For sale
Private (call for price)
For lease
$75,000 - $100,000
Information
Location
Knoxville, TN 37853
United States
More Horses by this Seller