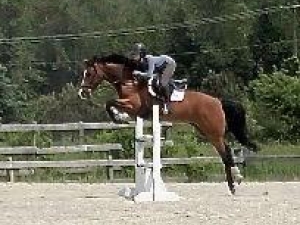 Laurentian (Tian)
This is the up and comer you want to get your hands on! 

Tian has shown to 1.10m with a junior rider, this young gelding has already proven he can be a great jun/am mount, but as he continues his education he most certainly would make a good partner to cross over into the equitation ring as well. 
Beautiful, eye catching and comfortable gaits that will give you the confidence to strut your stuff and move up in the rankings on the flat portion of the equitations.
Very sweet and personable personality! 
Information
Jumpers
1.00m - 1.15m
Jumper Prospect
Dam's Sire
Chacca Khan (Chacco Blue)
More Horses by this Seller