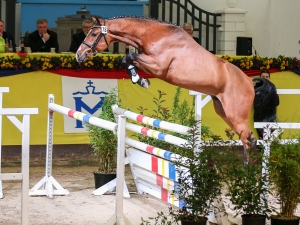 Leviathan HS
Leviathan HS was purchased by Hyperion Stud as a foal and has been carefully developed as a stallion prospect and was approved by the Mecklenberg studbook in Germany.
His sire line includes 1.60m show jumpers including, Livello, winner of the Falsterbo Nations Cup, the legendary Olympic competitor, Casall, and, Calando I, who was German Champion in 1984 under Karsten Huck.
Leviathan's motherline has produced numerous Staatsprämie mares and successful sport horses competing at 1.40m+, and his dams sister is the mother of Casallvano who is competing at the top of the sport at 1.60m GCT classes and 5* Grand Prix with Marco Kutscher.
From Stamm 741 come many top international show jumpers including; Leonardo under Franke Sloothaak, Chagall Orion under Mario Deslauriers as well as VDL Cardento, who won the team silver medal under Swedish Peter Ericsson at the Athens Olympics 2004.
He has shown to be very sportive and competitive. In 2022 was crowned the Swedish 5 yr old Champion with Anna-Clara Pettersson in the irons.
He is already qualified for the 2023 Falsterbo Horse show.
More Horses by this Seller