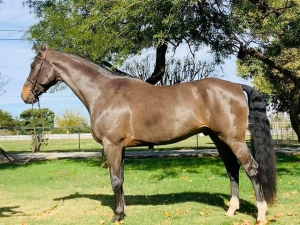 Quintus
We have found the fanciest beginner/confidence builder horse there is around! His only desire is to pack around a rider and make them look good! NOTHING spooks him, you can have the scariest fence and he'll know that his job is to jump over it. He will jump from anywhere and will never accelerate or remotely pick up the pace. His job is to take it slow and easy and jump the fences and he knows it!
Of course he has auto lead changes, is very comfortable over the jump, sitting trot and smooth canter. Way more whoa than go all day every day. No vices and very pleasant to handle on the ground for those looking to build a real team from the ground up. 
A little more numbers about Quintus: 
- He is 8
- 17 hands
- Holsteiner
- Has competed in the 2'6-3' with AA rider. 
-Priced to sell at $50k
Quintus is located at Papillon Sales Horses in San Jacinto SOCal. 
Call or text 9513884155 for more information 
Information
Location
san jacinto, CA 92582
United States
More Horses by this Seller