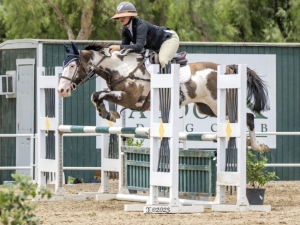 Smokey
Available for a lease/sale double registered American Warmblood & Paint horse gelding.

Current show miles up to 1.10m. Has jumped 1.30m at home.

Big beautiful mover. Smokey is a horse that loves his job.

He has shown all over and always in the top ribbons and tricolor ribbons.
Smokey is an amazing horse, he can pack a kid at their first show or an ammy around the puddle jumpers and then do the 1.10m on the same day. Smokey is very versatile, adapts to his rider and gives his whole heart out.

He loves trails, rides bareback, swims and has a mellow temperament under saddle. I trust this horse with any rider.  I use him for beginner lessons with little kids and adults. He is not spooky or looky at all.

Smokey is one in a million, he is beautiful, saintly and has a heart of gold.

Located in Redlands

(323)445-4288
For sale
$35,000 - $50,000
For lease
$10,000 - $20,000
Information
Location
Redlands, CA 92373
United States
Jumpers
0.75m - 1.00m
1.00m - 1.15m
More Horses by this Seller