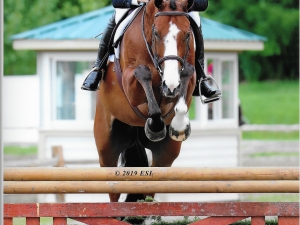 Trade Winds Enrique
Enrique is a talented KWPN by the successful Grand Prix sire, Verdi. This horse's athleticism and quality is reflected in a show record that contains several wins at some of the biggest AA shows in the country.  As a 7 year old, Enrique competed in the National Young Jumper finals held in Kentucky, and carried a clear score throughout all rounds to finish in 3rd place.  That same year he earned a Horse of the Year title for Zone 2 young jumpers.  
Enrique has the scope, quality and heart to excell in any direction. More recently he has been competing in the 3'6 High performance hunters, where he has earned numerous blue ribbons and division champions. In 2019 Trade Winds Enrique's consistent top placings earned him the circuit championship in the 3'6 Performance Hunters at HITS Saugerties and a 3rd place in Horse of the Year for Zone 2 in the performance hunters. 
Enrique's limitless scope and breathtaking jumping style make him an ideal horse for the International Hunter Derby classes. He clears the high options with ease and his ability to turn on a dime makes the handy rounds fun. He can win in any ring, and he always catches the crowd's eye while doing so. 
He is very sweet and easy in the stable. He loads, clips, stands on theraplate, treadmill, stands for farrier, etc, with no vices. 
Enrique is currently available to be tried in Ocala, FL.   To set up a trial please call (203)530-3279
Sellers are very motivated therefore his price has been recently reduced. 
Information
Location
Ocala, FL 34482
United States
More Horses by this Seller