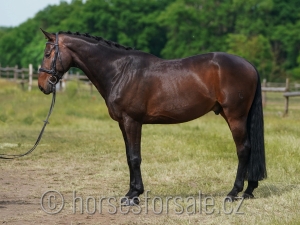 WARNPRE
WARNPRE - eye catching gelding for show jumping or equitation
Warnpre is a 7y old cute gelding, has show records in parcours up to MT 1.10 (started later), doesn't look any fence, is ready to handle rider's mistakes, has easy lead changes, is easy to ride, not looky or spooky, is safe in the trail, behaves in a new place like at home, would suit for an adult amateur. Easy to handle, vetted recently without any bad habits.
NEW price 13.000€, Tel.: +420 602 862 723
Born: 2016, Height: 171 cm, Pedigree: Warness ZH (Warrant) x Long Meadows (USA)
Location: 30 minutes from Prague, Czech republic, Central Europe.
*** more horses on my website www.horsesforsale.cz ***
Information
Location
Czech republic, Central Europe
Czechia
More Horses by this Seller