"The Southern Charm Tour"
Blog
"The Southern Charm Tour"
Apr. 26,2015
Jennifer Bliss/Harris Hill Farm
The topic of choosing specific horse shows and compiling a show schedule is particularly fresh on my mind because our stable, Harris Hill Farm, is about to embark on a completely different tour this summer.  For my entire "horse show" life and professional career, I have been based out of Westchester County, New York for the spring, summer and fall seasons and we always frequented the iconic North East Horse Shows including Old Salem, Fairfield, Lake Placid, and the Hampton Classic.  We would only relocate to Wellington, Florida for a few short months in the winter to keep our show horses well seasoned and escape the frigid winter weather.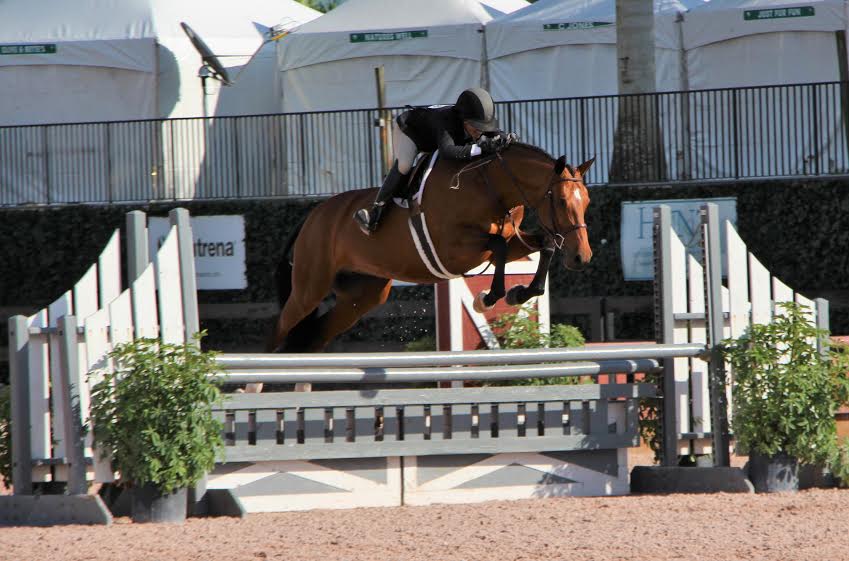 Jennifer showing Cakewalk in the Pre Greens at 2015 WEF
Over the last few decades, Wellington has grown into a destination and vital core for both the hunter and jumper disciplines and the professionals that are sustained by the sport.  Our operation has gradually moved earlier and earlier to the South and remained later and later. Last year, we did not arrive home to New York until just before Devon and we relocated to Wellington immediately after Indoors.  The extended duration we spent in Florida prompted the necessity to finally purchase a home near the Winter Equestrian Festival.   After weighing numerous factors, the decision was also made to make Wellington the year-round base for Harris Hill Farm. 
The logistics of this change made it imperative for Harris Hill to incorporate some new horse shows into our schedule and remain within the proximity of the South and Midwest for the majority of the summer months.  Below are the top factors I considered when choosing our show schedule:
- Competitive Goals:  I like to plan ahead and set goals for each horse and myself at the beginning of the year.  These vary each season depending on my current string of horses and riders.  I try to pick locations that are competitive, but also realistic. My forte is developing high quality amateur and junior-friendly hunters, so I choose venues that are conducive to creating a positive experience for my string and that offer the necessary classes to assist in the progression of their training.
-  USHJA/WCHR Approvals:  As a professional hunter rider, the USHJA programs are very important to me.  I make it a priority to show at WCHR (World Champion Hunter Rider) approved shows because the hunter divisions are well showcased.  Winning the WCHR Developing Pro National Championship last year was an exciting achievement. It is a long-term dream of mine to compete in the WCHR Professional Finals at the Capital Challenge and one that requires the necessary points at approved shows for an invite.  
I also try to choose shows that offer USHJA International Hunter Derbies and Pre-Green Incentive Stakes.  Qualifying and competing in these championships at the Kentucky Horse Park in August is a highlight of our show year and I only see the prestige and importance of these two events growing with time.  Also, the WCHR shows and those offering bigger USHJA International Derbies and Stakes typically boast great footing, beautiful jumps, logical time schedules, and substantial prize money. These are all important details that contribute to a fun and successful show. 
- Proximity to Farm:  I like to show two or three weeks in a row and then provide the horses with two to three weeks off from the show environment.  I try to pick shows that logistically make this training philosophy possible, without an exorbitant amount of travel time.  When the geographic logistics are too cumbersome between consecutive shows, I make sure to line up a quiet layover farm where the horses have relaxed downtime and I also have the facilities to properly train and keep them fit.
- The Horse Show Town: It is a bonus if the area around the show has charm, character and/or additional activities. Horse showing in the summer is often a family activity. This is an important factor to consider that is based on our traveling clientele.  Everyone loves a comfortable place to stay and a variety of dining options, especially after a long day of showing.  Ease of travel is also important for our clients, particularly if they are amateurs with careers and/or families and are just arriving to show on the weekends.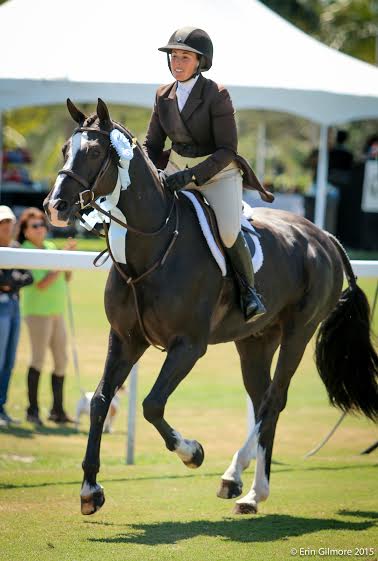 Jennifer Bliss piloted Sugarman to a top 10 finish at the prestigious  $50,000 USHJA International Hunter Derby at 2015 WEF (photo credit: Erin Gilmore 2015)
I am looking forward to balancing out a pleasant "home life" in Wellington with the excitement and adventure of experiencing new horse shows and meeting new people this year.  The tentative "added" stops on our calendar include Tryon, Upperville and Blowing Rock.  We will also be attending a few of our favorite shows from our traditional schedule including Devon, Kentucky and the Indoors.  Our barn is currently comprised of mostly native New Yorkers and we have merrily dubbed this season " The Southern Charm Tour."
ABOUT JENNIFER BLISS & HARRIS HILL FARM
Jennifer grew up as an active competitor on the "A" horse show circuit and enjoyed great success as a junior, winning such major accolades as Pony Final championships, Horse of the Year awards, and top 10 placings at the Indoor Equitation Finals. She rode under the tutelage of equitation expert Missy Clark, in addition to catch-riding pony and junior hunters for such top industry professionals as Scott Stewart, Tim Goguen, Tom Wright, and Charlie Weaver.
Jennifer opened Harris Hill Farm, LLC in 2008, and in conjunction with fiancé and barn manager Deywi Rodriguez, has established herself as a successful professional rider and trainer. In 2014, Jennifer was the champion for both the WCHR Northeast and National Developing Pro Championship divisions and also had a top 10 finish in the USHJA International Hunter Derby Finals,
Harris Hill Farm is based out of Wellington, Florida and specializes in finding, developing, and showing high quality young hunters. 
For more information about Jennifer Bliss/Harris Hill Farm, please visit www.HarrisHillFarmllc.com