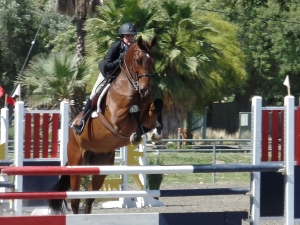 Capitano
Capitano- aka Cappy
Cappy was recently imported from Germany.He is  17 hands but as seen in the videos he can fit a variety of riders from 5'3- 5'9. He is going to be a future superstar equitation horse and will be amazing at all the finals. He is brave, scopey and honest. He has a flat soft jump 3' and under and has all the scope needed for the big medals or even International Derbys. He is very smooth on the flat and has an automatic lead change. He is learning all the EQ tests quickly and has a great trot fence. He is not finished, but is quite easy to ride, has a great rythm to the jumps and will jump from anywhere. He is priced according to talent and training, he will soon be priced much higher, as he goes to more shows and gets EQ mileage.
Serious inquries only
Information
Location
2350 N San Gabriel Canyon Rd
Azusa, CA 91702
United States
Hunters
3'0" - 3'3"
3'6"
3'9" - 4'0"
Equitation
2'6" - 2'9"
3'0" - 3'3"
3'6" - 3'9"
More Horses by this Seller