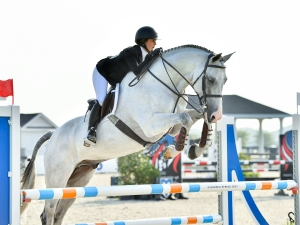 Castiel WB
This superstar equitation horse is now available. Castiel WB is a recently imported 16.2 12 yr. gelding. Castiel WB is already a judge's favorite, always winning top ribbons in the equitation. He has several championships already on his record. Extremely straightforward to ride and can teach any kid or adults the ropes to win. Has been successfully showing in the adult equitation/medals and the 3'6 equitation/medals with a junior.  Truly a trainer's dream.  
With his perfect form, he could also dabble into the hunters and has enough scope for the international derbies. He has a record up to 1.45m in Europe. Castiel WB has no spook, no prep, endless scope, and auto changes. 
Please reach out to Nathalie Petschenig for more information 469-744-3113
For sale
$125,000 - $150,000
Information
Location
9000 FM-902
Collinsville, TX 76233
United States
Hunters
2'6" - 2'9"
3'0" - 3'3"
3'6"
3'9" - 4'0"
Hunter Prospect
Jumpers
0.75m - 1.00m
1.00m - 1.15m
1.15m - 1.30m
1.30m - 1.45m
Equitation
2'6" - 2'9"
3'0" - 3'3"
3'6" - 3'9"
Equitation Prospect
More Horses by this Seller