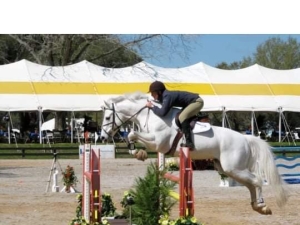 Numero Uno- Vision COLT !!
New Sales Alert !! Quality KWPN Jumper Colt for the future of Top Sport in North America.

Relic is a tall colt turning grey that will mature to 16.2 , Registered & Microchipped KWPN.

He is a very fancy, well handled youngster already who leads well, respectful of the handlers space and has been brought up in a wide open space so that he can stretch those long legs !

Look at these bloodlines that have a Performance Pedigree both Top & Bottom of his Sire , Grandsire as well as direct mare lines.
SIRE: Vision Van ' T Hazelarenhoekje -Clinton-Corrado 1 X Alexis- Alme
This perfectly proportioned stallion is sired by the 2004 Olympic bronze medalist, Clinton. Vision lives up to his famous Grand Prix heritage, exhibiting boldness, intelligence and a great willingness to perform.
​
Vision began his show career in Ireland where he qualified for the Dublin Horseshow as a 4 year old. Vision excelled in the jumper ring with several Champion and Reserve Champion titles Up to 1.50m classes.

DAM: Aleva 16.1 HH KWPN Mare by the famous Numero Uno ( Keur -Predicate for excellence as a sire and ranked 9th on the 2013 WBFSH jumping stallion rankings !

Aleva had a successful career in the jumper ring up to 1.15 prior to an career unjury when she joined the ranks of Super Mom !
Relic is a super youngster to add to your development program and worth the wait as we feel he is special.
Location: Western Canada
Pictures & Videos Available
$10,000 USD FUNDS
 
Information
Sire
Vision Van T Hazelarenhoekje - Clinton
More Horses by this Seller