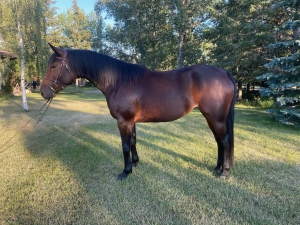 Santana
Looking for a nice, affordable project? This pretty mare is looking for her person to start her career with!
Priced very reasonably as she was unfortunately on the back burner and late to the party! She had a little time on her (1-2 months) in 2021 and 2022, and then went into work this past summer. She is broke walk/trot/canter and has been started over jumps and small courses. 
This mare is an adorable package with flat movement and has proven to be very brave at the jumps, having seen lots of fill with confidence in her little jumping mileage so far. 
Nice, clean legs. No soundness or health issues. 
Currently owned by her breeder. Price will be increasing with her training miles. 
Located in Okotoks AB (Calgary) but will be available to try in Thermal, California as of January 15, 2024. 
Please note, this is a green prospect! So please do not inquire if you are not prepared skill wise to develop a green-broke horse or prepared to send her somewhere that can assist with this. We do not promote the purchase of green horses to novice or intermediate riders, unless under the complete care of a professional in which case we ask that you have the professional inquire on your behalf. It is our responsibility to make sure horses are appropriately placed and we have been receiving too many inquiries from inexperienced riders due to the lower price tag. 
For sale
$20,000 - $35,000
More Horses by this Seller