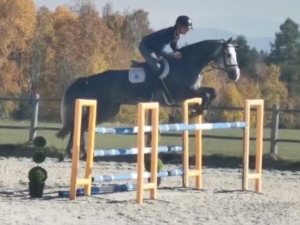 SUNBIRD TC Z
Sunbird is 5yo mare by famous bloodline Sir Obolensky (Stakkato Gold/Cornet Obolensky). She has everything what you can possibly wish from a jumper or equitation prospect. She is careful and scopy with enough blood in absolutely perfect form over the fence for showjumping or equitation ring. Its up to you which journey you will choose for her.
Currently, she is ready to step into the ring without hesitation. She is not spooky and jumps all profiles with the unique confidence. With her regular and flashy canter you wont miss any distance. Lead changes are not a problem. This mare is so sweet and gentle. She is not a usual mare, but absolute sweetheart in the barn.
Recent full set of xrays available.
Shipping possible worldwide.
More Horses by this Seller