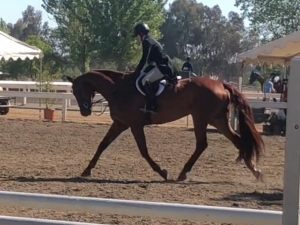 Wayward Son
Ralph is a big handsome goof ball looking for someone to call his very own. 
Ralph is great for any rider that isn't intimidated by his big size and personality, someone who loves to give head scratches and go on long bareback strolls around to property. 
 
while Ralph is definitely more of slow and kicking quiet guy at home he does perk up and put on his big boy fancy pants at the shows. He always gets a good piece of the hack and is happy to march around any ring with little prep. 

No known soundness issues 
no known health issues 
basic joint injections once a year 
Fire sale at $40,000 for quick uncomplicated sale. 
or willing to trade for young jumper prospect. 
 
For sale
$35,000 - $50,000
Information
Location
Newcastle , CA
United States
Eventers
Beginner Novice: 2'7"
Novice: 2'11"
Dressage
Intro Level
Training Level
More Horses by this Seller