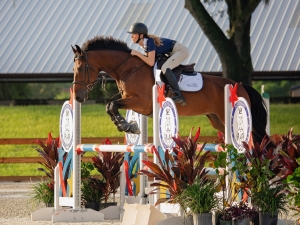 Z. MTT Macho | 1.15 Imported Dutch Warmblood Gelding
Z. MTT Macho 
2013 16.3 Imported Dutch Warmblood Gelding
Zirkonium x Ovidius

We are proud to present Z. MTT Macho for your consideration. This special ten year old gelding was imported in April 2021 and has been campaigned stateside by a teen to top ribbons at major venues including WEC Ocala, Tryon, Fox Lea, HITS and WEF. 
Shown up to the meter with his teen owner and schooling 1.15m, he has the scope, step and desire to continue climbing with his next confident junior or AO. In addition to being handy in the jumper ring, he'd make an excellent Equitation mount and has a dressage foundation. Mac has a wonderfully big stride with a presence that commands attention every time he enters the ring. His rocking horse canter is incredibly comfortable while being powerful yet adjustable. This horse really is something special. He is a truly beloved member of the family, his owner is off to college so he's looking for a new partner to cruise around with. 
 
This handsome gelding can be seen at the farm by appointment. Call/text/WhatsApp Lindsey 650-248-8227
USEF 5724995
For sale
$35,000 - $50,000
Information
Location
6900 45th Street
Vero Beach, FL 32967
United States
Jumpers
0.75m - 1.00m
1.00m - 1.15m
1.15m - 1.30m
Equitation
2'6" - 2'9"
Equitation Prospect