Featured: Jeanette Gilbert of Jaz Creek, Inc
Blog
Featured: Jeanette Gilbert of Jaz Creek, Inc
Waiting by the in-gate for your turn at the course can be stressful or the opportunity for quiet reflection. However you choose to approach those last few minutes before a round, there are countless people that make it possible, from your own team to the one organizing the horse show. Hunter and jumper riders likely know Jeanette Gilbert, even if they don't realize it. Those that have shown on the east or west coast were probably at a horse show she's volunteered at, worked, or managed.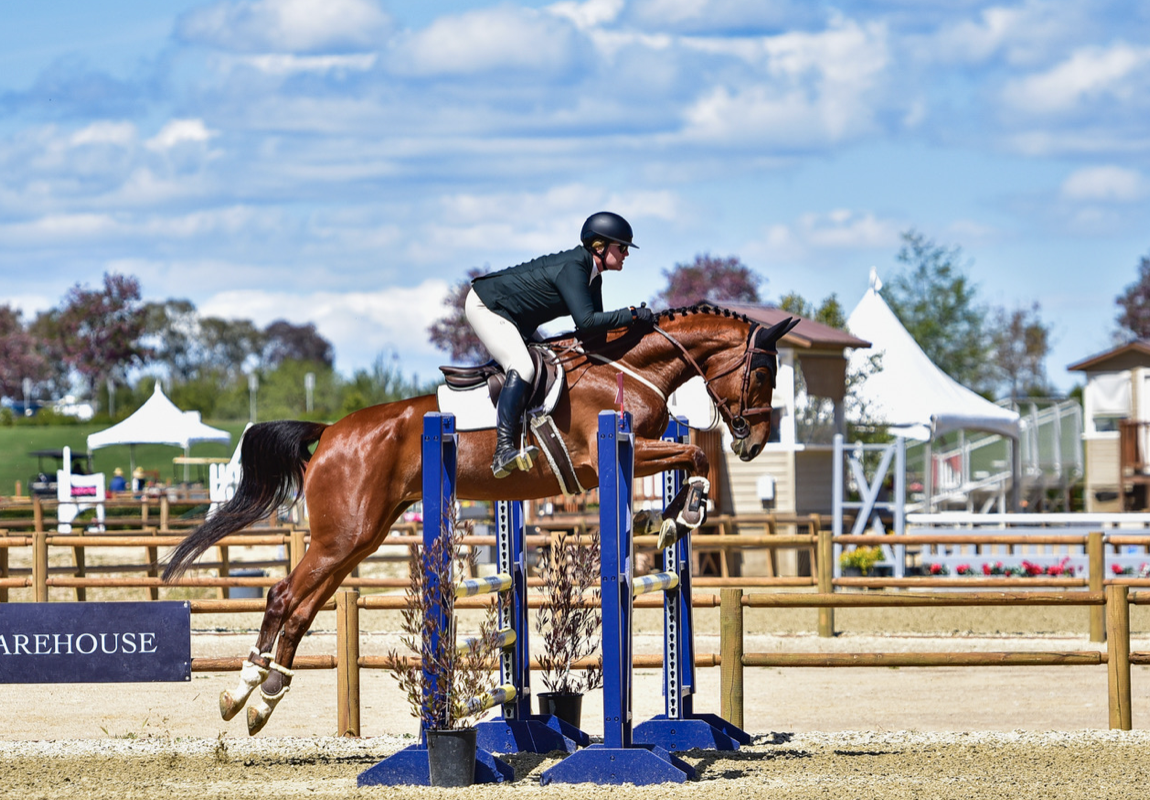 Jeanette and Champery (Emerald x Cassini II x Cantus); photo by GrandPix
Jeanette is currently the event manager at Desert Horse International Horse Park and also owns Jaz Creek, Inc., a boarding, training, foaling and sales facility in Petaluma, California, which is in the heart of Sonoma wine country. The facility recently expanded and upgraded, offering even more amenities to horses and their owners, and is one of the few in the area offering foaling services.
Jeanette breeds, imports, and shows her own horses, in addition to owning and operating Jaz Creek and serving as an event manager. This holistic view of equestrian sports provides a unique perspective that few others in the business have and has helped her have continuous success in each realm.
"I have so many ideas of how we can continue to improve the sport for the horses, people involved, spectators and sponsors at all levels and want to keep putting the time in to help it grow. I also hope to keep showing my horses up the levels and hopefully breed one that goes on to the 5* level eventually," she says.
Jaz Creek, Inc.
Horses were a multi-generational pursuit in Jeanette's family as they are for so many others. In this case, Jeanette's mother never got to ride, so ensured that her daughter had lessons. Her parents bought the property in Petaluma when she graduated from UC Davis in 2005. Jeanette and her mom designed the original horse facility; a lovely boutique boarding business with a 16-stall barn, some outside paddocks for younger and retired horses, and one trainer running their business from the farm.
"In 2020 my parents were ready to retire, and my husband and I were able to purchase the property from them," Jeanette says. "While it was never necessarily the plan to have 40 stalls and multiple trainers working out of our facility it was the evolution the property needed to make to work for us financially."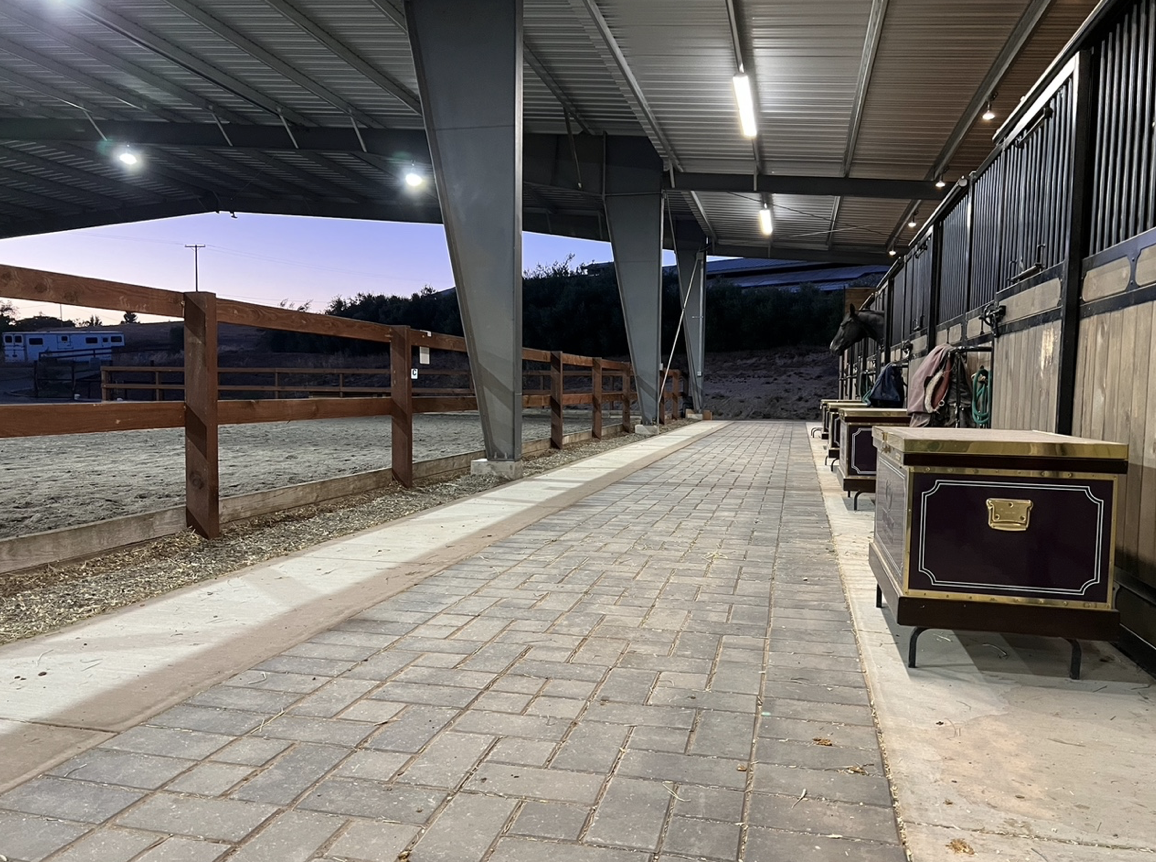 The new barn and arena at Jaz Creek. Photo by Josh Gnaizda
Today, Jaz Creek has room for about 50 horses with a 100' x 200' covered arena, a 160' x 240' outdoor jumping arena, trails, a huge round pen and Eurociser, and lots of paddocks. There are currently two trainers on-site including Landmark Equestrian and Rohan Dressage, with room for another trainer to join the facility.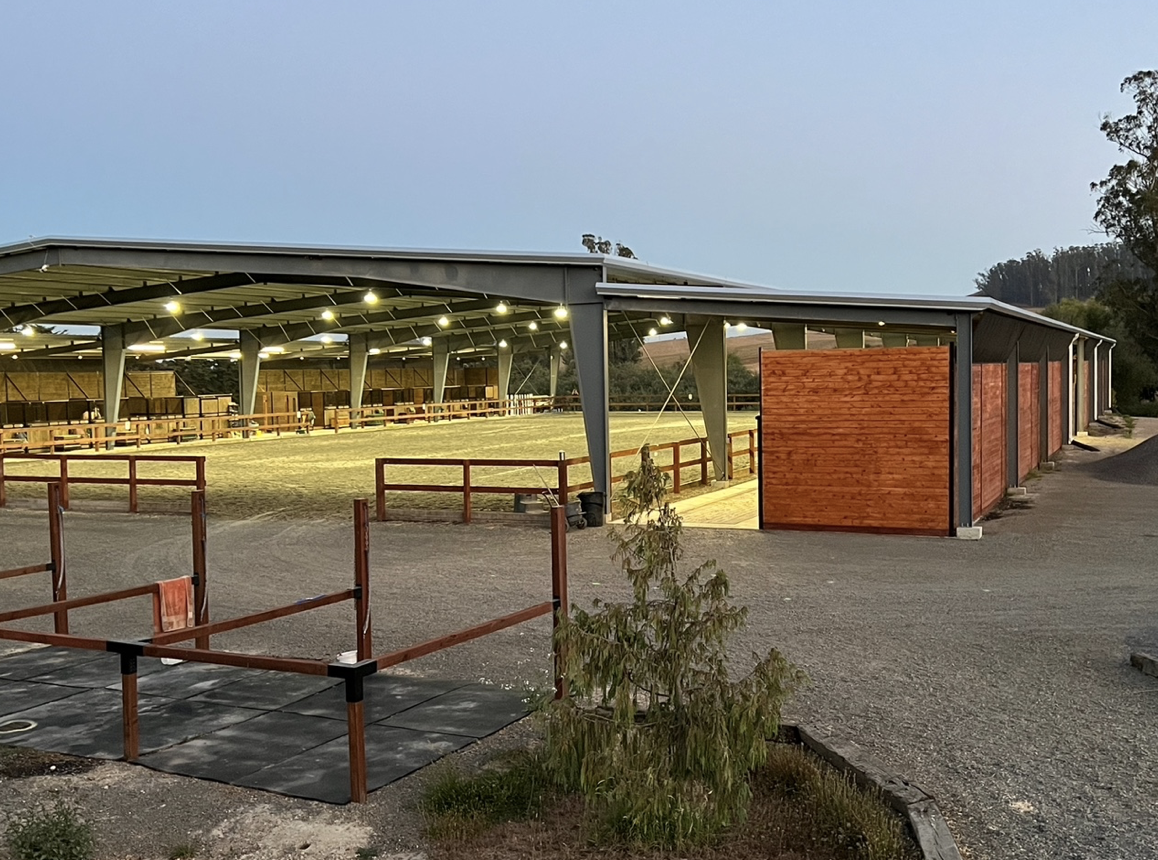 The new barn and arena at Jaz Creek. Photo by Josh Gnaizda
The property is unique because it still has a boutique feel, even with the expanded stabling and paddocks. Horses receive individualized care from the trainers, grooms, and the property manager. Full day or overnight turnout, quality feed, and consistent care brings out the best in the horses.
Jeanette helps one of the trainers at Jaz Creek with her business as time permits, but mostly focuses on her full-time job working for Desert International Horse Park on top of managing Jaz Creek. She mostly shows her own homebred horses but loves to teach as well.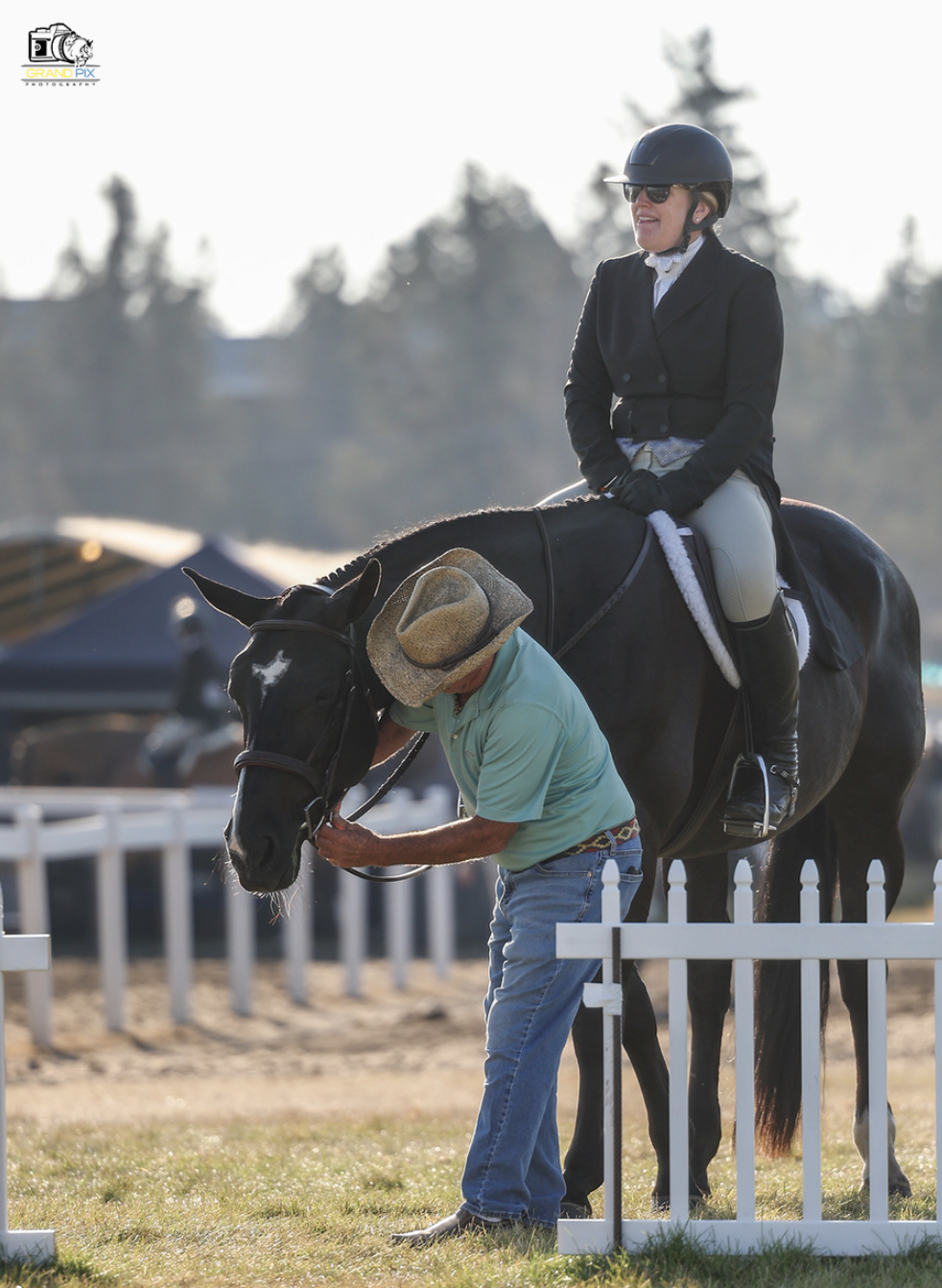 Jeanette and her mentor and coach Buddy Brown; photo by GrandPix
The Horses
The vast experiences in the industry provide insights on the horses as well, and the years of importing, breeding, and showing have helped Jeanette refine the qualities she looks for in a mount. "I want a horse that wants to jump most of all; I prefer to ride horses that have their own motor and do not require me to kick or pull too much, so really a horse with a natural balance and good uphill canter."
Breeding, importing, and raising her own horses also allows Jeanette to know and understand them well, including what will work or not. The care and training they receive at Jaz Creek ensure positive experiences throughout their early training and career.
"They trust us and want to go do their job because they enjoy it. That makes it so much easier for everyone to handle them and work around them," Jeannette says. "I personally prefer a horse with a strong character, horses that have opinions and make you earn their respect generally are the ones who will fight for you in the ring."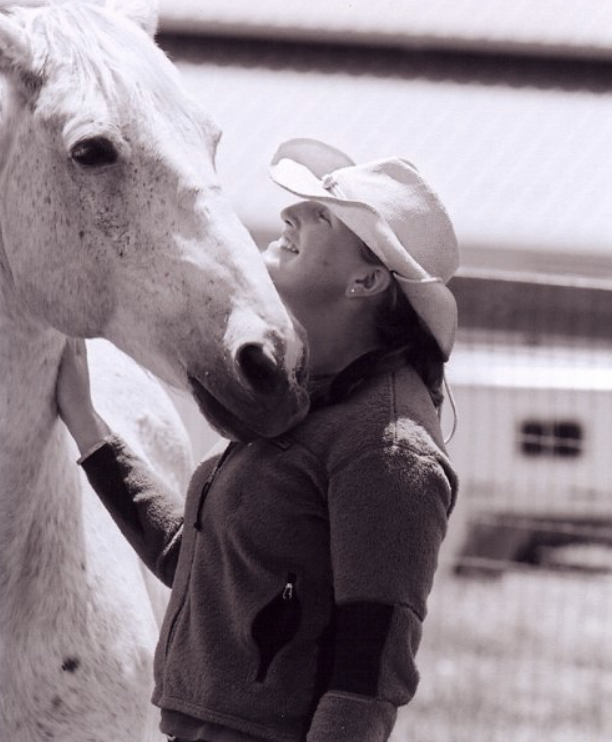 Jeanette with the horse that started it all, Lion At Large, during his retirement at Jaz Creek; photo by Cathrin Cammett
Jeanette's first horse, Lion At Large, was a children's hunter from Duncan and Gry McFarlane that they found through Andrea Barbee. Lion At Large was never meant to do much more than the three-foot Children's Hunter divisions, he was older and had ringbone. His huge heart was invaluable as he carried Jeanette through her first Children's Hunters classes, to her first Medal Finals, and Junior Jumpers. "He was kind, fast, and a great teacher; he would tell on you when you made a mistake but never try to get your hurt. He fortunately had great self-preservation, which is very important for a kid's horse!"
Next, she had a horse named Wanda that came from Danny Etter; Wanda was his Young Riders horse in Switzerland. This was Jeanette's first chestnut mare; she learned a lot and still loves the red headed girls. Reflecting on Wanda makes Jeanette appreciate how much she learned about working with a horse rather than telling them what to do.
"Currently, I have a mare that I bred named Champery (Emerald x Cassini II x Cantus) that is a six-year-old. She is a bay but has a red mare personality and just brings me so much joy every time I ride her," Jeanette says. "I just love riding her. While I am working through the winter at Thermal, Mark Kinsella and his team are starting to ride her a bit and it has been really interesting to see her learn about a new rider and get ready to move up through the divisions a bit while I focus on the horse shows."
Event Management
Jeanette found her way to the event management side of the sport through the Longines Masters horse shows. West Coast manager Dale Harvey put out an inquiry looking for a volunteer manager for the event the first year that the Masters ran in Los Angeles. Jeanette reached out to him immediately as she had been to Europe a few times to see some of the indoor shows there and thought it would be an interesting experience. After two years running the volunteer program, she assisted the sport manager at the show when it moved to Long Beach. That year was a turning point for her.
"The camaraderie of everyone behind the scenes, the massive amount of work that the team puts in, and no one sees when things work well, the experience of working with the top horses and riders in the world had me hooked. I ended up taking over as the Sport Manager later that year and helping move the horse show to New York. It was crazy to go from living on a farm in Petaluma to a 500 square foot apartment in Queens, but I learned more than I could ever imagine and got to see most of the top shows in the world as part of my work recruiting riders."
After a year, Jeanette was ready to head home and worked for a few different management companies in California before landing at Desert International Horse Park. She gracefully balances that role with managing Jaz Creek, riding and showing her own horses, and spending time with her husband and daughter.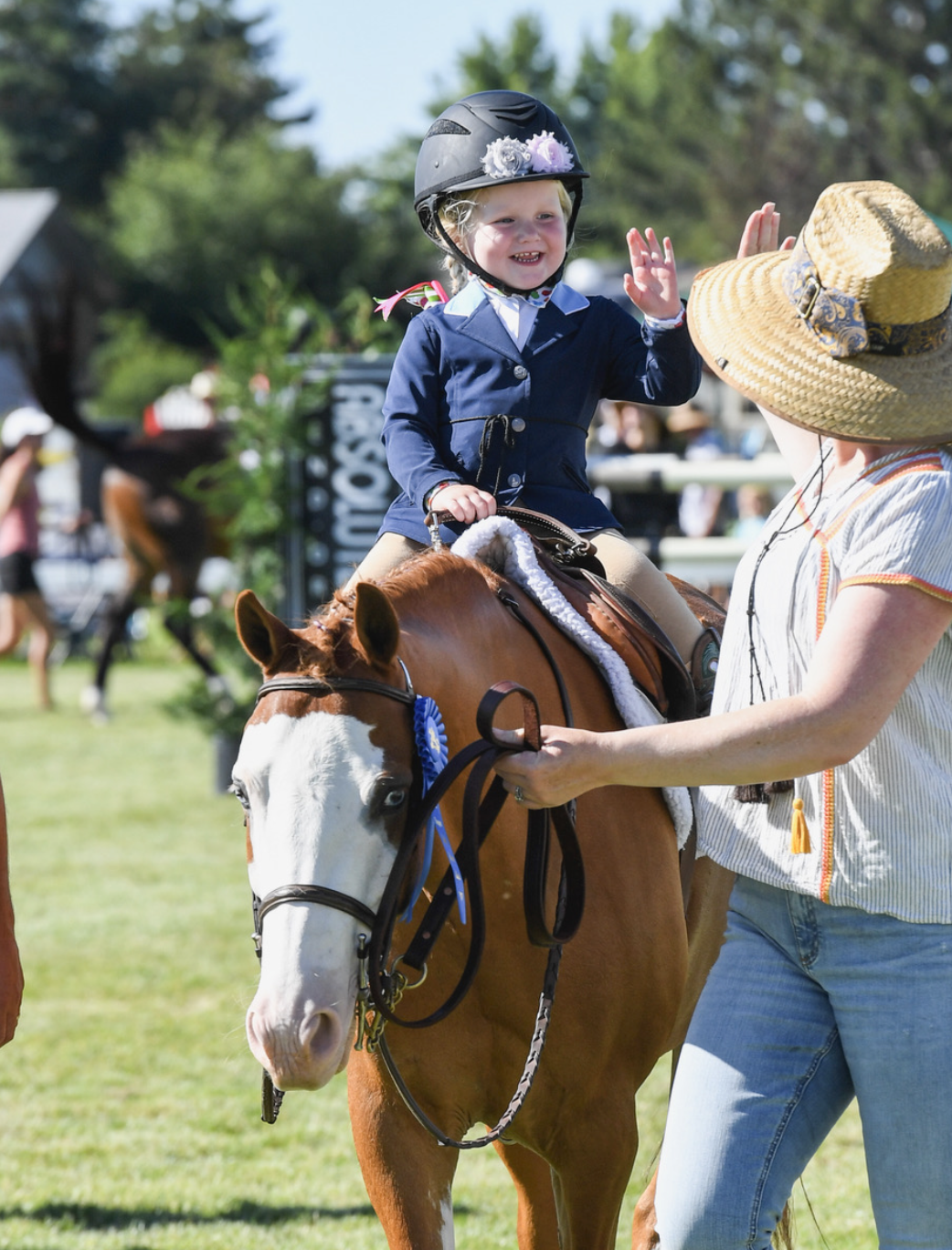 Jeanette and daughter Aggie share a high five after a successful lead-line performance; photo by GrandPix
"It has been so wonderful to work for a company that has the vision and financial backing to do what Desert International Horse Park has done in such a short period of time. I love this sport and want there to be a place for the top level of it in California. Thanks to DIHP that is happening. It really is a treat to have the best of both worlds, living at home in California, and being a part of the growth of the sport I am passionate about as my job."
To see the current horses that Jaz Creek has listed for sale be sure to visit her ProEquest profile!