Strategic Sport Horse Development at Stone Columns Stables
Blog
Strategic Sport Horse Development at Stone Columns Stables
Sport horse development for the highest levels of show jumping and dressage requires a strategic and intentional approach. Melanie Peterson-Ramey and Jeff Ramey, her husband, have that approach at Stone Columns Stables in Lexington, Kentucky. This holistic approach demonstrates how sport horses developed in the United States can compete at the highest levels internationally by modeling the most successful programs abroad.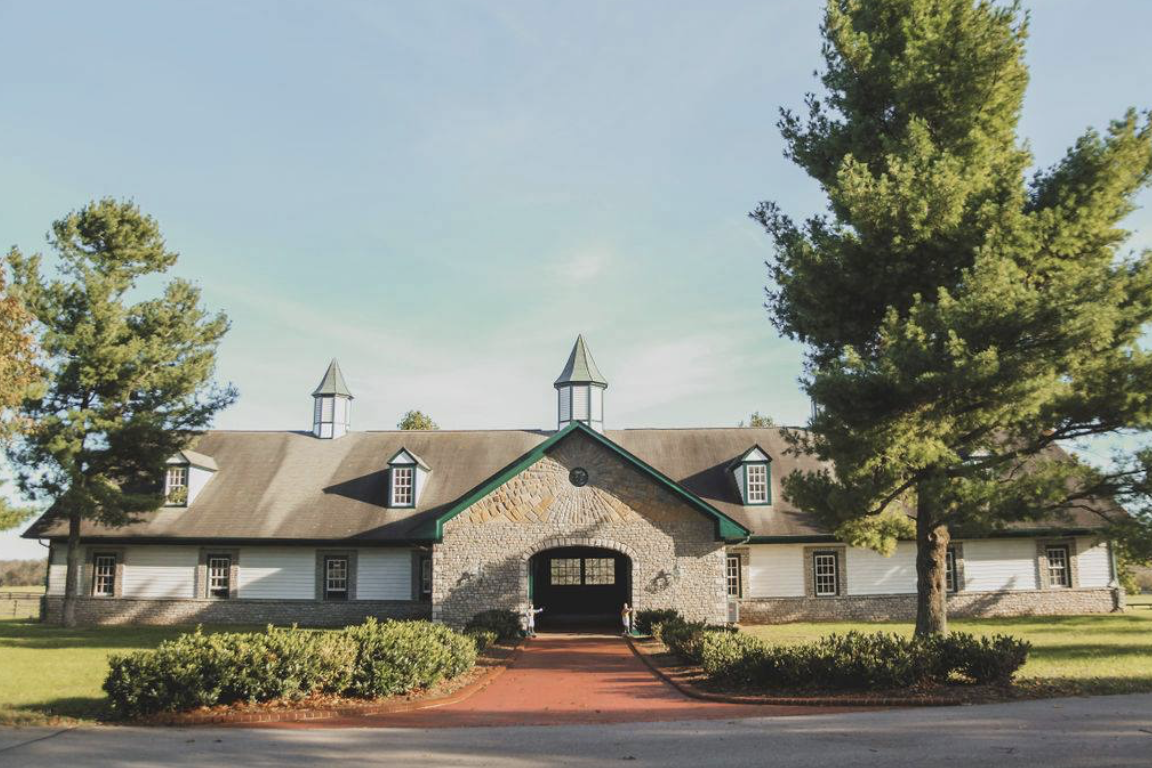 One of the barns at Stone Columns Stables.
"We believe that horses born and raised in the USA can be developed into top competitors in all arenas. It takes knowledge, intention, location, scale, and most of all time," Melanie says.
She and Jeff are fortunate to operate on what they call the best soil on planet Earth for raising horses. They make sport horse breeding, development, retirement and rehabilitation accessible to others through their programs at Stone Columns Stables. Their three farms are on 1,000-acres of pristine Kentucky bluegrass, within minutes of the Kentucky Horse Park, two major veterinary clinics, and all the major area stud farms.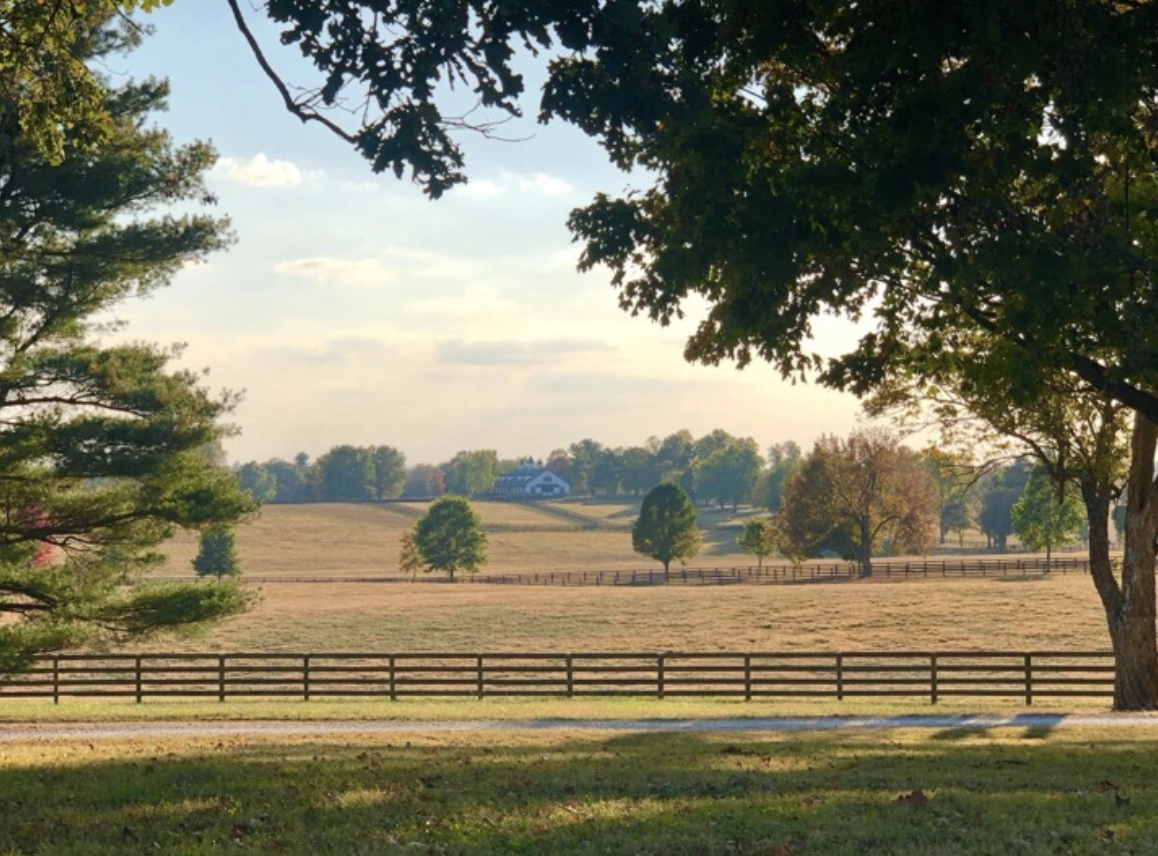 Tranquility on the Elmendorf property.
The facilities at Elmendorf and Rosemont Farms are both historic farms and important nurseries that have stood the test of time and are poised to continue to turn out fine horses now and in the future. With 160-stalls between them, two outdoor arenas, a custom designed permanent jump chute, three round pens, two Kraft walkers, trails, and all the amenities for successful breeding and young horse development, the farms play an important role in the success of all the programs. The third farm is yet another historic property in Paris, KY where they grow their own hay for the farms.
"We are constantly reinvesting in the farms so that we can continue to meet the needs of our horses and clients each year as we grow and fine tune all of our areas of service.  Anyone who comes here can feel the magic that is the bluegrass and see the good it does for their horses," says Melanie.
The Selection Process
Breeding quality sport horses is dependent on many factors, and bloodlines are a natural place to start. Many think of stallions first, but Melanie feels that the mares are 70% of the equation in breeding so likes to start with them. They obtain information regarding the mare's pedigree, show record, videos of them showing, and what the client wishes to improve as well as what the intended use for the foal is. Then, they talk stallions.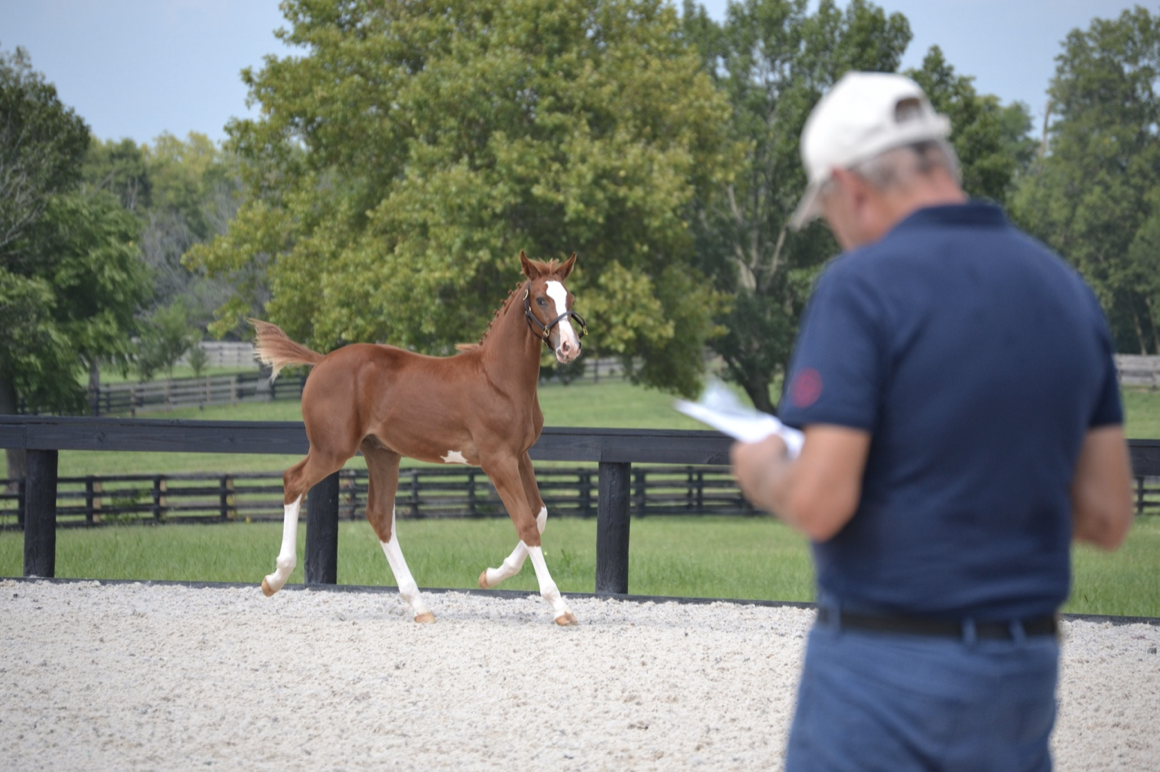 BWP inspection of our foals, this one was 2nd highest score in the USA for 2023.
"We have been fortunate to have foals by top stallions in all arenas. One of our clients was just awarded second highest scoring colt from BWP after being inspected at the farm earlier this year. We will be using many great stallions on some amazing mares that have been sent to us for the 2025 season."
Melanie enjoys working with stallion owners and brokers to provide a mutually beneficial service to the mare owners.
"We encourage our clients to look to the future and breed not only to those proven sires that are the normal go-to, but to look forward to the next generation for sires to their mares with classic lines. When you look at the tracks for the upper-level jumpers, they are not the same as even five years ago, so we need to use stallions who are producing winners over the tracks seen today. And it is the same for the dressage arena. The standards are so high nowadays, scores in the 80's are now the norm so you must select to breed for this level of sport," she says.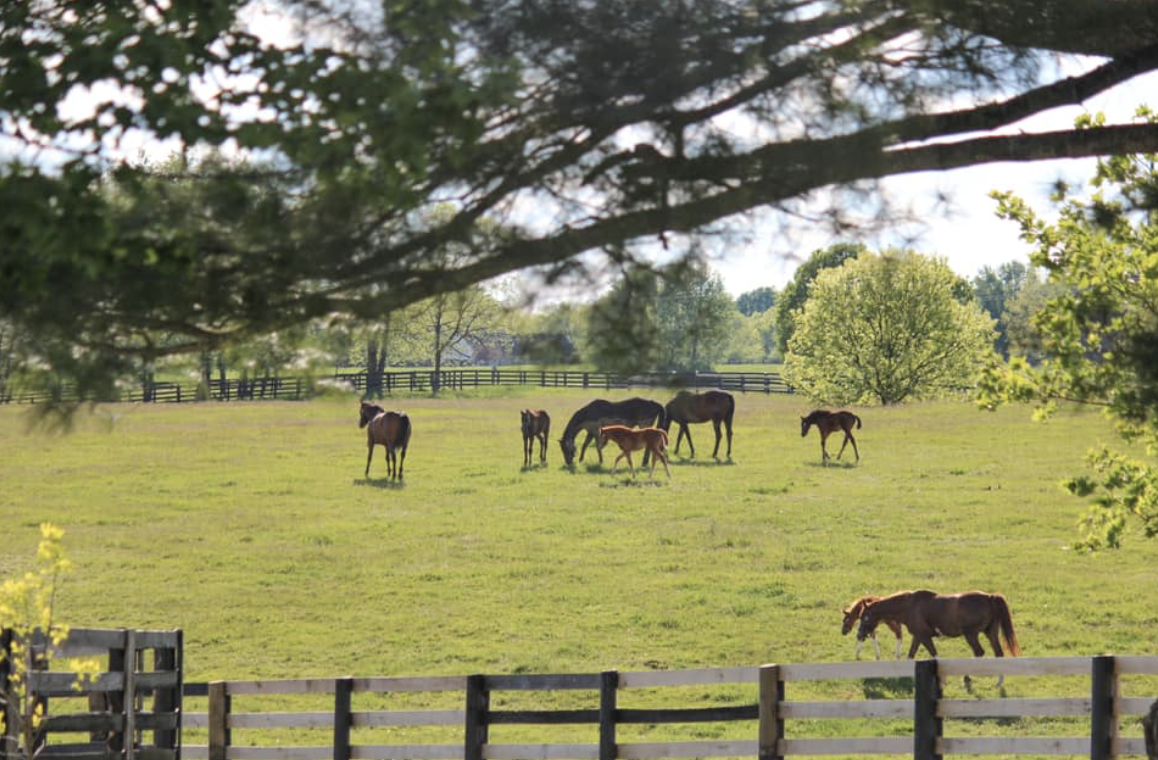 Mares and foals in their field.
With the mares playing such an important role in the breeding equation, Melanie spends a lot of time helping clients make good matches for what they are wanting out of the foal for its future. Many of these mares had pro careers at or above 1.45m before becoming the amateur horse for her clients, so she takes that into consideration and builds upon what is naturally there, what needs improvement, and what the foal's potential job will be.
Stone Columns Stables also breeds Thoroughbreds for themselves and clients. Jeff has developed quite the string of top mares who are producing foals by top stallions like Bolt d' Oro, Epicenter, Jackie's Warrior, Jack Christopher, and others. They do mare care and sales prep for select clients and enjoy continuing the tradition of Thoroughbreds on their farms.
Developing a Culture of Sport Horse Breeders
We can develop a culture of sport horse breeders in North America, breeding the next generation here for the highest levels of competition. Its already happening organically, by way of riders importing horses for sport and then breeding the mare after their career is over. Many of these are top mares competed with professionals before heading to the amateur ring. By capitalizing on the mares that have already been imported, Melanie adds that we have a great opportunity to cultivate an outstanding crop of North American bred sport horses for the top of any discipline, amateur or professional.  
"First, we have to inspire people to want to breed," Melanie says. "We feel that the more seamless we can make the process for the client, the more inclined they are to breed their mare. We handle all the details from ordering and shipping semen, prepping the mare, and even registering and inspecting the foals. The client can enjoy the process this way and they are more inclined to continue breeding and developing young horses. I think our clients love their ability to come to the farm anytime and see their horses in all stages of development. It makes it fun and enjoyable, and people will continue to do things that have a good result for them."
The second part of developing more North American sport horse breeders is being super selective in our breeding. Melanie stresses that we have to constantly be raising the bar, improving on the mare to have high quality horses bred in the United States. Breeding just to breed isn't an effective strategy; we have to breed top mares and always be improving. That is how we can produce high quality crops of foals each year.
Research, mentors, and studying pedigrees all help achieve this continuous improvement. Melanie has many mentors and a vast network like Janko van de Lageweg of the VDL Stud, Vicky Castegren of Hyperion Stud, and Tish Quirk and Judy Yancey. "I am fortunate to have many friends at the top of the sport who assist us in choosing stallions for client mares. We also work closely with top professional riders, stallion owners and brokers as they are seeing the crops year over year and can give us so much detail on the success of certain crosses," says Melanie.
Beyond Breeding
So, you've bred your horse…now what? The young horse development program at Stone Columns Stables begins on day one of life for the foals. It includes very specific things from haltering and using small drop ropes at a very early age. This allows the foals to understand a small amount of pressure and the team to look for any resistance that they can work through in the earliest days. Everything they are exposed to is an opportunity to teach and learn.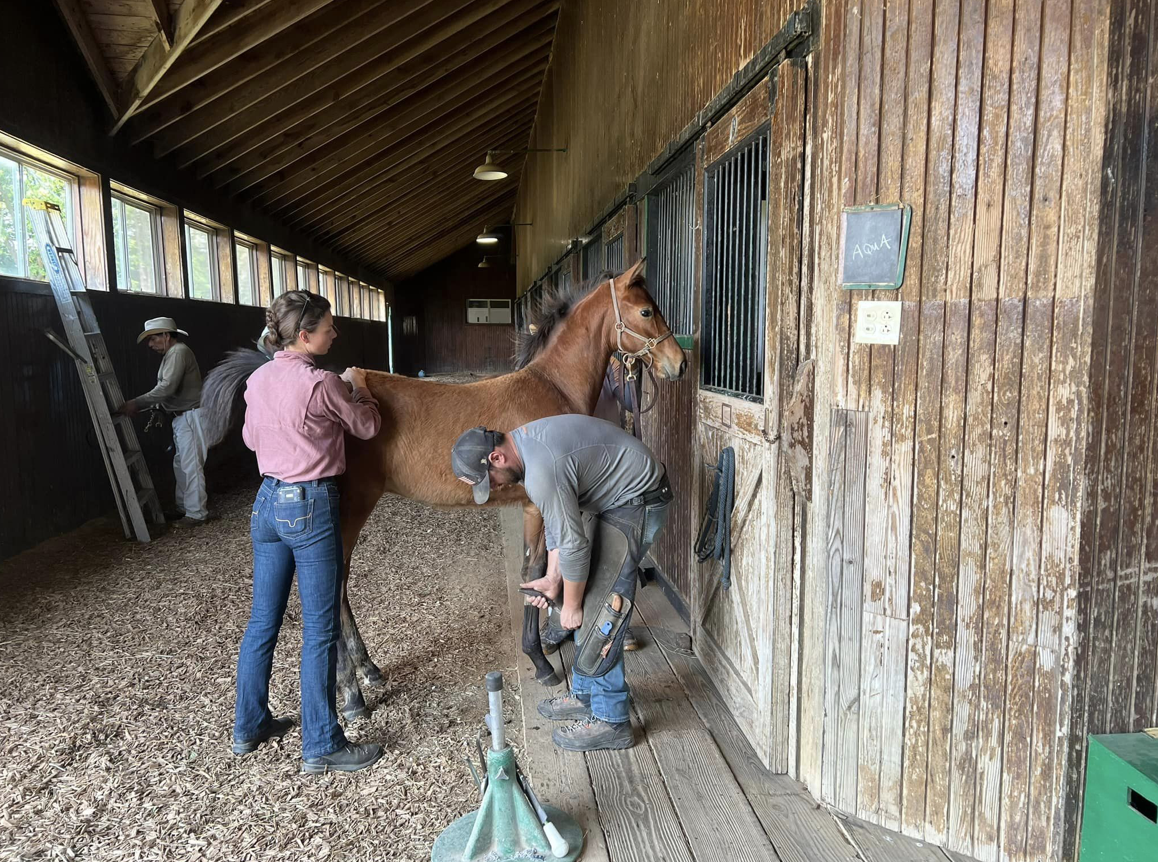 An early farrier session.
All foals are evaluated by a conformation specialist and veterinarians so they can work to correct any defects before six months of age, otherwise it's too late. The farriers and podiatrists on the Stone Columns Stables team are working on foals every two weeks from the time they are two weeks of age. The foal is exposed to this activity, and setup for success later on by ensuring that their legs are straight, and the feet are correct.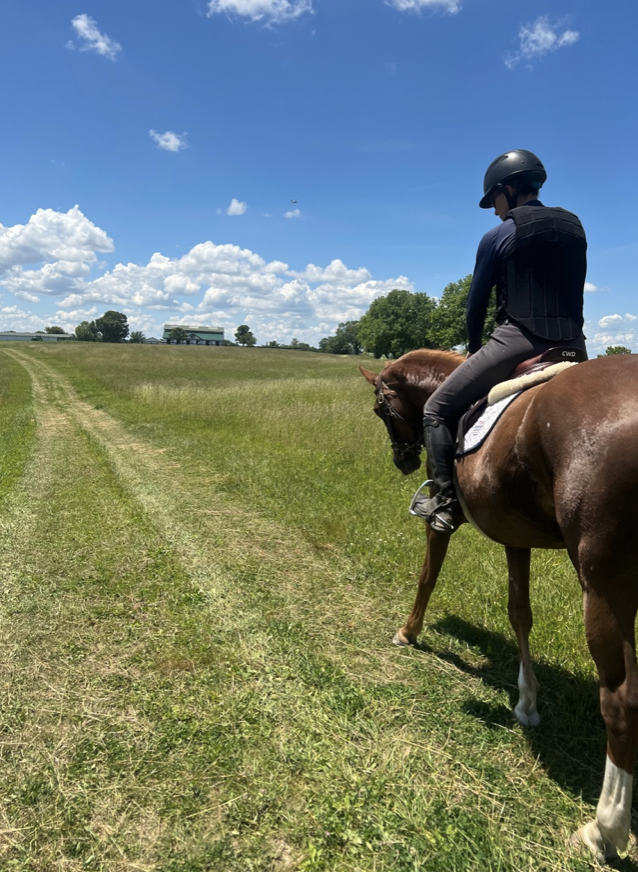 A young horse hacking to the arena.
"Because of the scale of our farms, it is a normal occurrence for mares and foals to hop on our gooseneck trailer to move about the farm in different life stages," Melanie says. "This is yet another tool for them to understand that the trailer is no big deal. We have our arena situated in the middle of the farm, so the young horses have to hack to the arena and back to the barn. This gives them all a ton of confidence and exposure to so many things along the way. By the time your young horse gets to you it is a confident individual who will go anywhere with you and do anything you ask."
To this end, the farm becomes a development tool that lasts a lifetime. Horses are also living in herds of their age group, from their days as a weanling and beyond. Melanie adds that what they learn from each other is invaluable and cannot be replicated by humans. Horses at Stone Columns Stables are allowed to be horses, and know when they are handled, that it's time to work. This way, they learn coping skills without humans, and are able to be horses for their young developing years.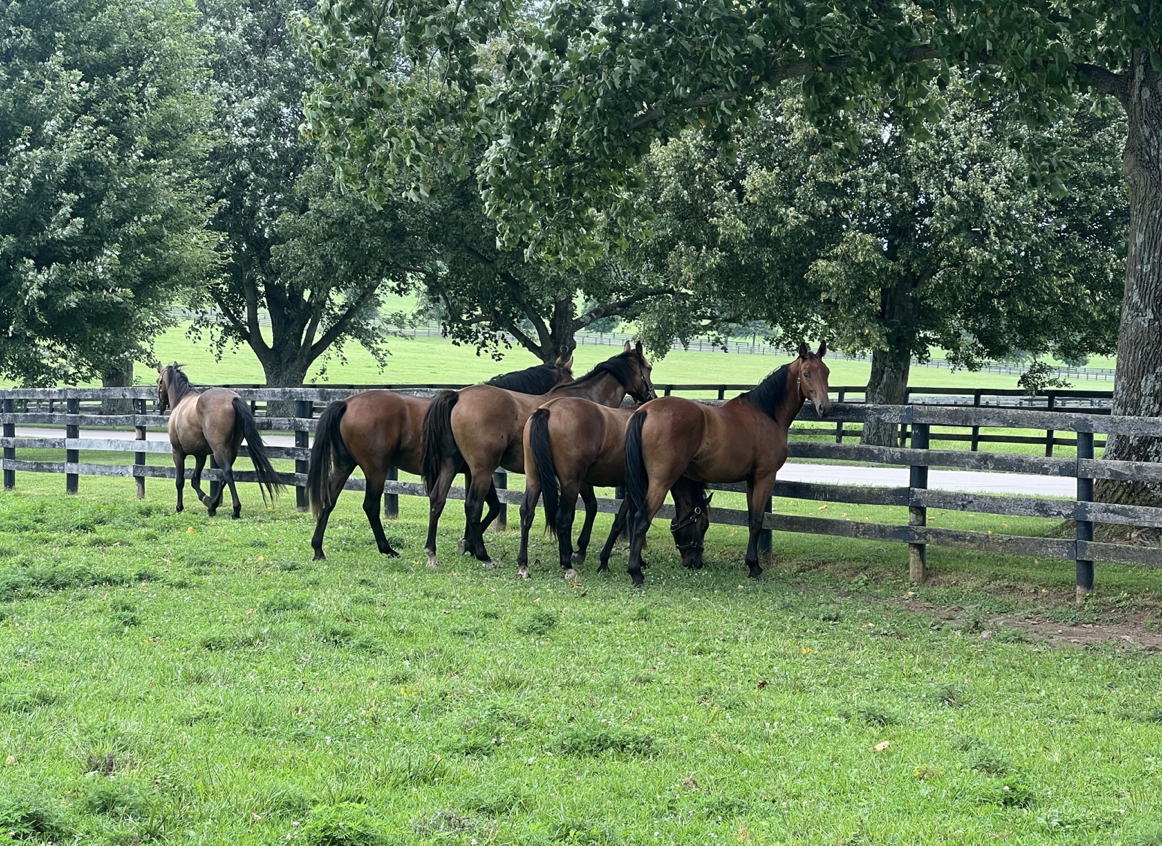 A herd of two year olds.
"We are able to turn over 4-year-olds to professionals employed by our clients who are well socialized, well handled, and have a great start to their education. For our jumper clients, we finish with a walk/trot/canter, lead change, and a small jump along with all of the other exposure they have had in their time with us. It gives the trainer a great base upon which to build their specific program," says Melanie.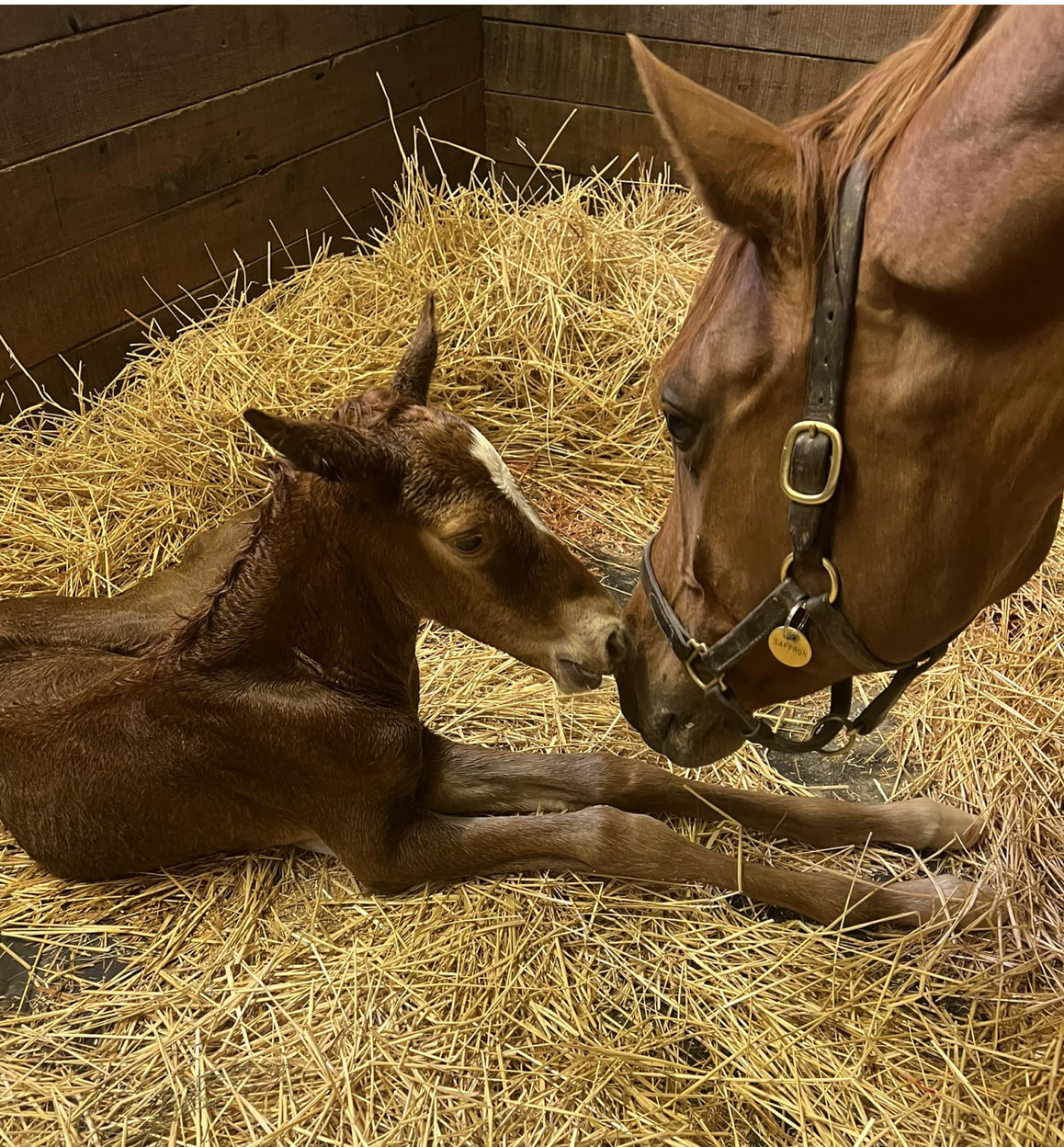 A 2023 Carrico colt born at Stone Columns Stables and owned by a client.
The rewards for strategically developing sport horses are just as tangible. "Foaling out a mare and seeing that first touch and bond between she and the baby is one of my favorite parts," Melanie reflects. "And then later on, seeing the client ride that horse that we brought into the world. It is a very satisfying experience, and we enjoy each and every day of it. We hope to share what we have built here with as many like-minded people and develop horses for the future where champions of the past once grazed."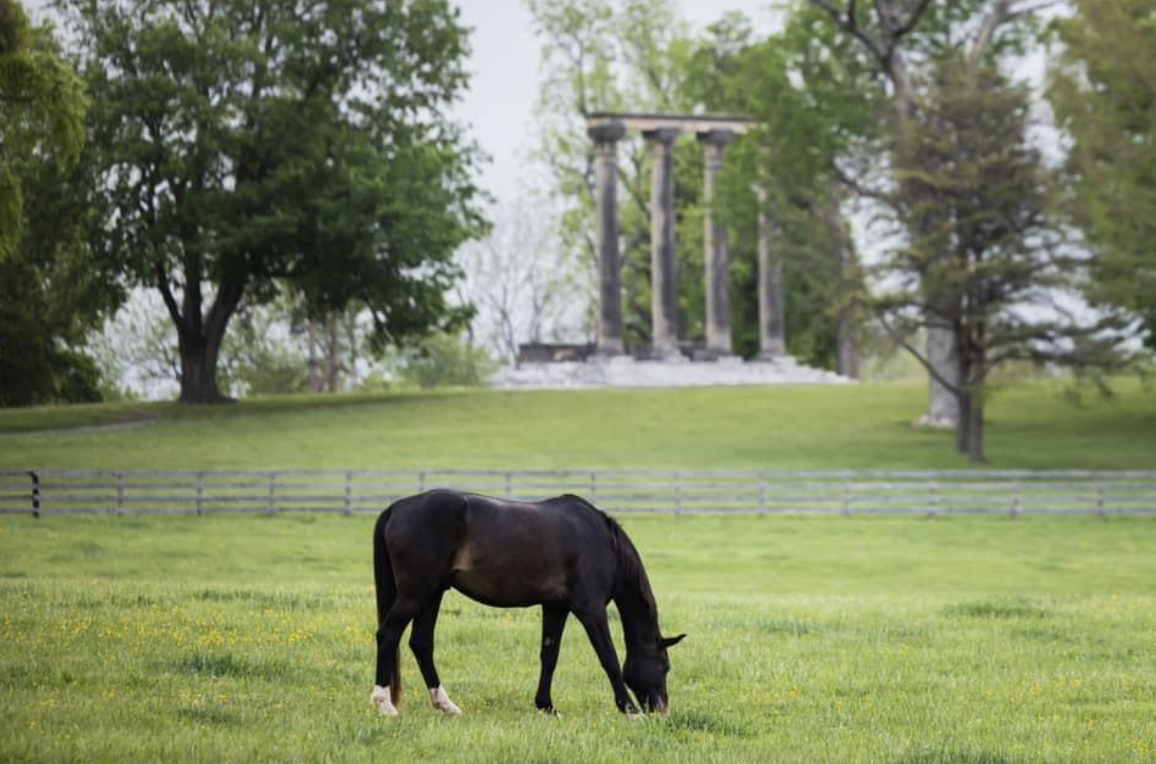 The iconic columns the farm is named for.