Featured Pro: Wendy Krohn
Blog
Featured Pro: Wendy Krohn
Wendy Krohn recently joined the team at Some Day Farm in Bend, Oregon, where she trains with Catherine "Cat" Cruger and Germaine Dougherty. Some Day Farm is a professional hunter, jumper, and equitation facility in central Oregon, with state-of-the-art stables, indoor and outdoor arenas, and a grass jumping field. Wendy trained at Westport Stables in Talent, Oregon for 11 years prior to joining the team at Some Day Farm earlier this summer.
Some Day Farm is home to 50 horses in training with individual and customized programs for each horse and rider. It's a thoughtful and conscientious approach that has horses and riders flourishing. "Everyone gets a chance, the horses come first, we practice good horsemanship and have so much fun," Wendy said.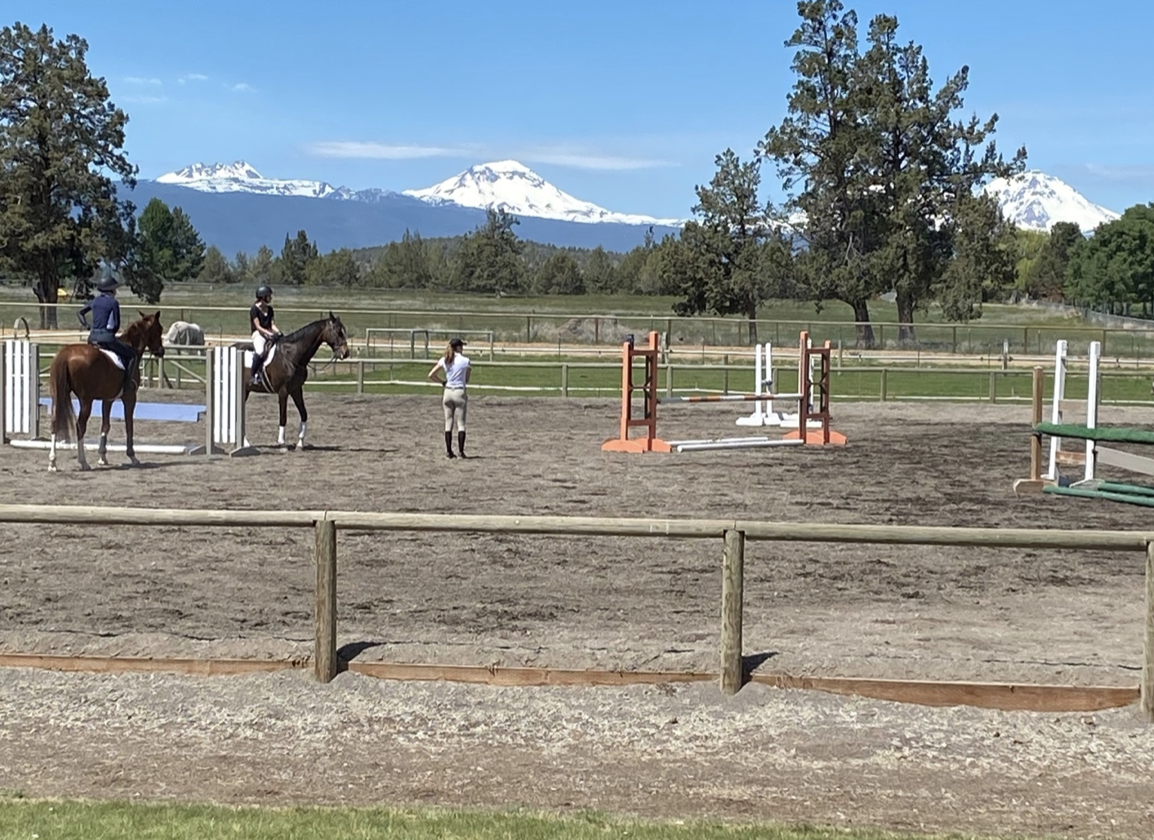 Lessons at Some Day Farm. Photo courtesy of Wendy Krohn.
Her journey to Some Day Farm includes experience on both the East and West Coasts, friends, mentors, and horses that all helped shape her into a respected rider and trainer.
Love at First Sight
At age three, Wendy's parents were moving to Connecticut from their home in New York. They were looking at a property, and it also had a barn. Wendy wandered off and found a big grey horse with a pink muzzle in the barn, and he kissed her face. She ran back to her mother asking to ride. The family visited fairs and other places with horses, and one day ended up at a Grand Prix event at Nimrod Farm in Weston, Connecticut.
"Ronnie Mutch was riding, and I was enamored by his outfit, the horse, everything," Wendy recalls. "I remember those two events like it was yesterday. I begged and went to a summer camp with horses, and from then was obsessed. I knew I always wanted to ride."
Wendy started riding with Gincy Bucklin, and then rode ponies with Emerson Burr. She kept riding through her young years at any chance. She followed the traditional route to college and majored in child psychology. But a summer internship on a psych ward following graduation convinced Wendy it wasn't the right path.
She headed to Europe to regroup and came home to a job as a recruiter for Deutsche Bank in New York City. A friend of Wendy's was an assistant for the late Larry Mayfield at Portello Valley Training Center in Menlo Park, California and told her to move to San Francisco. After a visit, Wendy moved out there, continuing her role with Deutsche Bank and riding with Larry on the weekends, who kept trying to convince her to ride professionally.
Then, John Charlebois saw her ride and she went to work for him and Peter Breakwell in 1998. Wendy was teaching for them on the weekends in their school program, and it grew from there. When John and Peter split, she went to work with Peter as his assistant. Wendy went with Peter to the Sydney Olympics in 2000 and learned so much, staying with him for 11 years.
"Peter was quiet and didn't want to run the business, so let me do that," she said. "I learned how to get the best out of horses – to ride them better and treat them better. The foundation was to always get better with no shortcuts and that influenced the kind of horse person I wanted to be."
A Bend in the Road
Wendy headed back to the East Coast when her mom got sick, and started working for Burr Associates in Newtown, Connecticut. After her time there, she joined Sleepy Hollow Country Club in New York, and met her husband, Nick Krohn. They moved to Minnesota, his home state, but she missed the West Coast.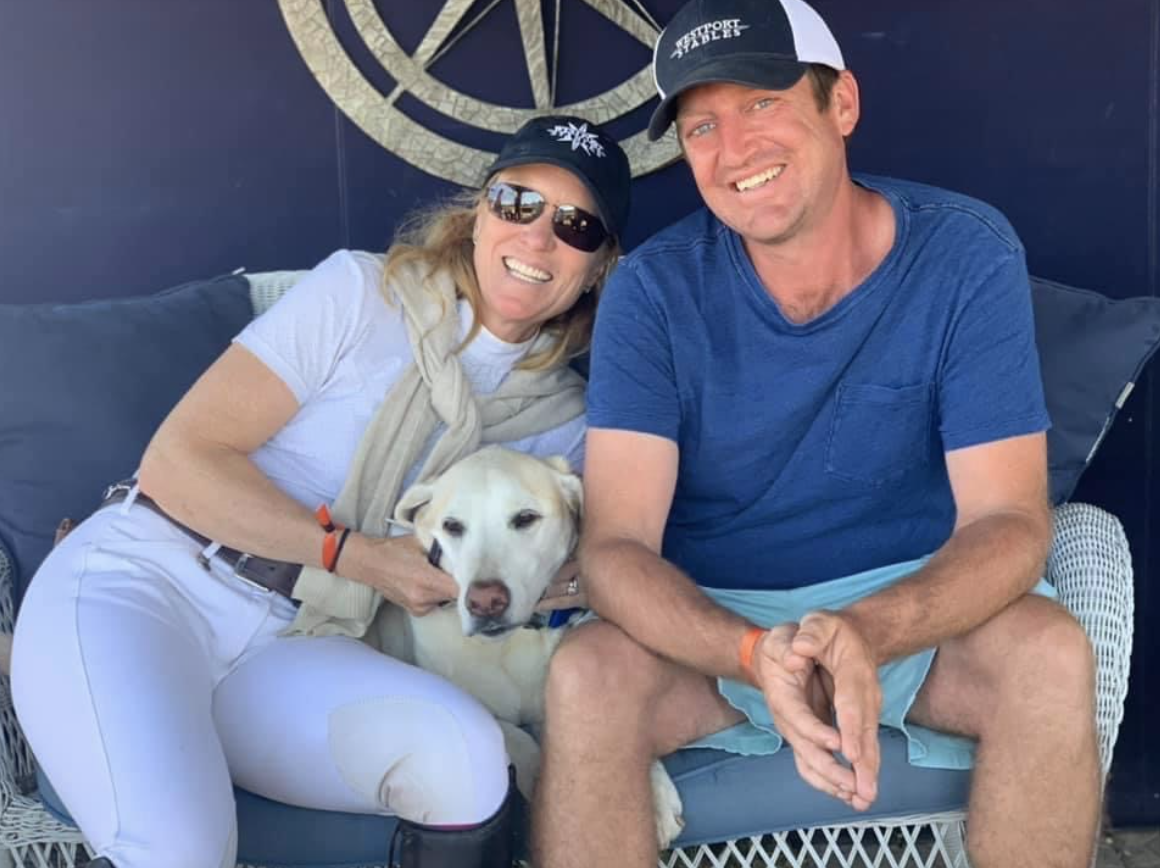 Wendy and Nick at a horse show. Photo courtesy of Wendy Krohn.
The family headed to Thermal, and John French told her about a lady in Oregon who was looking for a trainer. Wendy flew up, and although she thought it was a cool place, noted the remote location, but decided to give it a try.
She ran Westport Stables in Talent, Oregon for 11 years, and had a student go to the All-Medal Finals four years in a row. She worked for a private family for the past five years after they bought the farm. Recently, a young woman she taught from age six was second in the Grand Prix at 13 years old. It was a magical ending.
The bend in the road came from Some Day Farm. She knew Cat and Germaine from their time on the East Coast, they called and asked if she wanted to join the team. Cat, who owns Some Day Farm, wanted to create a different type of business model.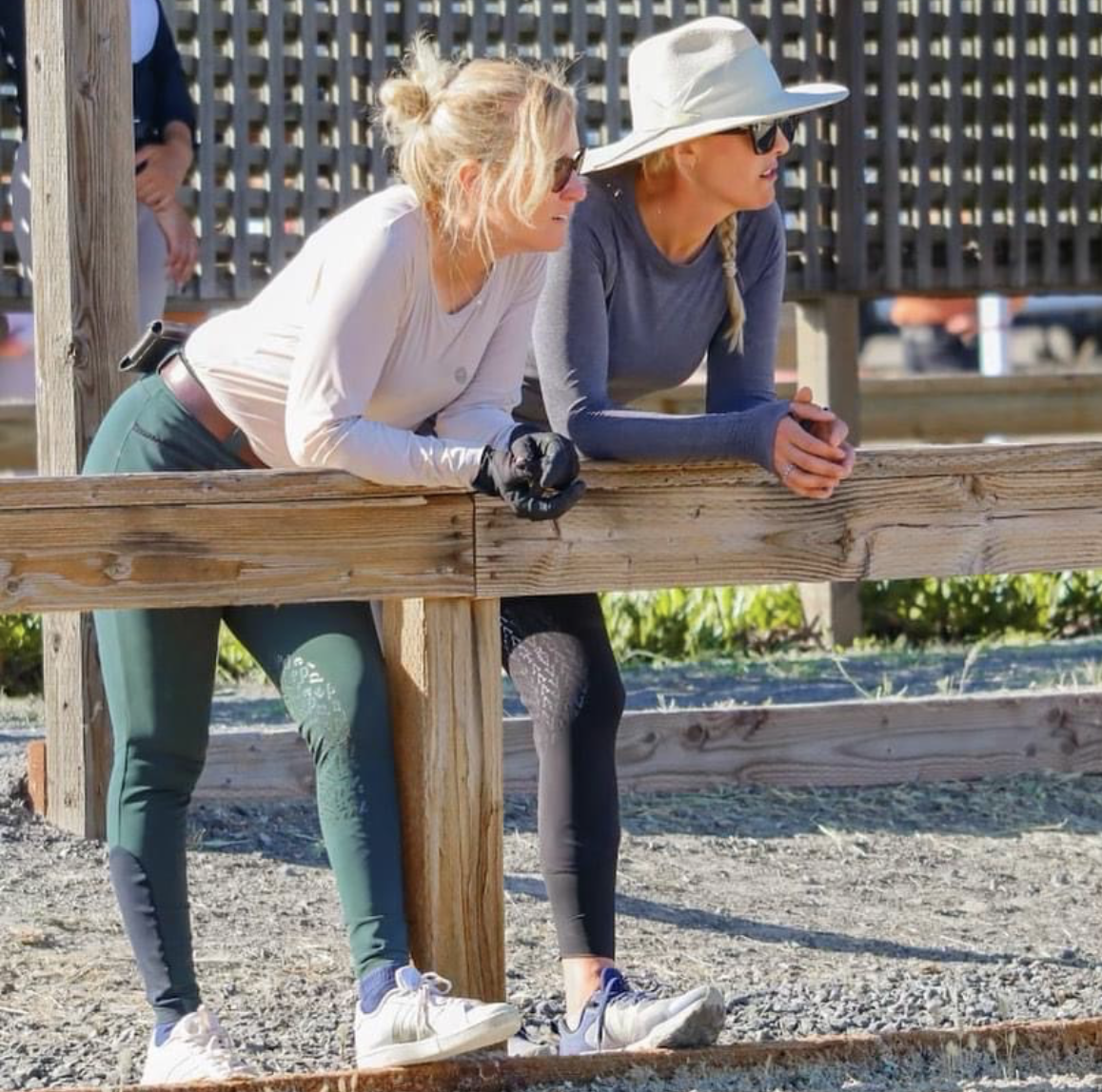 With Cat Cruger. Photo courtesy of Wendy Krohn.
Instead of one head trainer, Some Day Farm has three people that can go anywhere and do anything. There are also working students and stable managers, but the business model of three solid trainers means the clients all have the best possible experience, no matter how the team approaches a particular show or if they attend separate events. They also have more working students than most farms.
"It's a cool format, all three of us have run our own businesses too, and can be placed anywhere," Wendy said. "We've all known each other, so hit the ground running, and all have the same work ethic. Cat and Germaine both work so hard, and do whatever needs to be done, even muck stalls or drag the ring. It's so inspiring to be in this environment and have a team again, the horses are happy, there is tons of turnout, and it's a beautiful facility."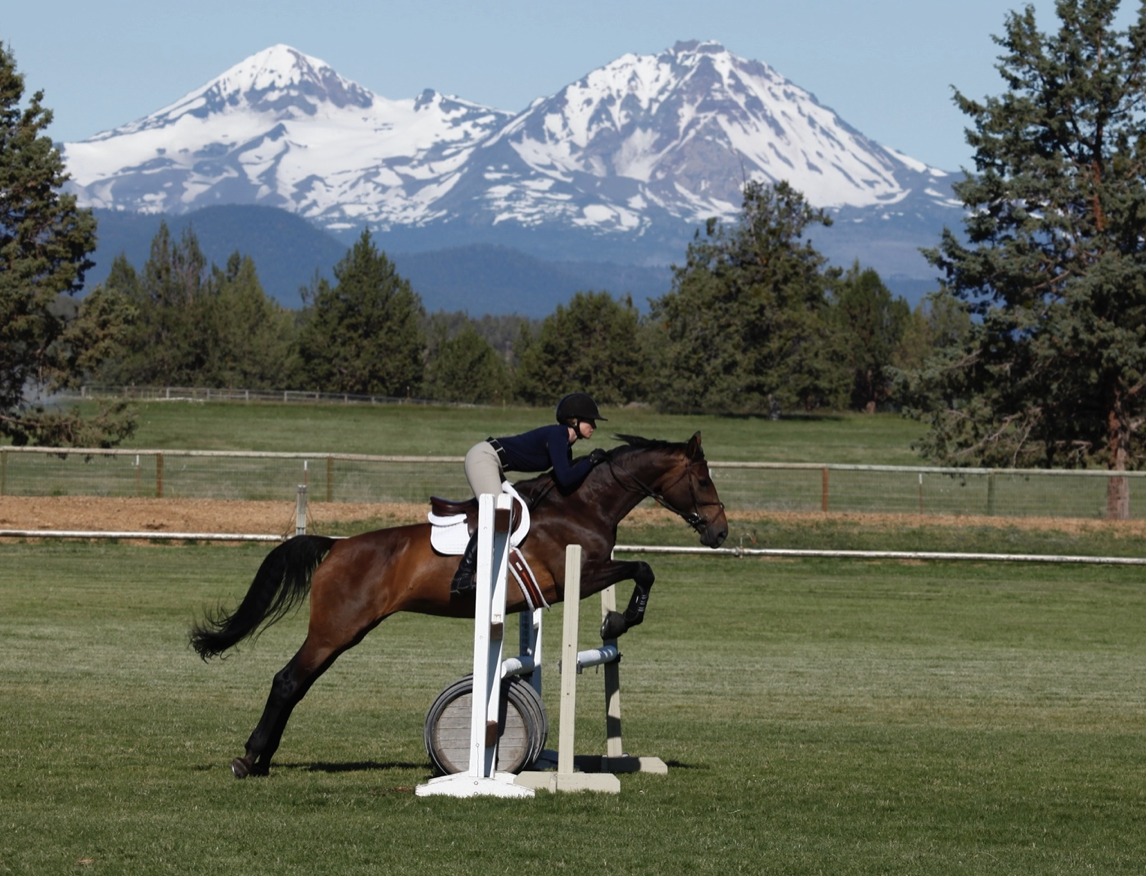 Working with a student at Some Day Farm. Photo courtesy of Wendy Krohn.
Wendy has autonomy over her training and instruction pursuits at Some Day Farm, as well as the complete support of her fellow trainers and all their customers. "When I was a kid, people gave kids horses to ride, and people here do that too. It's a neat family environment with generosity of spirit. The community wants to support professionals, offer their horses, and see them in the ring."
Pursuing the Dream
Looking ahead, Wendy also has full support to chase her own riding dreams, while also training others to help them reach their own.
"I want to create a life in Bend and build the business, and make it the best we can," she added. "I love teaching the kids and creating super stars and would love to get one of our Young Riders to the highest levels. I want to win an International Derby with Bushido and then get back in the Grand Prix ring again and shine."
Bushido is her horse of a lifetime. "He was born on my mom's birthday in 2012, the year she passed away. I've had him since he was two years old, and it's unbelievable that he just knows what to do. He's a magical horse, and I'm hoping to do big things with him," Wendy said.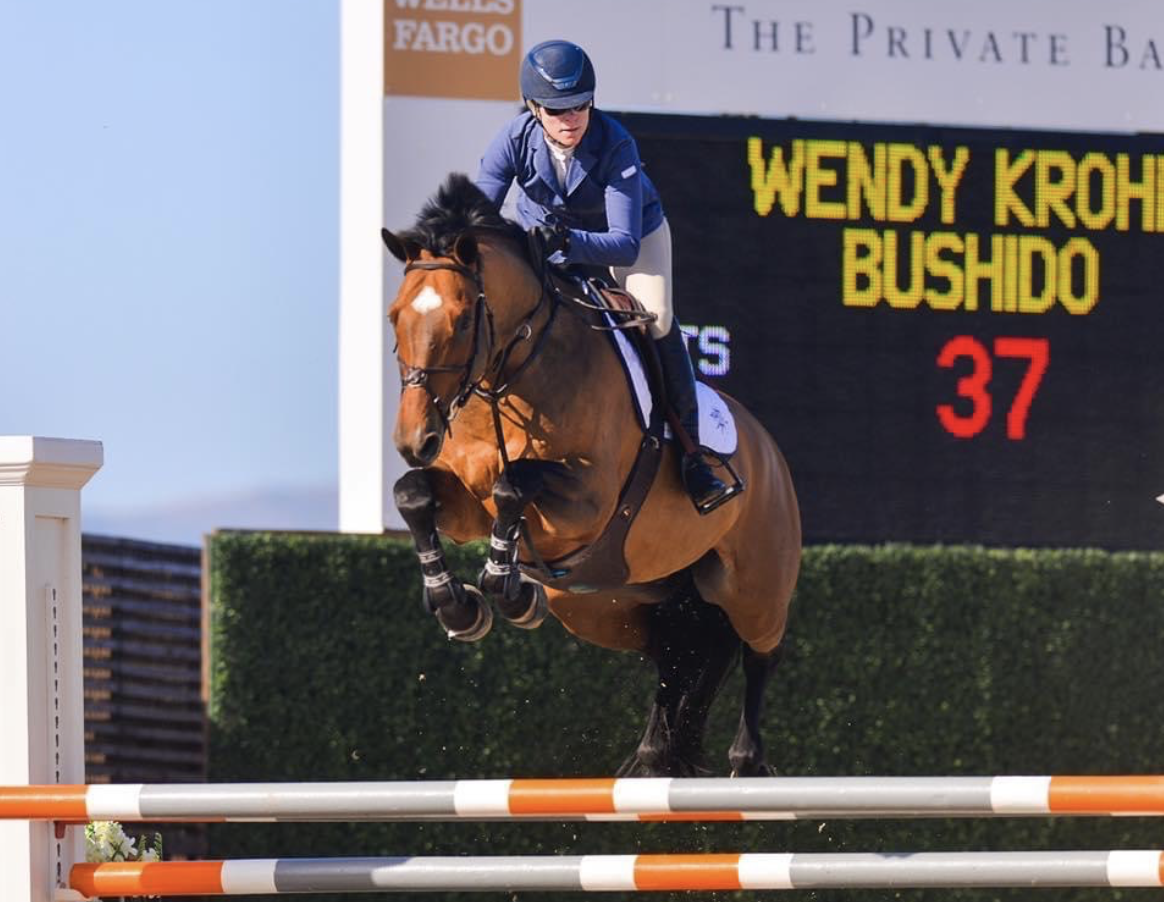 Wendy and Bushido. Photo courtesy of Wendy Krohn.
The pair started in the jumper world. Bushido jumped really high in the beginning, similar to Coconut, one of Wendy's earlier horses that she bought from Richard Spooner. Coconut jumped everything a meter over, it was always high, thrilling and fun riding the mare.
Wendy sought advice from Eric Navet, who rode Conquistador, Bushido's sire, and he said not to rush him, so she took her time with Bushido. But he never really settled into the role of a jumper, bucking high around the course. He threw her before the timers at a show at Woodside, and she said Bushido looked at her like he was done.
They went home and Wendy made Bushido into a hunter instead. In his first show as a hunter, he was second in the International Derby.
"It was fascinating, that first show out, everyone thought it was a new horse – he blossomed," Wendy said. "Bushido taught me to listen, if you feel something it's usually right. People can make it complicated for the horses, it's our job to make it simple and slow down. Of course, we also need to make sure they aren't physically hurting and are in shape."
She looks for horses with a good mind and character. Their conformation is also important, they need a body that will hold up, and solid feet. Wendy wants them to have a willingness to work and noted that by nature they all want to be good, and that we need to build relationships with our horses so that they can trust us and be good.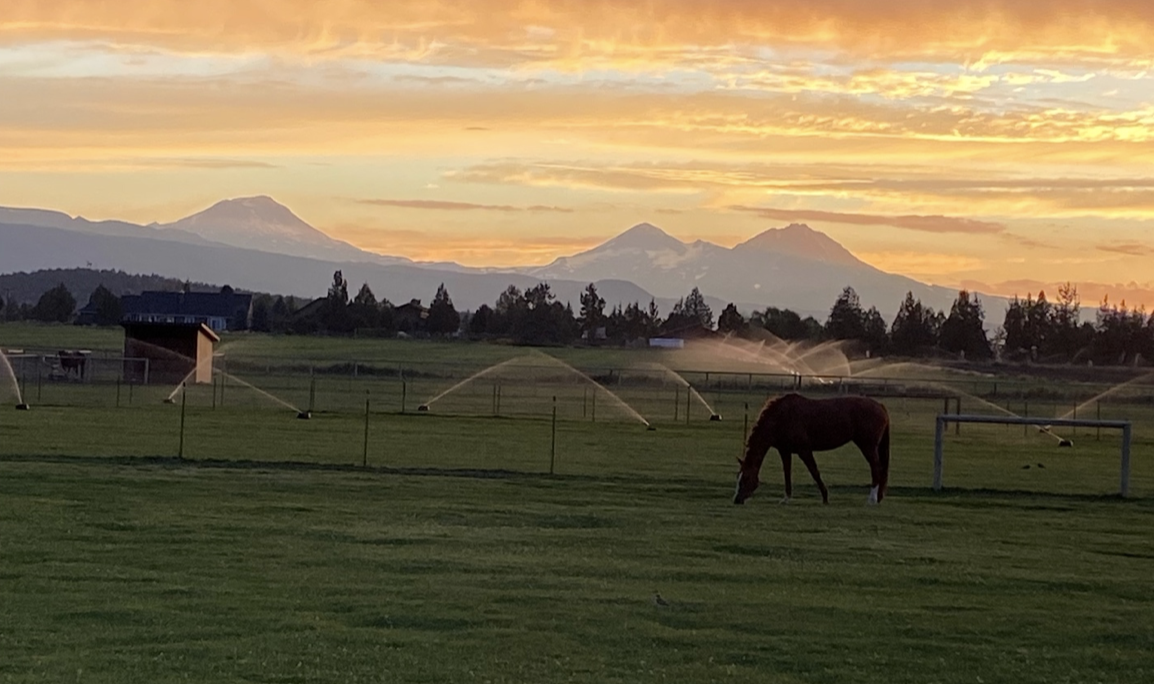 Sunset at Some Day Farm. Photo courtesy of Wendy Krohn.
"Every day I wake up and can't wait to go to work," she concluded. "I had dread sitting in the cubicle in New York. Here, every day is different. I walk in the barn and can smell and touch the horses. I'm out of sorts on vacation when I'm not with the horses. If I feel tired or sad, I just walk in the barn and the feeling is gone."
To learn more about Wendy on ProEquest click here!