Peter Petschenig on his Transformational Horses
Blog
Peter Petschenig on his Transformational Horses
Some horses make a bigger impact on our lives because of what they teach us, the bond we have with the, or through accomplishments. The special horses do all of these. Peter Petschenig of Petschenig Show Jumping in Collinsville, Texas started riding competitively as an eight-year-old near his home in Salzburg, Austria. By age 13, he had his first ribbons in the 1.30m events.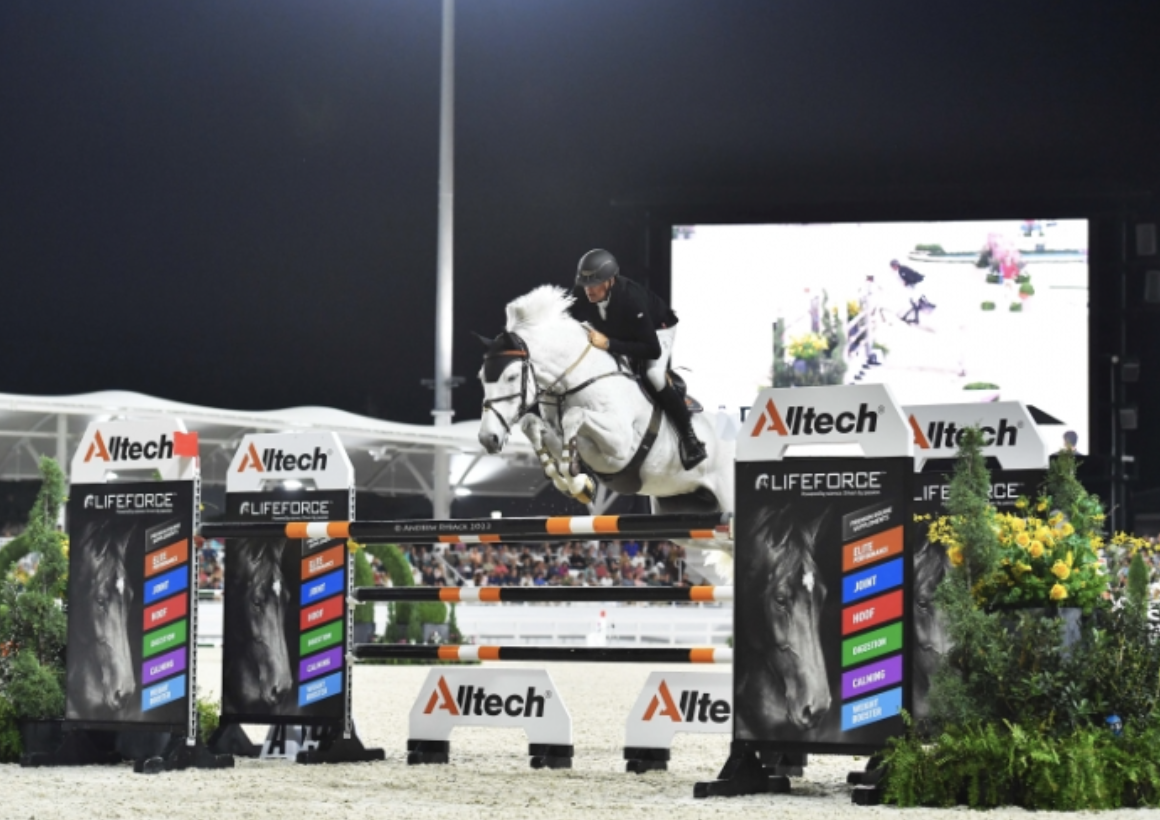 Ennebel Van Het Posthuijs. Photo Courtesy of Andrew Ryback Photography.
Peter's equestrian education included time working with Hank Melse in the Netherlands, Beat and Markus Maendli in Switzerland, and Willi Mellinger in Switzerland, among others. Additionally, he earned a master's in business administration from the Institute of Management in Salzburg. His Grand Prix wins are from events throughout the world, including in Italy, Austria, Chile, and the United States.
In 2012, Peter moved to the United States; his vision was to blend the classical equestrian heritage of Europe with the competitive spirit of the United States. Petschenig Show Jumping is the culmination of that vision, and he and his wife Nathalie offer individualized training programs to everyone from riders at elite levels and those new to the sport, as well as training horses.
"When you come from Europe, you're taught to put your leg on and get them to jump, whereas in America the style is freer," Peter said. "We combine both, it's more the American way, and that is the best for the majority of horses. That's how I teach now."
All these experiences help Peter bring out the best in every horse he rides; making it look effortless. He is strategic, thoughtful, and intentional when riding a course, and it pays off in clean, fast rounds. Two horses in particular, Saint Quentin and Ennebel Van Het Posthuijs, taught him that taking the pressure off transforms the horse.
Peter and Saint Quentin. Photo courtesy of Petschenig Show Jumping LLC.
Saint Quentin
Quentin is 21 years old now, and the bay Bavarian Warmblood is enjoying his retiree life on their farm in Texas. Peter bought Quentin when the gelding was eight years old. "I got him in an exchange for a horse I bought. Quentin was a trade-in for that horse when it had bad x-rays, and the trade turned out better than I thought."
In the beginning, Quentin was really spooky. Peter rode him with a lot of pressure to overcome this, but Quentin was an average horse and didn't have any scope. His friend and mentor, Allen Clarke, the renowned natural horsemanship expert, suggested Peter take the pressure off. He did and that changed everything for Quentin.
"Allen was very helpful with Quentin," Peter said. "It wasn't necessarily trust, pressure towards the horse creates pressure to you. Taking the pressure off made a new horse that felt like he could do anything. Ennebel was similar, and now, I could sit on her backwards and she will try to jump clear."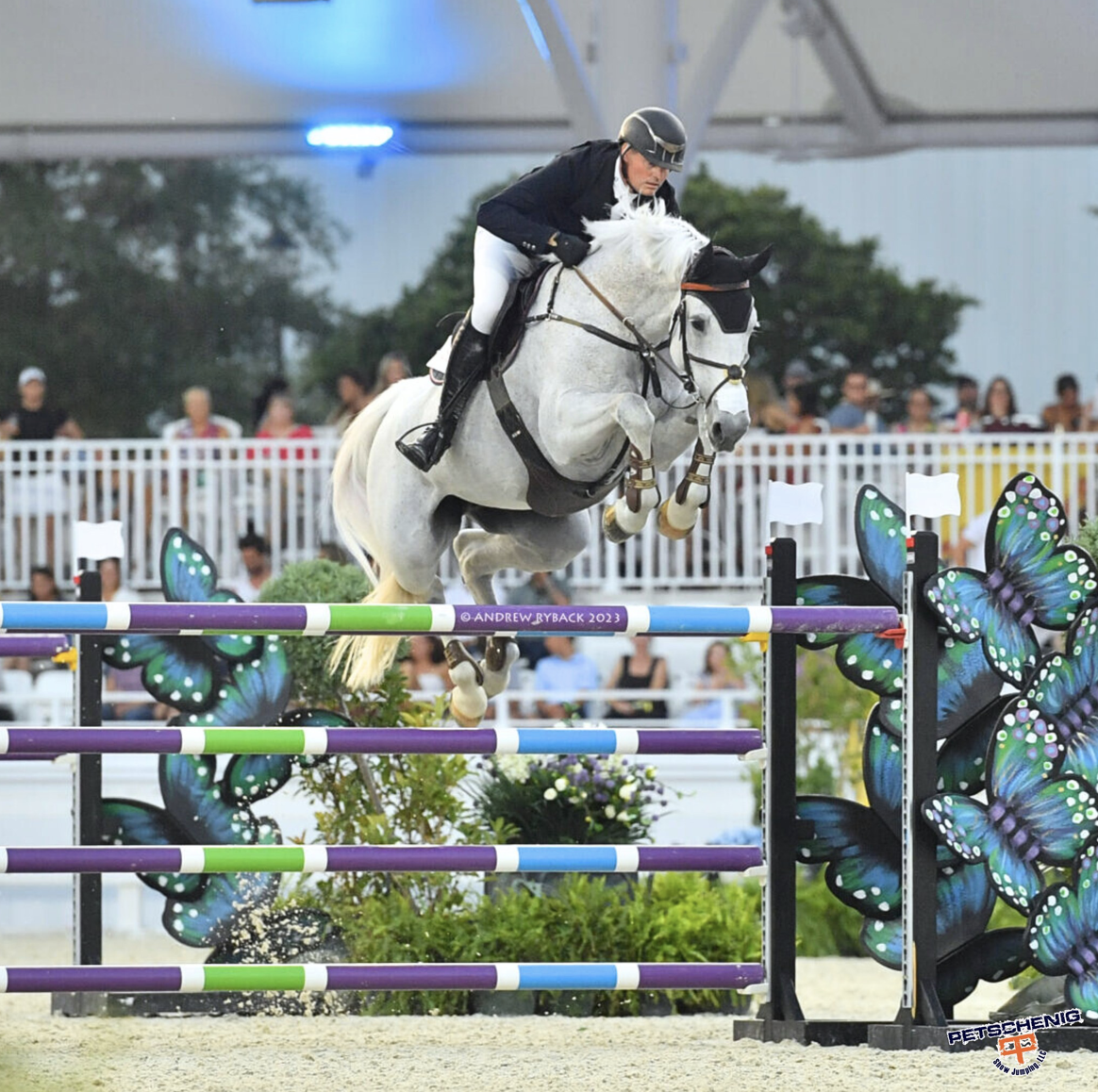 Peter and Ennebel Van Het Posthuijs. Photo Courtesy of Andrew Ryback Photography.
Ennebel Van Het Posthuijs
Ennebel and Peter are well known, with numerous wins and brilliant performances at Grand Prix events. 
The 14-year-old grey Dutch Warmblood mare had her third FEI podium finish in May at the Kentucky Horse Shows Spring Classic and followed that with another podium finish at the Grand Prix at World Equestrian Center in July. She regularly places in the Grand Prix and consistently jumps clean.
"I want to ride a couple of World Cups with her, if possible, the Finals [April 2026 Longines FEI Jumping World Cup™ Final] are in Fort Worth in a year and a half; jumping in front of the home crowd would be really cool. Also, the Kentucky Indoor or Washington if we can get in."
The Next Clean Round
Both Quentin and Ennebel are smart and special in their own way, with a lot of character. They are friendly, and really good horses to be around, like a pet for Peter and Nathalie.
"They have an incredible fight for what's going on in the show arena, both go into a show and think they're King Kong. Quentin was smaller and people thought he wouldn't be able to do it, but he went in and did it anyway," Peter said.
These horses taught him to avoid pressure and let the horses develop their own quality, and then Peter supports them however they want. When evaluating horses, he looks for how often they jump clear. He doesn't look at their jumping style or other factors, stating that how often they jump clear is the most important indicator for any age horse.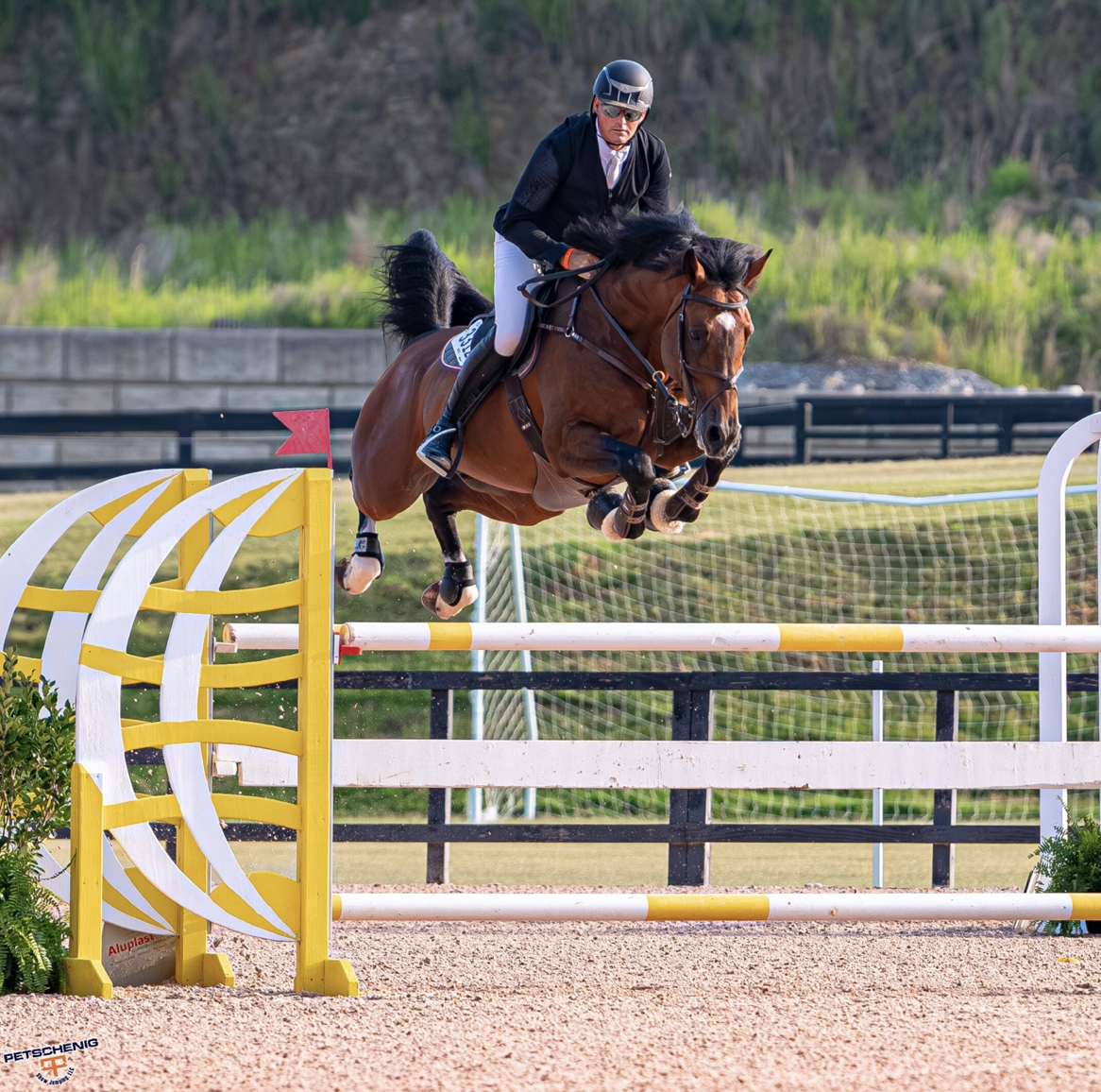 Hocus Pocus III Z
Hocus Pocus is a seven-year-old stallion Peter is competing and bringing up through the levels now. The horse has a lot of potential, he says, a super brain, scopey and careful. Hocus Pocus will be a really cool horse if he continues on the current trajectory.
"Quentin and Ennebel taught me a lot, and create the feeling that you can do anything," Peter said. "Creating the partnership with the horse is the best part – it's what you have with the horses that you really enjoy."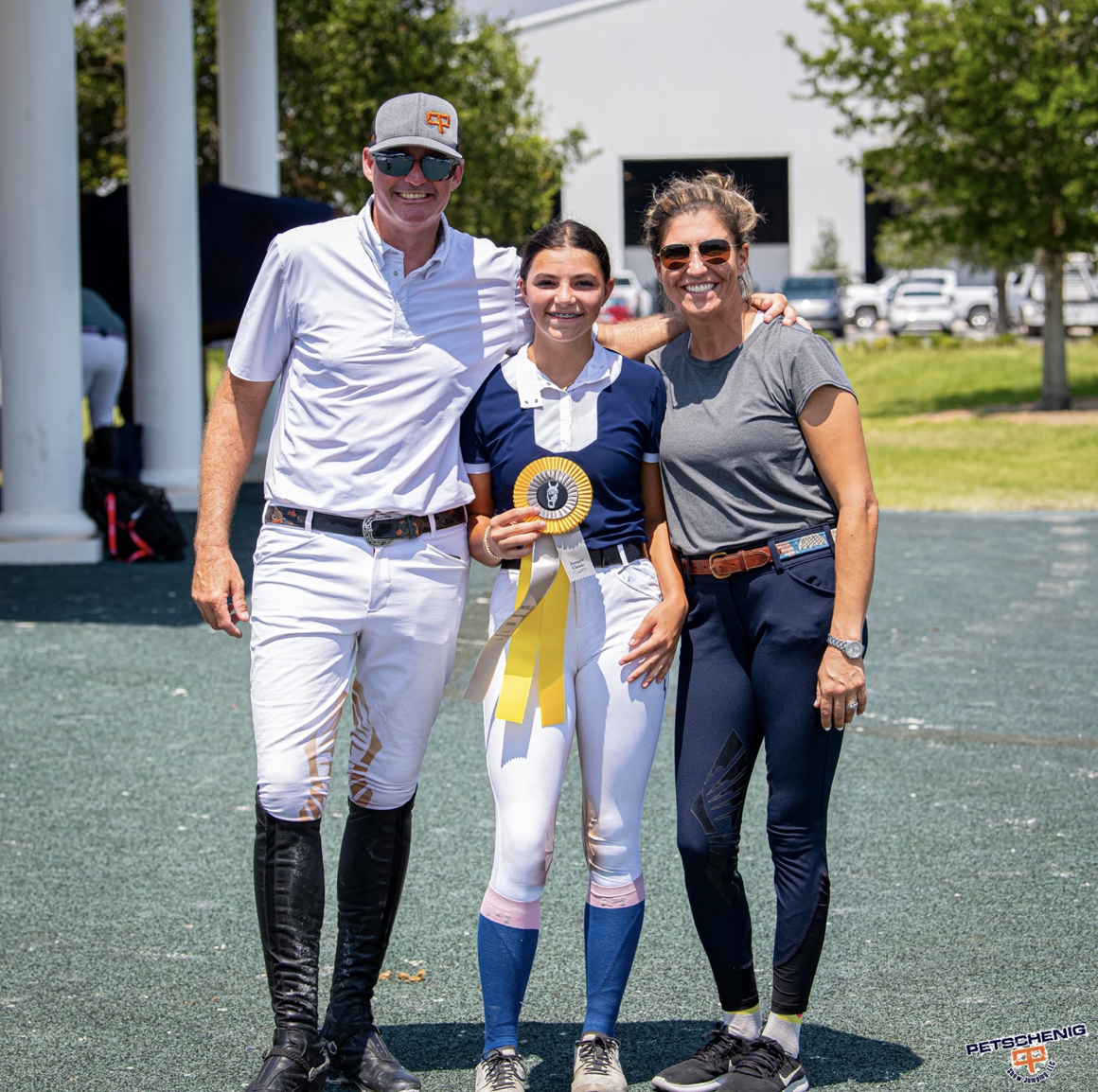 Peter and Nathalie with a student.
To learn more about Petschenig Show Jumping click here!