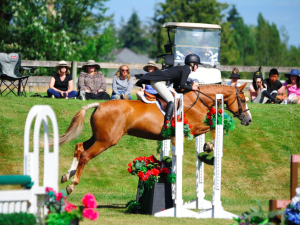 Andorra
2008 Canadian Warmblood mare by Kaiser de la Couer o/o Concord x Nickelson B line
Andorra is a dream... comfy, sweet, cute, easy, reliable, steady, calm, safe...
She has been around the block and dabbled in little bit of each discipline.
Andorra has shown up to the 1.30 jumpers, 3'6/3'9 hunters, 3'3 derbies (and won $) and is schooled 3rd level dressage. She has played around on numerous xc courses and is happy to do anything you ask her.
Andorra is ready to teach her next young rider to be confident and secure in the show ring. She is reliable as they come, never misses a beat, jumps from any distance and is always forgiving.
She is a true school master is everything she does. She is happy to be picked up and do half pass, should in, canter pirouettes, changes on a straight away, or to be ridden around a course, on the buckle, 1 handed.
She hacks out excellent on a buckle, rides bareback, easy, no prep, no maintenance. Easy to trailer, easy at shows. All round perfect dream. Lives off apples and air. Safe, safe, safe.
Lease preference to a junior hunter
For lease
Private (call for price)
More Horses by this Seller