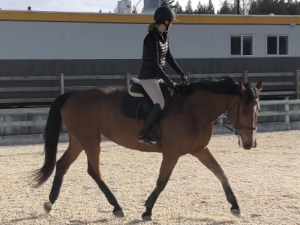 Pandorra's Charm
Pandorra is 16.3hh 2016 warmblood mare.
This girl has a promising future in both dressage and jumper rings with the bloodlines to back her up.
She is currently schooling around 2.9-3' courses at home with a junior pilot. She has been off property schooling to Thunderbird numerous times, maple ridge etc. This mare is an amateurs dream, safe, sane, and super easy to handle and ride. Talented enough to do the upper level classes, but happy to do the small stuff as well.
Panny lived out in a field for the first 4.5 year of her life so was well raised to have no vices. She is happy now in her show home routine. Loves her 4 day a week work schedule. Puppy dog personality.She is ready to step into the show ring with no prep
Panny has extensive ground training including driving and loves free jumping. . She is super friendly and easy going for a mare. Panny is going to excel in any discipline with the right rider. Easy to hack out alone or in the group. She is the same ride every day, doesn't matter if she has had 3 weeks of or 3 days. Trailers like a dream.. alone or with others.
I am selling as her breeder and will be very sad to see this one go as she has been so useful already at a young age. Her dam has competed to 1.30 and her sire (now gelding is owned by an amteur is the US) showing in the hunter/jumper rings. Panny will only be sold to the best home, and preference to someone who plans to keep her long term.
If you are looking for a very safe horse that will pack you around.. this is her!
Please email for jumping video.
For sale
Private (call for price)
More Horses by this Seller