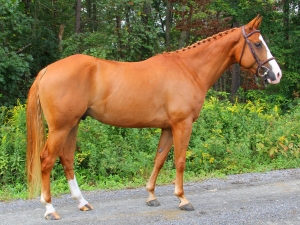 Diamond Duck
This is someone's dream horse!
Duck is an adorable 2014 large pony gelding that checks every box. He's sweet and easy in the barn, brave, flashy, sound, sweet enough for a child but large enough for a small adult. He has the looks, talent and pedigree to make someone a great show horse. 
At only 5 years old he started learning to jump this year and has shown tremendous intelligence and talent. He has served as an excellent school horse for children or timid adults, he even taught a special needs adult to canter for the first time. Prior to his english training, Duck was started for western reining. Because of this background, his flat work is exceptional and he has auto changes and a mouth soft enough for a light snaffle. Prior to learning to jump, Duck has also worked cattle and competed successfully in an extreme cowboy challenge class. He can and will do it all for his rider - he just wants to please! 
He is flashy and well rounded enough to stand out in any circuit. Because of his versatility, this pony would be ideal for a family that needs to share a horse, or a rider that wants to cross over into multiple disciplines. Sort cows today and jump around the pony hunters on the weekend! 
Duck loads, ties, clips, and stands for the farrier like a perfect gentleman. He is happy to turn out alone or in a group. His one and only vice is that he does crib occasionally, but it is easily controlled with a collar or muzzle. 
Duck is available to be tried in Rexford, NY.
Information
Location
Rexford, NY 12148
United States
More Horses by this Seller