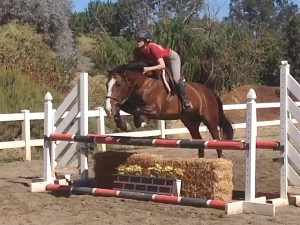 Wonderful
****NEW  LOWERED PRICE‼️ OWNER HAS TO MANY HORSES‼️********
Wonder is a sweet forgiving mare looking for a junior or smaller adult to love and call her own. I've been using her in my lesson program  for walk trot - advanced jumping lessons. She was leased to a junior in my barn who took her to her first few shows. Placing well in everything from walk trot- low child hunters as well as doing well in some lower medals. Wonder is happiest with just one or two riders. She really likes to bond with her rider and will do anything for her kid. 
She has done everything from hunter jumper shows, worked cattle, ponied my babies, trail ridden and attended several clinics. 
Wonder has great ground manners, works well in a rope halter and can be flagged or used to flag other horses. 
She jumps anything you point her at, has schooled up to 3' at home 
She walks off the trailer and is ready to step into any ring takes no prep. 
I've had this mare from birth she has never had to see the vet for anything except routine vaccinations. 
Free in barn lease 
For sale $7500
Information
Location
Orangevale, CA
United States
Eventers
Beginner Novice: 2'7"
Novice: 2'11"
More Horses by this Seller