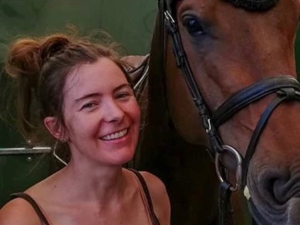 Kim Pickel

Young Sport Horses
Welcome to Young Sport Horses, a site dedicated to helping the growing community of riders and trainers importing young sport horses to the United States from Europe.

Importing horses from Europe to the United States for show jumping and dressage isn't new; on average, the United States imports over 40,000 horses every year.

In fact, we've scouted many European sport horses for clients in the US. As we expanded our operations, we noticed that some owners of young (and mature) imported sport horses encountered training hiccups when the horse entered their new, American training program. Because European and American styles of riding and training differ, it's not uncommon for there to be a little "culture shock'' as a horse adjusts to his new environment and trainer.

That is where our site comes in! Our primary goal is helping riders, and trainers, who have imported a young sport horse from Europe better understand the way that their horse was trained in Europe. Understanding the differences between European and American riding styles and training techniques will help the horse transition smoothly into their new program, and have a successful career with their rider in the US.

We created this site to offer insights and provide assistance to those interested in developing their young sport horse for competition, and those who may have imported a horse a few years ago and are still having some "differences of opinion" with their equine partners.

In our online community, you will find educational tips and advice, as well as exercises created to solve common problems, and not so common problems.

A little about us: we're an all female team of horse professionals based in the Netherlands. Two of our team members are professional riders: Eva Ulrika Cappelin owner of Bech Sporthorses from Norway, and Kim M. Pickel from the United States. Also from Norway, our lovely groom/rider, Annelin Berg.

Collectively, we have decades of experience working with young sport horses.

While our main focus is the training and development of young sport horses imported from Europe to the US for show jumping and dressage, we welcome riders from all backgrounds, abilities, and riding styles. We welcome you to our growing community, and we're happy you're here.

We look forward to serving you with our knowledge, insights, and general love for developing Young Sport Horses!
Information
Barn name
Young Sport Horses
Contact Number
+31616305156