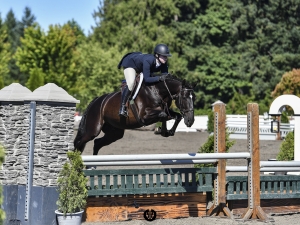 Diamant de Muze
Hack-winning small jr hunter with all the scope and a huge stride. International derbies, USET, big eq, etc.
USEF# 5726721
Diamant de Muze aka "Monte" 7yo Selle Français gelding . By Vigo d'Arsouilles out of a For Pleasure x Darco mare. 
Super great brain, hack-winning mover, rubber snaffle mouth, kick ride but not dead to the leg. Easiest young horse ever. Just look pretty and win!
Monte has been champion or reserve at almost every show in the 3'3 young hunters and the 3'3 A/Os from Temecula to Thunderbird. Top prizes in the hacks, super handy, great at trot jumps, and lots of experience in the national derbies. Currently brought his rider to sitting in 2nd regionally and 6th nationally in the 3'3 A/Os for WCHR points and will attend Capital Challenge if not sold. Experience to the 1.30ms prior to import.
Super kind, willing, and honest. Jumps from any distance. This one has all the scope to jump the high-performance hunters and the international derbies. Walks the lines, measures a small for any Jr Hunter Finals goals, super forgiving. Truly a top-quality young horse that will be successful in any ring.  Could easily be in the 3'6+ already, but has stayed at 3'3  to preserve his current green status (Eligible 3'3 or 3'6).
Amateur and kid-safe. with a great foundation on the flat, super comfortable to ride. Smooth, light, uphill, perfect changes, and knows all the equitation tricks. Jumps the water, flowers, hay bales, logs, anything you point him at. Super adjustable and doesn't hold a grudge. In your pocket personality on the ground and great manners for the vet, farrier, hauling, etc.
 Big stride,  but very adjustable. 
The perfect three-ring gelding to be competitive in any or all of the rings. Monte is a super sweet, easy horse that wants to please. Serious quality to win anywhere. Price will increase with miles and results.
503-516-4965 for more info/ videos / etc.
 
For sale
Private (call for price)
Information
Location
Portland, OR 97202
United States
More Horses by this Seller