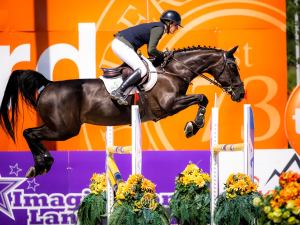 Skynet
Winning JR/AO horse for ALL 3 RINGS. International derby experience, 1.35m+, Big Eq, and Medals.
USEF# 5668843 
Skynet is a barn favorite everywhere she goes! Gorgeous black, 16.3hh, 11yo mare. She is not mareish at all, loves people and other horses. Skynet has jumped the 1.45m and grand prix level. Super sporty, quick mare with all the heart to go out and win or teach a jr/am the upper levels. Incredibly scopey, comfortable, and game-horse. Super sweet, in-your-pocket personality.  Jumps the open water, flowers, logs, international derby high options, anything you point her at. Great confidence builder. Good mover, knows all the equitation tricks, handy, and jumps a 10. 
The horse every Jr/Am needs and every trainer wants in their barn! 3' hunters-1.35m+ jumper-winning teacher. Can jump the 1.35ms and go into the hunter ring the next day. Super easy, simple, and athletic horse. Her first time in the hunter rings was with a Jr catch rider and she didn't bat an eye.

A super beloved mare that absolutely has a heart of gold and will jump from any distance. Great flatwork, super comfortable gaits.
She also loves trail riding and will walk through water and rivers happily. Available to the best of homes.


Please contact Philippa Melski w/ Flipside Horses for more info.
For sale
Private (call for price)
Information
Location
wilsonville, OR 97070
United States
Hunters
2'6" - 2'9"
3'0" - 3'3"
3'6"
3'9" - 4'0"
Jumpers
0.75m - 1.00m
1.00m - 1.15m
1.15m - 1.30m
1.30m - 1.45m
Equitation
2'6" - 2'9"
3'0" - 3'3"
3'6" - 3'9"
More Horses by this Seller